How many carpets have you got? I think, there are 2-3 items at least in every home or apartment. Quite naturally, they are to be clean. Dirt and dust can cause respiratory problems. However, which method to prefer: steam clean vs shampoo carpet? Which cleaning technology is better? What method is easier and faster? Which one is more efficient? Let's consider the situations, tasks, and carpet materials. I hope, it helps you to select the suitable tools and detergents.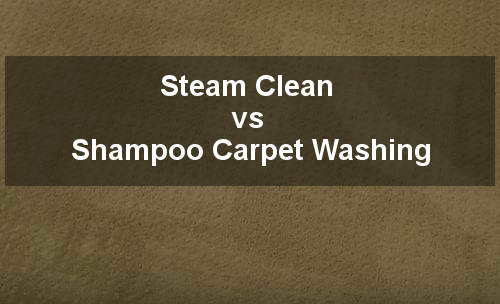 Carpets and Mite Allergy Issues
Have you got a new carpet? Just vacuum it regularly. It helps you keep it clean. The floor covering is to look fresh and bright. However, in several years, it becomes filthy and dingy. Carpets accumulate dust and germs, pet and human hair. They trap dirt and moisture. Therefore, it's difficult to extract it from the fluffy surface.
Quite naturally, the best portable steamer removes 99.9% of bacteria and dust mites. This method requires no cleaning solutions or chemicals. It's just ideal for allergy sufferers! However, are dust mites so dangerous?
According to recent research, they can cause serious allergic diseases, such as:
Atopic dermatitis.
Allergic rhinitis.
Rhinoconjunctivitis.
Bronchial asthma.
People sensitized to mites suffer from allergic symptoms. For example, according to AAAAI Academy, 13% of adult American residents suffer from sinusitis; 7.8 people over the USA have hay fever. Pet dander, dead skin, and dust mites are common allergy triggers. How to avoid it? It's recommended to vacuum carpets twice a week. A HEPA filter is a highly useful feature. Washing curtains and rugs in hot water are required.
How to Clean a Really Dirty Carpet?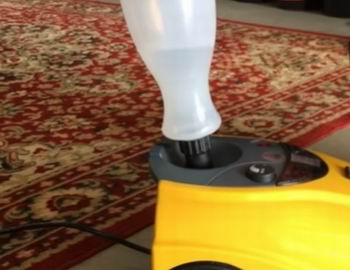 Have you got pets? They definitely like lying on the floor. Your cherished cats or dogs do need a comfortable covering. It is to be warm, soft, fluffy.
But what a mess they make! Cat urine stains require spot cleaning. The smell is terrible! Therefore, you would need the best carpet cleaner spray to neutralize it.
Shampooing works well on heavily soiled carpets. This method is:
Highly effective.
Able to kill bacteria and allergens.
Easy and fast.
Affordable.
Meanwhile, a powerful shampooing machine is essential. It extracts dirt and debris from the surface, together with water. However, the carpet drying time is long. It takes up to 24-48 hours. White residue can be left. Delicate rugs backing can be damaged. Additionally, the fabric can get yellowish in some years.
How to Clean Carpet without a Machine?
It's a collision. The shampooing method is affordable. But the machines are quite expensive. What if you don't have any shampooer or cleaner? Cleaning a carpet by hands is exhausting. It's time-consuming, especially in high-traffic areas.
Spot-cleaning can be still essential. How to do it? Test the cleaning solution beforehand. Meanwhile, you are to address the stain immediately. Don't let it sit on the carpet. Apply some water and blot the stain out. Use paper towels. They are efficient to dry the area.
Quite naturally, the best way to clean carpet yourself is simple. It implicates the usage of homemade stain removers. They can be based on common household ingredients, such as:
salt;
vinegar;
lemon juice;
ammonia;
baking soda.
You can use shaving cream and ice cubes. An old toothbrush and baby wipes help you to remove the spills. The stain nature is to be considered. For example, red wine can be removed by salt or vinegar. Dish soap works well on coffee stains. However, the pet's mess on the carpet is more difficult to get rid of. Unpleasant odors are to be neutralized.
What is the Best Carpet Shampooer?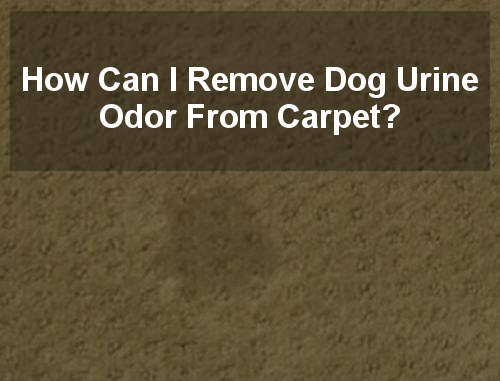 Quite naturally, you would need the best carpet cleaning solution for pet stains. It helps you to get rid even of the embedded dirt. The method allows deep cleaning. Prefer green, neutral of PH detergents that include plant-based ingredients. Modern, top-quality liquids brighten the carpet color. They prolong its life and protects it from further soiling.
The necessary machine features include:
built-in heater;
intense suction power;
various nozzles and attachments.
By the way, you can select a machine that has an expedite clean mode. It lets the carpet dry much faster. The tank size also matters. It influences the shampooer cost. Meanwhile, the cleaning solution is to be suitable.
What Can You Use in a Carpet Cleaner?
The special carpet cleaning solution is the best. The formula is unique. It is elaborated by professionals. It is to contain a lot of cleaning agents. The detergent is to remove all kinds of specific stains. However, you can mix a homemade liquid.
You can use:
white vinegar;
dish soap;
some drops of essential oils.
Baking soda can be applied directly on the stains. It can be used about 10 minutes before vacuuming. Meanwhile, prefer the best way to clean carpets with a carpet cleaner. Select the solutions recommended by the machine manufacturer. Follow the directions on the bottle. The detergent is to be mixed with a large amount of water. Certain brands may work the best. What is the reason? Soap would foam up. Additionally, it attracts dirt, making the carpet sticky. Citrus oils can damage plastic parts, like seals, etc. It may shorten the machine's life.
How to Clean Car Carpet without a Machine
The mats in your vehicle are easier to clean than carpets at your home. Why? They are commonly made of rubber. The ones made of upholstery are also common. However, car carpets are usually smooth, waterproof and stain-resistant. Therefore, you can select:
hand or machine wash;
steam cleaning;
professional services.
Steam cleaners can be normally used in this case. They came with upholstery attachments. A rotating brush scrubs and steams the mat surface simultaneously.
How to Clean Your Carpets like a Professional?
Are you concerned with health benefits? Do you want to sanitize all the surfaces in your house? Use the best steam mop for carpet. It will properly disinfect the floor covering. What can kill bacteria, dust mite, and viruses? Super-hot steam is highly efficient against them. The temperature is up to 212°F. Which heat makes pathologic bacteria die?
| Microorganism | Optimal Growth Temperature, °F | Die Temperature, °F |
| --- | --- | --- |
| Mesophilic bacteria | 68-113 | 122-131 |
| Thermophilic bacteria | 113-112 | 105-250 |
| Psychrophilic bacteria | 50-68 | 104-122 |
| Influenza virus | 98-101 | 165-212 |
Thus, various germs and virus that cause diseases are able to grow at various conditions. Some of them can tolerate low temperatures, the other ones survive at extreme heat. Therefore, pasteurization is not always efficient. It uses the temperatures of about 162 °F. Autoclaving and sterilization kill almost all microorganisms immediately. 212-250 degrees are always sufficient.
View Here: Best Commercial Vacuum!
Steam Cleaning vs. Shampooing Carpets Benefits
High temperatures and pressure work well. They not only kill bacteria and viruses. Deep cleaning is ensured. Dirt and grime are loosened. Old stains are efficiently removed. Therefore, no chemicals and detergents are necessary.
The steam cleaning method is:
Non-allergenic.
Eco-friendly.
Versatile.
Safe for pets and kids.
The best carpet and hard floor steam cleaner are comparatively lightweight and small. It's easy to use and advanced. The steam mops are powerful and cost-efficient in the long run. Have you got kids? Natural steam is beneficial. It causes no allergic reactions. The method assumes no skin irritation or eyes burning risk. It's also safer for the house.
Dry Vapor Advantages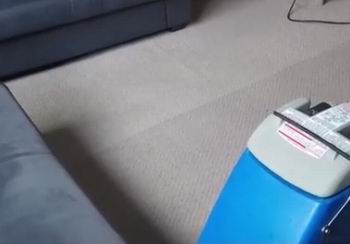 The difference between steam cleaning and shampooing carpet is obvious. No chemical residues are left. The carpet fibers look fresh and bright. Its lifetime is longer. Additionally, the drying time is much less. It takes about 4-7 hours. Why is it possible? The steam is delivered in the form of dry vapor. Only minimal amounts of water are applied.
Carpet steam cleaning vs hot water extraction is time and space-saving. Vacuum and high-pressure extract moisture immediately. The risk of mold growth is minimized. Do you live in a state with high humidity? For example, according to the Florida Climate Center, humidity in Key West City in summer is about 74-75%. It makes air-drying clothes long and challenging. Therefore, the dry vapor is preferable.
How Does Chem-Dry Carpet Cleaning Work?
Quite naturally, you can prefer professional services. Chem-dry seems even healthier. This method lets your carpet dry in only 1-2 hours. What are the system basics? It uses:
low water pressure;
low water quantity;
green cleaning solutions.
As a result, no residue is left. The fibers resist recoiling after the cleaning. What are the carbonated solutions applied? They are completely safe. No detergents or soaps are available. Microscopic bubbles explode grime and dirt. They are released and lifted from deep in the fibers. These tiny propellants eliminate the need for heavy amounts of water. Soapy chemicals are not necessary. Additionally, powerful extraction equipment is utilized.
Steam Cleaner vs Vacuum Cleaner
How often would your carpets require deep cleaning? It depends on the traffic. Commonly, it's sufficient to vacuum a new floor covering weekly. Are stains or spills appearing? They will be not removed without a steamer.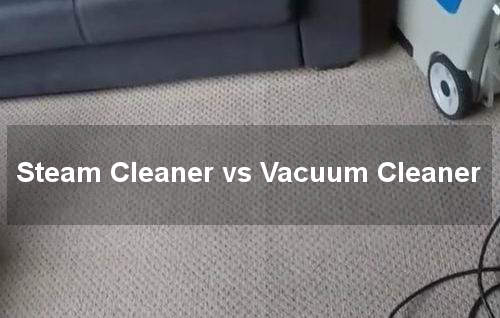 Meanwhile, dry cleaning is recommended for delicate materials such as:
viscose;
leather;
silk;
cotton.
So, check the carpet label before selecting the cleaning method. A vacuum cleaner won't damage velvet upholstery or nubuck carpets. It removes debris, pet hair and dust. However, a hoover sucks particles mainly from the carpet surface. So, steam cleaning can be necessary. The method is suitable for woolen and synthetic materials. It can be arranged once a month or once a year.
How to Disinfect Carpet without Steam Cleaner?
Is it possible? It seems it is. A natural alternative exists. Use a mix of vinegar and water. Vinegar contains acetic acid. It helps you to get rid of allergens and bacteria. Additionally, it eliminated odors. However, the stains and dirt are not removed efficiently by the spray. Bleach is more efficient. It kills virtually all viruses and bacteria. Mold growth is also eliminated. However, I would not recommend you to use it. Bleach is toxic. It's harmful to your health. Vomiting, dizziness or nausea can be experienced. The chemicals cause skin itching or dryness. Environment hazard is also inevitable. Dioxin and mercury are released during bleach production.
Overall Impression
So, you already know how to clean carpet with or without steam cleaner. A lot of affordable and simple methods exist. You can buy a ready-made detergent or prepare a homemade solution. Do you prefer to avoid chemicals? It's also possible. So, the selection depends on the traffic and carpet materials. Your preferences and likes matter, as well.