If you sneeze whether at home or in the office it's because your floors are dusty. Then you should think about choosing the Best Commercial Vacuum. But first, let's find out all the features for choosing a vacuum cleaner for cleaning office, storage space, and for the house (if needed). Commercial vacuums come either Upright, Canister, Lightweight or Robotic Vacuum.
They are durable and tough and are ideal for a wide range of commercial cleaning duties. Some of the best models are wet and dry vacuum cleaners. That means that they can pick up liquid spills, dust and dirt making them ideal even for workshops.
Commercial vacuums come with professional features which include ergonomic hand handles, and extra-long power cords. From the office, hotels to hospitals you can trust the list below to give you durability and quality you need to help you get your job done.
Some like the "Oreck" models come with more than 50 years floor care track record.
The list herein provides best Commercial vacuums 2017 that are designed in all shapes and sizes including the best backpack vacuums. The backpacks are compactly designed are easy to carry around. Commercial Vacs provided here have very powerful motors and very comfortable back straps and are suitable for all types of cleaning needs.
List of the Best Commercial Vacuums 2017
Oreck Commercial XL2100RHS
Hoover Commercial Vacuum C2401
BLACK + DECKER CHV1410L
Shark Rotator Freestyle Pro (SV1112)
Oreck Commercial BB900DGR XL Pro 5
Black+Decker BDH2000PL MAX
ProTeam Super CoachVac 10 Quart
Oreck Commercial U2000R-1
Shark Rotator Professional Lift-Away (NV501)
Shark Navigator Deluxe (NV42)
Are you looking for a best solution that can work both commercially as well as domestic? Below is an analysis of the best models that will do the job well giving you a lot of peace of mind.
This is an ideal commercial vacuum cleaner for those who have wall to wall carpets in the office or at work.it is an upright vacuum cleaner which has 12-inch cleaning path. It's able to deep clean your carpet leaving it dust free.
It comes equipped with a Hypo- allergic Filter System, the Oreck cleaner is able to clean 99.9% of particles. It can also trap irritating particles.
Features
Hypo-Allergic filter system.
Belt – this controls the speed at which the brush revolves. This is mainly for easy operation purposes.
Automatic floor adjustment. This helps in transitioning from hard surfaces and carpets without necessarily changing the settings. This is made possible by the Multi-Floor Cleaning with Micro sweep technology.
Hand handle – Oreck Cleaner has a strong handle which offers a good grip when cleaning.
Balanced brush roll- this comes with a double Helix Brushes that Whirls at approximately 6,500 RPM and is able to move debris to the vacuum center.
Non-Marring Bumpers – this helps in protecting your furniture and baseboards from any damage.
Top Fill bag design.
The machine has a direct suction power which can handle both dust and debris for your commercial cleaning.
Pros
Its filter dust bag is easy to replace
Comes with one-year limited warranty
Its 35-foot cord is long enough to move around
Its light weight
Easy to use
Cons
Produces too much noise
Hard to push on high volume carpet
No swivel steering
The belts are replaced every 6 months making it expensive to maintain
Vacuuming doesn't have to be painful. With Hoover Shoulder, Vac comes to help make cleaning a comfortable task. It stores all collected dust and debris in the backpack canister. This allows you to clean with ease. Weighs 10 lbs which make it very light.
Hoover Shoulder Vac is compact and allows you to clean narrow corridors, small and large areas with comfort. It can carry about 6.4 Quarts of dust at any given time. It also allows you to monitor the levels of the dust using its clear lid.
The HEPA Filtration system helps the machine to collect 99.97% of dust. This ranges from dust, pollen and debris. Hoover commercially comes with the following devices in its attached kit; Backpack, 60 locking hose, 6 crevice tool, 11 turbo floor tool, 2 dusting brush, and upholstery tool
Key features

Chiropractor design that comes to reduce strain for the user.
Cleaning Accessory Pack. This keeps all equipment's making them easily accessible.
Hypercone Filter. it has a HEPA Filtration system.
Positive Lock Hose which makes the hose secure during and after cleaning.
Extra Long 48 Feet 3-Wire Quick Change Cord – this allows for easy outlet switching.
Pros
The device has a Long cord.
Relatively cheaper compared to other vacuum cleaners.
It comes in handy when it comes to over the floor cleaning.
It is more durable than other vacuums in the same class.
Easy to operate around since it has fewer parts attached to it.
Cons
The straps attached to the backpack makes it less flexible.
Fewer feature means limited vacuuming options.
Works best for commercial cleaning therefore not ideal for home cleaning.
Note. This vacuum can get warm when used for a long time. Therefore not ideal for use during summer.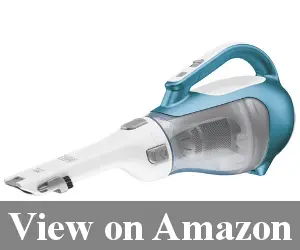 This is an ideal model for those looking for a serious lithium power cleaner. It can be stored easily and comes with 20 V max lithium ion battery. The Decker uses the Lithium Technology.
It has high suction power as well as fade free power. The Hand Vac stays charged for 18 months when it's off the charger. It comes with translucent bagless dirt bowl that allows you to see the level of the dirt and makes it easy to empty.
Key features and performance
Cyclonic Action – this is used for spinning dust and debris away from the filter hence keeping suction strong.
Lithium Ion – this assures you of outstanding performance as well as long battery life.
Smart Charge Technology it uses High-efficiency Lithium-ion chargers which come to protect the Vac by automatically shutting off when the battery has been fully charged.
On-board crevice tool and brush – this ensures that hard surfaces are easily cleaned.
It has high-performance motor – ensures that the device can suck dirt.
Rotating slim nozzle.
Pivot nozzle- this is an exclusive feature which means that this device has a high power in a compact size.
Equipment
(1) Hand Vac
(1) Washable pre-filter
(1) Washable Filter – VF110
(1) On-Board Crevice Tool
(1) On Board Brush
Charging Base
Pros
This is a lightweight device. It weighs around 3.5 pounds
It has a long life battery
2-year limited warranty
Fade-free lithium-ion battery power
It comes with own tool storage unit
The hose is quite flexible
The dirt is easy to see and empty
Tool storage in charging base
Cons
While the battery is quite an improvement comparing with outdated models, this may not satisfy you in the whole of your cleaning sessions.
Due to the compact nature of this vacuum, the small dust cap needs to be emptied regularly.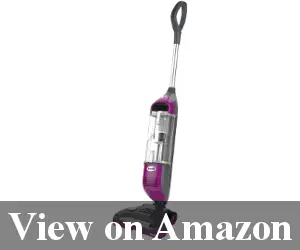 Shark Rotator is a powerful cordless upright machine that weighs approximately 7.5 pounds. It comes with LED Headlights on the nozzle. The vacuum is built to maneuver into tight places such as corners and under furniture. Its charge lasts in 15 minutes.
Key features
A 2-speed brush roll – this assures you of a clean carpet as well as a clean bare floor.
XL-capacity dust cup – this is quite big and is easy to empty and allows for extended cleaning without interruption.
bag-free powerhouse.
Powerful LED headlights – these locate hidden dust and dirt around your cleaning area.
Rechargeable cordless convenience.
The machine is relatively light weighing around 10 pounds.
Pros
It's a lightweight product.
It's easy to move around since it's cordless
Always ready to go
Good suction power
Cons
Low battery life
It's not very durable
This is a redesigned commercial vacuum of Oreck's corded compact canister vacuum. It comes with a variety of attachments which makes it ideal for commercial vacuuming. It allows you to use its flat heads on the stairs, the wand for cleaning between tight corners and wall and the nozzles for cleaning crevices in car seats and furniture.
The best handheld vacuums in the market today are Oreck Products. This vacuum has a very good suction power. It's also a lightweight weighing around 11 pounds. It comes with a 30' power cord which enables you to reach large areas.
Features

Scent holder where you can place fragrances for a fresher cleaning area
Canister vacuum cleaner
Shoulder strap for easy cleaning and ease of carrying
Integrated handle for increased portability
Two-stage bypass motor makes the machine more powerful as well as increases vacuuming capability
Adjustable extension wand and 4-foot hose helps in cleaning high places such as ceiling
Measures 8 x 6 x 15 inches (H x W x D)
Product weighs 5 pounds
Comes with 1-quart capacity
Pros
It's quite durable
Its filter dust bag is easy to replace
One-year limited warranty
Its 30-foot cord is long enough to move around
Its light weight
Cons
Produces too much noise
Hard to push on high volume carpet
The hose pipe makes cleaning inconvenienced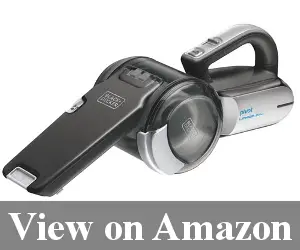 It's is a multipurpose vacuum that holds with a flexible stick attachment that is useful in carpet cleaning. Additionally, it is a perfect vac with the cordless option to the various stars oriented corded vacuums.
Features
Flexible head. Black Decker stick attachment makes it unique in that the head is flexible. This vacuum is much beneficial even when cleaning the stairs unlike other vacuums with sticks are opposed to. Black Decker vacuum is great purpose when it comes to vacuum on the stairs. Due to its adjustable head, it can reach some parts that other vacuums with a stick can't reach.
Pet hair attachment – Black Decker vacuum has rubberized tools in the base which are essential for attracting as well trapping pet's hair to make your place clean after your fur babies as well as pets were in your house, or your house has hair messes.
L-Ion battery – This is a unique feature which enables it to be cordless. Black Decker vacuum is equipped with lithium-ion-battery that provides power to operate this vacuum. L-ion battery is more decent and better than ni-cad batteries which were in the old days. Li-Ion battery has a long-lasting as well as a fade-free character which is best for you to perform you vacuuming activities easier.
Filtration system
Different vacuums have filters, but Black Decker vacuums has Extreme Three stage filtration systems, unlike others. This vacuum has different unique features on its system such as: being washable, the ability for you to trap dust, bacteria as well as other allergen particles.
Pros
2-year limited warranty
Light weight of 6.8Ibs
Pet hair attachment
Easy to clean
The device has a very strong suction power
The battery can be replaced easily
Fade-free lithium-ion battery power
Washable dust collection bowl is easy to clean
Washable 3- stage filter
It has minimal power fade out during charging
Cons
The device can not clear pet hair on carpets
This is a portable vacuum cleaner that is specially designed for residential commercial cleaning. Its main strong points are durability, ability to reach corner areas, light weight and indoor air Quality (IAQ). This Vac has the following features;
5 amp Motor- helps in producing an airflow of 159CFM
ADJUSTABLE Flex Fit Harness. This mainly is for lumbar support and heat dissipating
The extra-long 50-foot power cord allows you to clean large areas without having to unplug and plug
Four Level Advanced Filtration with HEPA media filter. This captures 99.97% dust, allergens, and even small particles
The Vac comes loaded with the following accessories that boost its capacity to be the best Backpack Vac; turbo brush, 14-inch scalloped felt brush floor tool, 17-inch crevice tool, 3-inch dust brush, claw nozzle, 1-1/2-inch diameter static-dissipating vacuum hose, 42-inch to 59-inch telescoping aluminum wand, 50-foot extension cord and 2 Intercept Micro Filter Bags.
Pros
3 years warranty on parts,
High-quality backpack device
Low maintenance required for this model
Easy to move around
Cleans with ease since its light.
Long lasting vacuum
Cons
Comes with a higher price tag compared to the rest of backpack cleaners
This model has fewer accessories
This is the commonly used model for commercial cleaning. It's ideal for cleaning large cleaning areas using a 4 amp motor which generates a very high suction power. It does a perfect job when it comes to high traffic area cleaning. It has a wide path that ensures less time is spent when cleaning. This device is ideal for homes or offices with small storage spaces since it occupies a very limited area.
It features an automatic floor adjustment which provides a smooth transition between floors. The additional hand handle ensures that people with physical conditions are well taken care of. It also comes to make cleaning under your furniture simple using the easy to drop handle. This also makes it easy to store.
This model is ideal for people with arthritis since it has an additional hand handle on it. It's also recommended for small businesses and startups businesses since its quite affordable.
Pros
The air purifier keeps the air clean
It's a lightweight machine
It's compact and simple to use
Comes with a one year warranty
Cons
Produces a lot of noise during operation
Comes with dust away and 2 microfiber pads. This is a lightweight device with a detachable canister used for portable power cleaning. It can trap dust using a HEPA filter . It also has a shut-off button which makes it easier to switch between the floor and carpet. It's relatively long.
Features
Anti-allergen complete seal technology- this aspect traps dust inside the vacuum
Its light weight and powerful- it's easy to carry and move around while cleaning
Premium Pet Power Brush. This tool picks pet hair and debris while cleaning
It is a 2 in one vacuum- these are upright and lift away vacuums which can be used for easy cleaning
Advanced Swivel Steering with LED headlights
Excellent control for maneuvering around furniture
Pros
It comes with a 2-year warranty
It's light making it easier to carry and move around
The device has an excellent control which helps in maneuvering around
It can clean both carpet and floor with ease.
Cons
It's an old-fashioned vacuum cleaner which means it doesn't have the latest feature
A little heavy than other Lift away models
This stairs cleaner is cheap, retailing at less than 4 pounds. It's also light weight.it comes with 15-foot long power cable cord. This means that you can clean without interruptions such as moving switch now and then.
In order for you to perform these tasks while cleaning, you will shuffle the setting to the desired settings according to a task. Also, it has a detachable nozzle which is best for you while cleaning windows, glass in cubicles and as well mirrors.
It's good for both carpet and bare floor cleaning. Also It has 1200 watt motor that gives it a really powerful suction.
Pros
It has a large capacity dirt cup
12-foot hose for navigation
Well priced
Uses HEPA filtration system
2 years limited warranty
Pet hair power brush is able to clean both stairs and upholstery
Cons
No swivel steering
Not ideal for tall stairs – tends to be cumbersome
It tips over when cleaning
Final words
This model will be an excellent assistant, for example when cleaning a restaurant. Thanks to the large capacity of the cylinder for garbage, and a convenient design, you can easily clean between the chairs and tables.
It's ideal for homes that require a deep cleaning carpet tool. It's cheap and does a good job. However, it's not as versatile as Shark rotator lift away or rocket models.
Best Commercial Vacuum – Buyer's Guide
If you have decided to get a commercial vacuum, this is the way to go before buying it.
Suction power
The stronger the suction power, the faster the cleaning process. Think about where you want to use your vacuum cleaner. Perhaps a small manual vacuum cleaner is suitable for your use. Or you need a big one, which can remove a huge area.
What vacuums better bagged or bagless
Advantages of bagless are that there is no loss of suction. The main disadvantage is they can send dust back to the room if not emptied in good time. Bagged are best for those people who suffer from allergies. No incidents of dust leaks around your home. Bagless, on the other hand, saves money. You don't have to buy a bag.
Heavy vs light
Most commercial vac cleaners tend to be heavy. There are, however, light ones. Those are the best. If we are talking about Commercial vacuum cleaner, then you should think about how it will be convenient to use one or another vacuum cleaner. Perhaps you will clean the premises where there are ups, then you need to think about mobility.
Availability of spare parts
Go for a vacuum that has spares that are easily available. Such vacuum cleaners usually have a long warranty period, and they work much longer. That is why, it is worth considering the purchase of such a model of a vacuum cleaner, to which it will be possible to pick up spare parts in case of breakage (especially if it is a question of very expensive vacuum cleaners).
The length of the power cord
The longer the cable the easier the maneuverability. And in truth, the longer the wire, the easier it is to clean the room. Therefore, you should pay special attention to this detail, or move on to the next one.
Corded vs cordless vacs
Cordless is the best bet. No cables running all over your. Cleaning area. And are easy to store. Their only disadvantage is that they are expensive.
Handheld vacuum cleaners
This types of vacs are ideal for quick surface cleaning because they are cordless. They are small and can clean bare floors and carpets well, and of course ideal for cleaning cars interior. Also, they are less powerful hence cannot perform heavy cleaning duties.
Consider the features and tools
A toolkit and other important features should be considered.
Your cleaning needs
What do you want to use the Vac for? This will help you narrow your options.
Upright versus cylinder cleaners
The decision here is determined by the kind of cleaning style you prefer. Cylinders are easy to store but pulling around is quite annoying. Upright shag carpet cleaners have relatively large cleaning pads.
Filter system
Commercial vacuums need to have very good filters, especially where you are dealing with a lot of dust. Most modern vacuum cleaners have a Hepa filter. Thanks to this filter you can make cleaning much more effective than before.
Flexibility
Choose a vac that can work in all areas such as under furniture well.
Research widely
There is nothing bad as settling on a vac that won't serve you as expected. Do a lot of window shopping, compare prices till you settle on the best.
Conclusion
In order to make an informed choice on the best Commercial hoover to settle on, you have to know the features you are interested in. Most vacuum cleaners for commercial purposes are easy to carry around. If you are suffering from any wrist related problems, for instance, choose a vacuum with an additional hand handle.
For durable carpets, pro team products come in handy for that. Vacuums come with different settings which can be easy or hard to follow. It's very important to consider a vac that has a manual or online tutorial. The most recommended models for commercial vacuuming, are the upright vacuums.
Cordless stick vacuums are also ideal since they have no cords running around. They are slowly facing out corded ones.
 It's the high time you grabbed one.
Carefully consider your budget before buying any vac cleaner. The most expensive vacuums are not always the best one. The lit above provides the best commercial vacuum cleaners.