If you sneeze often in the office, it's because your floors are dusty. Then you should think about getting the best commercial vacuum. But first, let us talk about the most important choice criteria when choosing a vacuum cleaner to be used in offices, warehouses, and other types of commercial (and sometimes residential) sites. The range of commercial vacuums includes upright, canister, lightweight and robotic vacuums.
Commercial vacuums are durable and sturdy and perform perfectly on a wide range of commercial cleaning tasks. Some of the best models are wet and dry vacuum cleaners. That means that they can pick up liquid spills, perform wet cleaning with solution, and remove dust and dirt from hard floors.
Commercial vacuums come with professional features which include ergonomic hand handles and extra-long power cords. Either in offices, hotels or hospitals, the vacuums from the list below will give you durability and quality you need to help you get your job done.
Some, like the Oreck models, come with more than 50 years of floor care track record.
The list below comprises the best commercial vacuums 2018 that are designed in all shapes and sizes including the best backpack vacuums. The backpacks are compact and easy to carry around. Commercial vacuums listed here have very powerful motors and exceptionally comfortable back straps and are suitable for all types of cleaning needs.
List of the Best Commercial Vacuums 2018
Oreck Commercial XL2100RHS
Hoover Commercial Vacuum C2401
BLACK + DECKER CHV1410L
Shark Rotator Freestyle Pro (SV1112)
Oreck Commercial BB900DGR XL Pro 5
Black+Decker BDH2000PL MAX
ProTeam Super CoachVac 10 Quart
Oreck Commercial U2000R-1
Shark Rotator Professional Lift-Away (NV501)
Shark Navigator Deluxe (NV42)
Although designed for commercial use, most of the models listed above are suitable for residential use as well.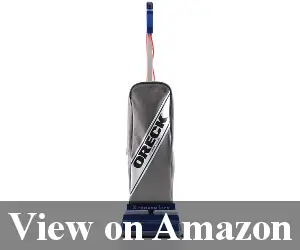 This is an upright commercial vacuum cleaner with 12-inch cleaning path. It will give wall-to-wall carpets in your office or classroom a deep clean they need.
It comes with a hypoallergenic filter system, which captures up to 99.9% of particles and traps them inside to keep the air clean and fresh.
Features
Hypoallergenic filter system.
Power brush rotation speed is controlled by a belt.
Automatic surface adjustment. You don't need to change settings when moving from hard surfaces to carpets and vice versa. This feature is enabled by the Multi-Floor Cleaning with Micro Sweep technology.
Hand handle – Oreck Commercial has a strong handle which offers a good grip when cleaning.
Balanced brush roll. Oreck commercial vacuum comes with a double Helix Brush that whirls at approximately 6,500 RPM and sends debris to the vacuum inlet.
Non-Marring Bumpers protect your furniture and baseboards from being damaged.
Top-fill bag design.
The machine has a direct suction power which handles both dust and debris with ease.
Pros
 Dust bag filter is easy to replace.
 Comes with one-year limited warranty.
 35-foot cord.
 This is a lightweight commercial vacuum.
 Easy to use.
Cons
 Produces too much noise.
 Hard to push on high-pile carpets.
 No swivel steering.
 The belts need to be replaced every 6 months making it expensive to maintain.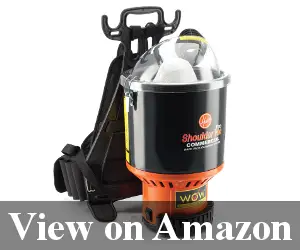 Vacuuming does not have to be painful. With Hoover Commercial Shoulder Vac Pro cleaning will become an easy and stress-free task. It stores all collected dust and debris in the backpack canister with chiropractor designed back harness support. It weighs 10 lbs and can be worn on your back without overstraining it.
Hoover Commercial Shoulder Vac is compact and allows you to clean narrow corridors and tight nooks as efficiently as open spaces. It can carry about 6.4 quarts of dust at any given time. It has a clear top lid which allows you to inspect the level of debris so that you know when it is time to empty it.
The HEPA filtration system enables this commercial vacuum to collect 99.97% of dust, pollen and debris. Hoover Commercial comes with the attachment kit, which includes a locking hose, 6-inch crevice tool, 11-inch turbo floor tool, 2-inch dusting brush, and an upholstery tool.
Key features

Chiropractor design that prevents back pain.
Cleaning accessory pack.
Hypercone HEPA filter that ensures consistent airflow.
Positive locking hose is secured against accidental disconnection.
Extra-long 48-foot 3-wire quick-change cord for easy outlet switching.
Pros
Long cord.
Lower price as compared to other commercial vacuums.
Suitable for above-the-floor cleaning.
It is more durable than other vacuums in the same class.
Easy to maneuver since it has fewer parts attached to it.
Cons
Backpack straps are not flexible enough.
This commercial vacuum has fewer features and thus, limited vacuuming options.
Note. This vacuum can get warm when used continuously. Therefore it will be inconvenient for you to use it on hot days.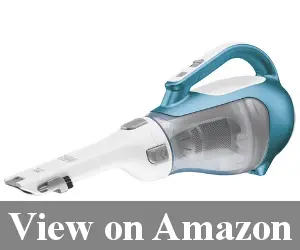 This commercial vacuum is a perfect choice for those who are looking for a professional cordless cleaner. It is powered by a fade-free 16-Volt Lithium-ion battery. In spite of its compact size, it can tackle various commercial cleaning tasks, especially in hotels and restaurants.
The Black+Decker Hand Vac stays charged for 18 months if idle. It comes with a transparent bagless dust cup that allows you to see the level of dirt and know when it is time to dispose of it. The cup detaches easily from the base, so you will have absolutely no problem emptying it.
Key features and performance
Cyclonic action keeps dust and debris away from the filter thus, keeping the suction strong.
Lithium-ion battery ensures outstanding performance and an extended battery lifespan.
Smart Charge Technology protects the vacuum by automatically shutting off power when the battery has been fully charged.
Built-in crevice tool and a flip-out brush.
High-performance motor ensures strong suction.
Rotating slim nozzle.
Pivoting nozzle.
The package includes
Hand Vac
Washable pre-filter
Disposable Filter – VF110
Built-in Crevice Tool
Built-in Board Brush
Charging Base
Pros
 Weighs around 3.5 pounds.
 Long battery life.
 2-year limited warranty.
 Fade-free lithium-ion battery power.
 Comes with a tool storage unit.
 The dirt cup is easy to empty.
Cons
 The dust cap is rather small, so it needs to be emptied quite often.
Note: With the fully charged battery the device can work for 18 continuous minutes, which is quite an improvement as compared to some outdated models. However, this might be not enough for your regular cleaning sessions.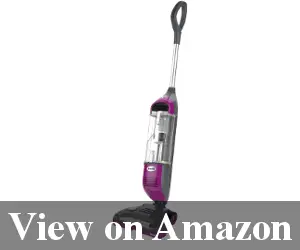 Shark Rotator is a powerful cordless upright commercial vacuum that weighs approximately 7.5 pounds. It comes with LED headlights on the nozzle. The vacuum is designed to maneuver in tight spaces, such as corners, niches, stairs, narrow passages, under the racks, etc. On a fully charged battery it can run for 15 minutes.
Key features
A 2-speed brush roll cleans carpets and bare floors with equal excellence.
XL-capacity dust cup, which enables extended cleaning without interruption.
Bagless design.
Powerful LED headlights reveal hidden dust and dirt in hard-to-reach areas. They also come in handy when you need to work in dim-lit commercial facilities.
Cordless design facilitates enhanced maneuverability.
Pros
 Lightweight.
 Easy to move around with
 Fade-free battery power
 Great suction power
Cons
 Short battery life
 Mediocre durability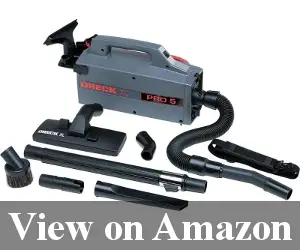 This is a redesigned commercial version of Oreck corded compact canister vacuum. It comes with a variety of attachments, which make it perfect for commercial vacuuming. You can use its flat heads on the stairs, the wand for cleaning walls and in tight nooks, and a crevice tool for cleaning furniture seats, shelves and other hard-to-reach areas.
Oreck is a leading manufacturer of handheld vacuums. This particular model has an outstanding suction power. It is also rather light, weighing only around 11 pounds. This commercial vacuum comes with a 30-inch power cord which enables you to cover large areas.
Features

Scent holder, where you can put fragrances for fresh-smelling air.
Ergonomic shoulder strap.
Integrated handle for enhanced portability.
2-stage bypass motor with increased vacuuming capability.
Adjustable extension wand and 4-foot hose allows you to clean high places such as ceiling vents, overhead fans, high shelves and windowsills, etc.
Measures 8 x 6 x 15 inches (H x W x D).
Weighs 5 pounds.
1-quart capacity.
Pros
 It's quite durable.
 Its filter dust bag is easy to replace.
 One-year limited warranty.
 Its 30-foot cord is long enough to move around without changing outlets.
 Comparatively lightweight.
Cons
Dust bags need to be replaced regularly.
It can strain your shoulder if carried continuously.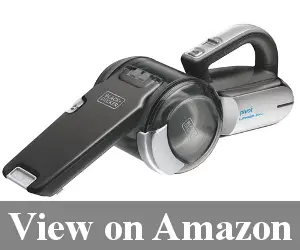 This is a versatile commercial vacuum with a flexible stick attachment designed for carpet cleaning. This is a cordless version of Black+Decker best handheld vacuums.
Features
Flexible head. This vacuum is much more beneficial when cleaning stairs as opposed to vacuums with sticks. Thanks to its adjustable head, it can reach some parts that other vacuums with a stick usually leave out.
Pet hair attachment. Black+Decker commercial vacuum has rubberized tools in the base which attract and trap pet hair so you can combat even the worst messes left by your pets.
Lithium-ion battery. Black+Decker vacuum is powered by a lithium-ion battery, which has a longer lifespan as compared to old-fashioned Nickel-Cadmium batteries. It is fade-free, so you will always get the most out of your vacuum until the battery dies off completely.
Filtration system.
Black+Decker vacuum has a unique Extreme Three-stage filtration system. It is washable and does an outstanding job trapping dust, bacteria and allergens.

Pros
 2-year limited warranty.
 Fairly lightweight.
 Pet hair attachment.
 Easy to clean.
 The device has very strong suction.
 The battery can be replaced easily.
 Fade-free lithium-ion battery power.
 Washable dust collection bowl is easy to maintain.
 Washable 3-stage filter.
 Power does not fade out during charging.
Cons
 The device performs poorly on carpets.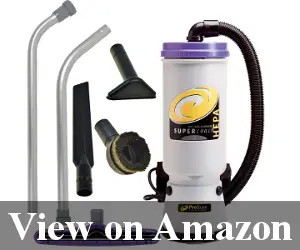 This is a portable vacuum cleaner designed specifically for commercial cleaning. Its main advantages are durability, ability to reach corner areas, light weight and HEPA filters that improve indoor air quality (IAQ). This commercial vacuum has the following features:
5 amp motor produces an airflow of 159 CFM
Adjustable Flex Fit Harness provide lumbar support and help dissipate heat
An extra-long 50-foot power cord allows you to clean large areas without having to change outlets
Four-level advanced filtration with HEPA filter captures 99.97% of dust, allergens, and even small particles
The vacuum comes with the following accessories that boost its productivity: a turbo brush, 14-inch scalloped felt brush floor tool, 17-inch crevice tool, 3-inch dust brush, claw nozzle, 1-1/2-inch diameter static-dissipating vacuum hose, 42-inch to 59-inch telescoping aluminum wand, 50-foot extension cord and 2 Intercept Micro Filter Bags.
Pros
3-year warranty on parts.
Ergonomic harness.
Low-maintenance device.
Easy to maneuver.
Lightweight design.
Exceptional durability.
Cons
Comes with a higher price tag as compared to the rest of commercial backpack cleaners.
This model has fewer accessories as compared to more advanced commercial vacuums.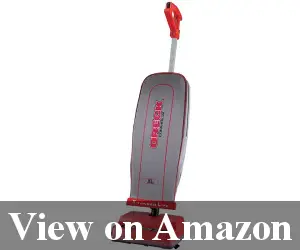 This is one of the most popular commercial vacuums. Its 4 amp motor generates exceptional suction power. It does a perfect job on high traffic areas, such as offices, warehouses, hotels, stores, etc. It has a wide path for faster and more effective cleaning. This device takes up very little storage space.
Automatic floor adjustment provides smooth transition between different types of floorings. An exclusive handle provides a safe and easy grip, preventing wrist pain and related issues. Oreck's easy-to-drop handle makes cleaning under the furniture simple and stress-free.
This commercial vacuum is friendly to people with arthritis since it has an additional hand handle on it. It is also recommended for small businesses and startups, since it is quite affordable.
Pros
The air purifier keeps the air clean.
Fairly lightweight.
It's compact and easy to use.
Comes with a one-year warranty.
Ergonomic handle.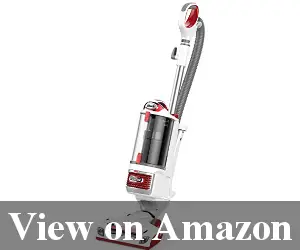 This is a lightweight 2-in-1 device with a detachable canister used for portable power cleaning. It traps dust using its HEPA filter and keeps it sealed securely inside. It also has a shut-off button which makes it easier to switch between hard floor and carpet. Its cord is relatively long to ensure convenient cleaning. The vacuum comes with a dust-away and 2 microfiber pads for outstanding cleaning results.
Features
Anti-allergen complete seal technology.
It is lightweight and easy to carry and move around while cleaning.
Premium pet power brush. This tool picks up pet hair and debris with excellent precision.
It is a 2-in-1 vacuum. It can be used either in an upright or lift-away mode for versatile and convenient cleaning.
Advanced swivel steering with LED headlights.
Excellent control for maneuvering around furniture, on stairs and in the nooks.
Pros
It comes with a 2-year warranty.
It's light enough to be easily carried and moved around by most people.
Excellent swivel steering enables you to maneuver around obstacles.
Performs perfectly on both carpets and hard floor.
Cons
A little heavier than other lift-away models.
In the lift-away mode the canister can easily tip over.
The hose is rather stiff and does not provide a desired reach.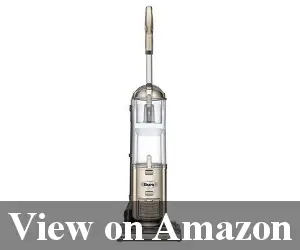 This upright cleaner is cheaper than other upright commercial vacuums, retailing at slightly more than 100 USD. It is fairly lightweight and equipped with a 15-foot power cord, which is enough for cleaning in restaurants, cafes, hotel rooms and small commercial facilities.
In order to complete different cleaning tasks, you can change the settings to a desired mode. Shark Navigator Deluxe has a detachable nozzle, perfect for cleaning windows, cubicles, mirrors, and other above-floor surfaces.
It works perfectly on both carpets and bare floors. It is powered by a 1200-watt motor that gives it a really powerful suction.
Pros
Large capacity dirt cup.
Extended reach provided by a 12-foot hose.
Affordable price.
HEPA filtration system.
2-year limited warranty.
Pet hair power brush for spotless cleaning of stairs and upholstery.
Cons
No swivel steering.
Rather cumbersome in tight spaces.
Might tip over during cleaning.
Final words
Shark Navigator Deluxe will be an excellent assistant in maintaining a cafe or a restaurant. Thanks to its compact design you can easily clean between chairs and tables, while a detachable hose will help you take care of above-the-floor objects.
It can also be used in homes that require deep carpet cleaning. It is relatively cheap and is totally worth its money. However, it is not as versatile as Shark Rotator Lift-Away or Shark Rocket models.
Best Commercial Vacuum – Buyer's Guide
If you have decided to get a commercial vacuum, but are not sure what model to chose, here are some tips to help you make up your mind.
Suction power
The stronger the suction power, the faster the cleaning process and the better the final result. The size of the vacuum is not always an indicator of its power. There are some little fellows out there that can outperform large and sturdy models. So when choosing a compact commercial vacuum you do not have to settle for low productivity.
Which vacuums are better: bagged or bagless?
The main advantage of bagless commercial vacuums is that there is no loss of suction as the dust cup gets filled up. However, they can send dust back into the air if the bag is not emptied on time. Bagged vacuums are preferable for people who suffer from allergies, since they prevent dust from penetrating into the air. Bagless models, on the other hand, help you save money on buying spare bags.
Heavy vs light
Most commercial vacuum cleaners are rather heavy. However, the latest models are fairly lightweight, and these are the ones you should opt for. If your premises have lots of stairs, curbs and slopes, a lightweight vacuum would be a better choice for you. However, some extra-light models tend to tip over if operated without due care, so this might be an issue if you need fast and effective cleaning of large flat areas.
Availability of spare parts
When buying a commercial vacuum, make sure its spare parts are available in stores or at service centers. High-quality vacuums usually have long warranty periods, during which broken parts can be replaced for free.
Length of power cord
The rule of thumb is: the longer the power cord, the greater the maneuverability. While at home the cord length might not be such a big deal, on commercial premises every foot of the cord counts. Therefore, you should pay special attention to this feature.
Corded vs cordless vacuums
If none of the cords is long enough for you, consider cordless vacuums. There will be no cables running all over your cleaning area getting tangled up as you move around. Moreover, a cordless commercial vacuum is the only solution when you need to clean a facility with no power outlet. The only disadvantage is that batteries do not usually last longer than 20 minutes.
Handheld commercial vacuum cleaners
This type of vacuums is perfect for quick cleaning jobs in hard-to-reach places. They are small and can be used on bare floors and carpets, as well as in cars. You should keep in mind that they are usually less powerful, thus cannot perform heavy cleaning duties.
Consider the features and tools
A toolkit and other important features should be considered. Basically, the more attachments the vacuum has, the more versatile it is.
Your cleaning needs
Think about what you want to use the vacuum for. This will help you narrow down your options.
Upright vs cylinder cleaners
The decision here is determined by the kind of cleaning style you prefer. Cylinder commercial vacuums offer extended reach and can be used to clean above-the-floor objects, but dragging them around is quite inconvenient. Upright cleaners have relatively large cleaning heads and perform outstandingly on various types of floorings, but most of them cannot reach any higher.
Filter system
Commercial vacuums need to have very good filters, especially if you are dealing with very dusty facilities. Most modern vacuums have HEPA filters, which ensure effective and safe cleaning.
Flexibility
Choose a device that can work in hard-to-reach areas, such as under the furniture, on stairs, under the racks, etc.
Do the research
There is nothing worse than settling for a commercial vacuum that won't serve you as expected. So take your time to study various models and compare prices before making a decision.
Conclusion
In order to make an informed choice on the best commercial vacuum, you need to know the features you are interested in. Most vacuum cleaners for commercial purposes are powerful, maneuverable, and easy to carry around. If you are suffering from any wrist related problems, choose a vacuum with an ergonomic hand handle.
If you have different types of flooring on your commercial site, opt for a versatile device. Commercial vacuums come with different settings, some of which can be hard to figure out. So it is very important to choose a device that comes with a manual or has an online tutorial.
Upright vacuums are generally preferable for commercial cleaning. Cordless stick vacuums are also great, since they are light, compact, and have no cords to drag behind.
And last, but not least, carefully consider your budget before buying a commercial vacuum cleaner. The most expensive vacuums are not always the best ones. The table above summarizes the best commercial vacuum cleaners for you to choose from.