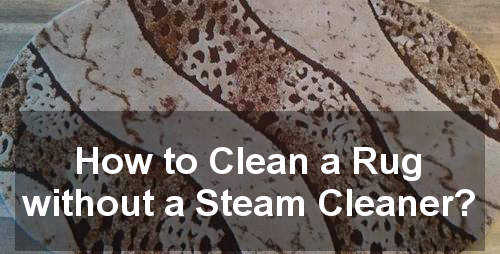 Do you like carpets? I am sure you do. They make your rooms cozy, decorative and warm. However, regular maintenance is a must. Rugs accumulate dust and dirt. Without proper cleaning, it is released into the air. How to clean a rug without a steam cleaner? Let's consider suitable household appliances at hand, professional and homemade solutions. Which ones are the best? They are to be safe and efficient.
Carpet Materials
The terms "rug" and "carpet" are very similar. Both of them refer to the flooring. Carpets and rugs are made of textile or woven materials. They are classified into natural and synthetic fibers. For example, natural fabrics include:
cotton;
jute;
seagrass;
silk;
sisal.
Synthetic coverings like the ones made of polypropylene are stain-resistant and lightweight. However, they are sensitive to heat. Therefore, we can't apply a professional, heavy-duty steam cleaner to delicate fabrics. A portable steamer is also not suitable. The tool is designed for sealed surfaces and heat-resistant materials.
Here you can see more information about best portable steamer!
Differences between a Carpet and an Area Rug
Meanwhile, being made of the same fabrics, rugs and carpets are not identical. Dissimilarities in size, thickness and installation mode exist.
| Parameters | Rug | Carpet |
| --- | --- | --- |
| Length, feet | up to 6.5 | 6 or more |
| Position | center of the room | wall-to-wall |
| Ease of removing | placed on the floor | permanently attached |
| Pad thickness, inches | up to ½ | ½- ¾ |
New carpets usually release a chemical smell for several weeks or months. They require professional dry cleaning. Additionally, rugs are available in more diverse patterns than carpets. Due to the smaller size and ease of handling, they are low-maintenance. You can move your soft and durable rugs to another room or the yard. Quite naturally, they can be deep cleaned at home.
How Can I Clean My Area Rug at Home?
Do you prefer to decorate your cozy room with a beautiful rug? It's a wise decision. Being easy to wash and dry, a flooring item of this kind is a healthy choice. It's suitable for people that suffer from allergy. A large, wall-to-wall carpet is good for open spaces and large houses.
Therefore, you can easily clean and refresh your area rug with a steam mop for carpet. It deodorizes the flooring and removes stains. Meanwhile, the rug pad is to be attached to the floor or reliably secured. It's recommended by the tools' manufacturers.
Here you can see more information about best steam mop for carpet!
Anyway,
deep rug cleaning
is essential. It is to be done not less frequent than twice a year.
The cleaning and sanitation are necessary to:
Eliminate trapped pollutants.
Improve air quality.
Prevent mold growth.
Get rid of dust mites.
Do you want to avoid using expensive professional services? Small rugs don't require them. DIY rug cleaning is possible. Some tools are still necessary. They may include a brush, a damp cloth or a good residential vacuum.
How to Clean Carpet Yourself?
Do you place your rugs on hardwood or laminate floor? It's beneficially protected from scratches and damages. In winter, the rugs retain the cherished warmth. However, as they are unsecured, a tripping hazard exists. Additionally, the wooden floor should not get wet during cleaning.
Remove the rugs for deep cleaning to another surface. An outdoor support system would be helpful. Meanwhile, dry vacuuming is essential. It should be done every week or even more often. How can I clean my carpet without a machine? Of course, I use a vacuum cleaner. Therefore, it's necessary to:
remove all the furniture from the area;
vacuum the fibers carefully;
flip the rug;
proceed with the other side.
The pad is to be free of dust and debris too. It requires some maintenance, as well as the front rug side. The floor beneath the textile covering can be swept. Meanwhile, wet cleaning is beneficial for multiple types of surfaces. An upholstery attachment can be used for the corners and tough areas.
How to Clean Carpet with Machine?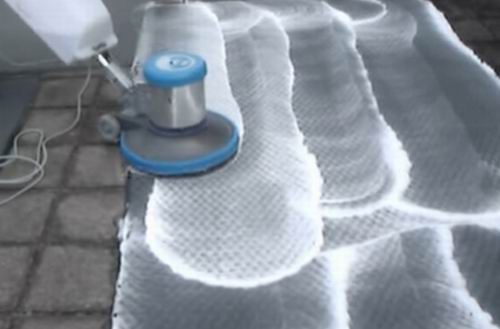 If your flooring is new and not heavily used, its maintenance is easy. However, if it serves you for years, vacuuming could be not sufficient. Do you have a pet? Do your little kids act like dirty eaters and pour drinks every day? Stains and bad odors are to be eliminated. They do require spot or deep cleaning.
So, how to do it? Have you compared steam clean vs shampoo carpet methods? Both of them are efficient to remove tough stains and sanitize the fibers. Harmful bacteria and viruses are killed. Drying time is long, anyway. It lasts from 12 to 24 hours, depending on the air humidity and ventilation in the room.
So, take it from there. Do you wonder, how to clean disgusting carpet? A shampooer can be used. It's suitable for heavy soiled areas. Heavy dirt is efficiently extracted from the fibers. If you prefer to avoid using chemicals, use the steam method. High temperatures at over 212° F disinfect and sanitize the rug pretty good.
Quite naturally, you would like to avoid heavy expenses. A large, heavy machine can be rented for several hours only. Therefore, you can use the best, most powerful model at a low cost. Meanwhile, steam cleaners are commonly a bit smaller and more versatile than shampooers. They are lightweight and easy-to-use.
How Can I Clean My Carpet by Hand?
Do you prefer to cut your expenses? If your rug is not heavily-stained, keeping it in good condition is not difficult. The fibers can be:
agitated;
brushed;
scrubbed;
washed with warm water.
Various tools at hand can be used. For example, apply a sponge, a toothbrush or a bristle brush. A soft wet cloth can be useful for removing fresh spills. However, an easy way to clean carpets by hand still implies some elbow grease. Brushing the rug is necessary to remove all dust mites. Dirt and debris are to be eliminated. Afterward, the rug is spotless. It's clean and fresh, providing a healthy environment for you and your close ones.
What is the Best Homemade Carpet Cleaning Solution?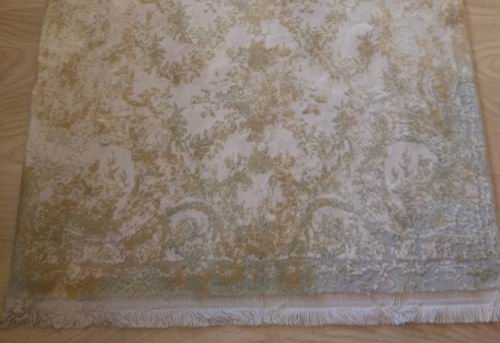 Small stains can be removed by a toothbrush. Do any odors remain? I hope, it's not the pet urine that smells do terrible! Meanwhile, disinfection is necessary. Detergents are essential. Which ones to use? Ready-made solutions are specially formulated to eliminate the stains.
Avoid harsh agents like ammonia or bleach. They may damage the fibers and cause pilling. The color can be ruined. As for me, I prefer biodegradable, green solutions. They are phosphate-free, non-toxic. Therefore, the liquids are safe for all family members.
Do you select the cheapest way to clean carpet? Liquid dish soap works fine. It's gentle and healthy. However, don't forget to rinse your rug with a lot of water. It would require a long time drying afterward. A homemade cleaning solution may include vinegar and baking soda. Just make a paste of these ingredients and scrub the spot. It creates a fresh smell and removes dirt. Some disinfection is provided.
Overall Impression
I hope, you understand now, how to clean carpet without vacuum. Quite naturally, it's time-consuming and exhausting. Powerful machines save time and make our lives easier. For allergy patients, it's important. However, sometimes, you may need to clean your rug by hand. Knowing how to do it, you become a house-proud person. So, don't tolerate dust and grease and enjoy your cozy home!