Do you prefer fast and easy mopping? Do your laminate floors need a deep cleaning? They can be filthy. So, can you use a steam cleaner on laminate flooring? The largest laminate manufacturers don't recommend it. But exceptions exist. Let's study them.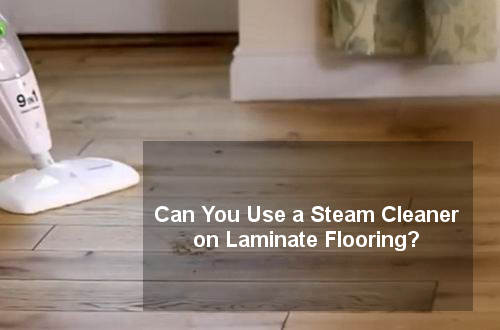 Moisture-related Issues
Are your floors dirty? If you have pets, they commonly make a lot of mess. Flooring in the entrance hall is tracked by shoes. Is it covered by mud and dirt? In the dining room, food is dropped from the table. Drinks are often spilled. It can make daily cleaning exhausting. Can you use the best portable steamer on laminate surfaces?
Laminate floors are commonly easy to maintain. They are:
stain-proof;
easy to clean
wear-resistant.
The top layer is made of melamine resin. By the way, some brands often promote laminate as a green and healthy flooring option. According to the EPA Agency, the flooring can emit small amounts of formaldehyde. It's still recommended even for allergy sufferers.
Meanwhile, the boards' surface is moisture-proof. The problem is in the seams. Commonly, they are not sealed. Therefore, water can come to the delicate core layer. It is compiled of wood-based composites. It is able to cause warping or buckling. You'll need to replace the damaged planks. How to avoid it?
How to Care for Laminate Floors
Routine mopping of laminate floors is easy. Its protective surface is perfect. Are you concerned about the flooring in your bedroom or living area? In some days, it gets dusted. Use the best microfiber mop for laminate floors. It is to be dry to remove debris. Microfiber efficiently picks up pet hair and crumbs. Cotton or terry cloth are also suitable.
Are there other acceptable laminate flooring cleaning methods? They include: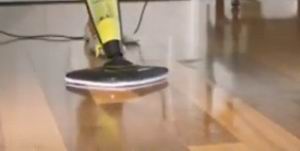 vacuuming;
sweeping;
dusting;
damp-mopping.
Wet-mopping is not recommended. Puddles can damage the floor covering. Occasional spills are to be wiped up immediately. Do you still want to use the best steam mop for laminate floors? It can be necessary for high traffic areas. These tools are comparatively safe for most flooring types. Just test it in beforehand. Additionally, keep it moving. Don't let it settle in a certain area. Dry the surface well afterward.
How to Clean Laminate Wood Floors without Streaking?
Is the flooring muddy? The stains are to be removed as soon as possible. Don't let them set in. You can clean them with a wet mop. Quite naturally, you know how to do it:
dip the mop into a bucket with water;
wring it out thoroughly;
run the mop over the dirty place;
proceed with the next floor sections.
What is the best way to clean laminate floors? I think it would be great to avoid any cleaning solutions. Quite naturally, a top-quality cleaner recommended by the flooring manufacturers works well. But don't overdo it. It can leave a residue. The floor finish becomes dull in some years. If you want the surface to shine, just buff it dry.
What Can You Use to Clean Laminate Floors?
I guess deep cleaning is not the best term for laminate. It's suitable for carpets and upholstery. Meanwhile, a thorough mopping is to be done monthly. More often exposure is not recommended.
Therefore, prepare a solution of water, adding there alternatively some drops of:
Baby shampoo.
Dish soap.
Vinegar.
Gentle, mild detergents are preferable. Don't forget to wring out the cloth! It is to be nearly dry. Vinegar adds shine to the surface. However, don't use it frequently. It can damage the laminate's protective layer.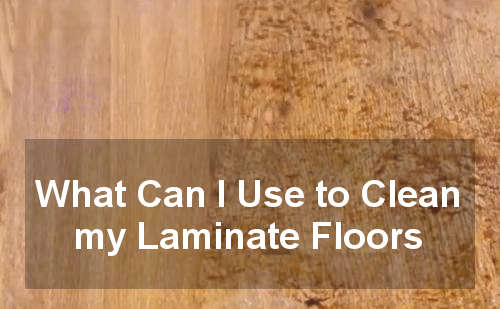 Stain Removing Tips
Do you see scuff marks and heavy stains on your laminate floor? They can be removed immediately. Consider the stain's nature.
| Stain | Remedy |
| --- | --- |
| Grease, gum | ice cubes, plastic knife or spoon |
| crayon marks | turpentine (odorless mineral spirits) |
| blood stains | window cleaner |
| ink spills | dish detergent |
| scuff marks | WD-40 |
Commonly, it's recommended to spray the solution to the spot. Wipe it up with a soft cloth. Is cleaning laminate floors with steam mop possible? It can be beneficial for spot cleaning. The tool is efficient against the tough mess and dirt. How can you minimize moisture exposure? Just choose the lowest steam flow setting. Move the mop's head along each board. Try to skip joints. Don't keep the steaming nozzle over a certain area for a long time.
Will Rubbing Alcohol Damage Laminate Flooring?
Stain removing tips allow using rubbing alcohol or nail polisher. The liquids can be applied to stubborn stains. They include tar, paint, oil, marker. Do you really need it? The spots should not sit in. Clean water would not be efficient in this case. Meanwhile, what is the flooring finish? It can be damaged, if it's made of:
lacquer;
varnish;
polyurethane.
The laminate surface is stable. It won't be dissolved. The solution evaporates fast. So, it's safe.
How to Clean Wood Laminate Floors
Laminate floors can be more or less delicate. Their wear-resistance is different. The flooring options with PVC top layers exist. They are completely waterproof. Additionally, you can seal the laminate, if you want it. Silicone caulk is a perfect sealant. Steam cleaning would be completely safe afterward.
What about wood flooring? It's beautiful, natural and warm. But how to care for the delicate finish? Actually, lacquer seals the surface. It makes it a bit moisture-resistant. However, the best way to clean hard floors is sweeping or vacuuming. Wet mopping is also possible. However, excess moisture is to be eliminated. The floor is to be dry before you place the rugs.
General Impression
Do you still wonder, how to clean faux wood floors? You know the basics already. Prefer dry mopping or vacuuming. It's commonly sufficient for routine cleaning. However, if the surface is heavily soiled, the other methods can be applied. Just eliminate long moisture exposure. Prefer mild detergents or don't use them at all. Buff the surface dry and enjoy the beautiful shine of your laminate flooring!
Video: How to Shine Laminate Floors Cheap!