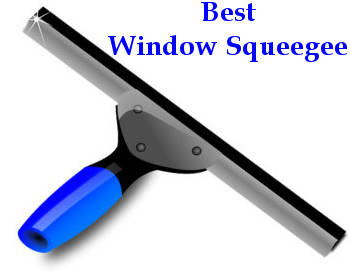 Spring is here, so it's the right time to buy the best window squeegee for crystal clear windows. There are many ways to clean windows. But using a window squeegee is one of the most effective ones.
First of all, squeegees and window mops that come with them are made of lint-free materials. Which leave no fluff residue on the surface allowing you to achieve a spotless result. Besides, unlike regular wipes and paper towels, window squeegees come with handles. To offer you a safe reach even to the remotest parts of your windows.
We have selected 6 better window squeegees that are convenient, effective and affordable. Each of them can become an essential helper in your household. As a bonus, we are going to present 2 unique window cleaning technologies that can make your routine even easier and more enjoyable.


See our selection of the best product!
OXO Good Stainless Squeegee
Wipes off tiles, mirrors, shower doors and windows

Flexible blade works on rippled surfaces

Soft, contoured non slip grip

Slim profile stores neatly with included suction cup

10 inches x 1.5 inches x 6 inches
Top Window Squeegee in 2020
1. OXO Good Stainless Squeegee – Superb House Window Squeegee and Car Window Squeegee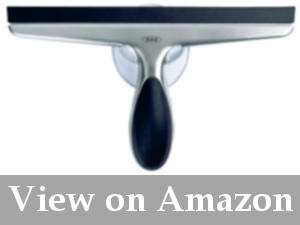 The Oxo window squeegee might be a good solution for quick clean-ups and small areas. It is compact and low-profile. The blade is only 9.8 inches wide. This squeegee will be effective on small windows, car windows, mirrors, and tiles. Aside from window cleaning, it can be used to eliminate fog on glass and tile surfaces in a bathroom. If you intend to use it particularly for this purpose, you might appreciate a suction-cup holder that can be used to keep the squeegee at hand.
This window squeegee is made of stainless steel and features a durable blade and a rubberized handle for convenient grip.
Interesting features:
8-inch rubber blade.
Silicone suction-cup holder.
Pros
Lightweight and easy to handle.
Comes with a suction-cup holder so that you can keep it on a wall in a bathroom.
Made of stainless steel.
Cons
Does not have a washer tool.
Cannot be attached to a pole.
Common Presentation
The Oxo stainless steel window squeegee is suitable for small area cleaning. Its recommended application is wiping down fog that appears on tiles, mirrors and glass doors after you take a shower.
2. Als Ellan 3 in 1 – Super Window Cleaning Squeegee with an Extra Long Pole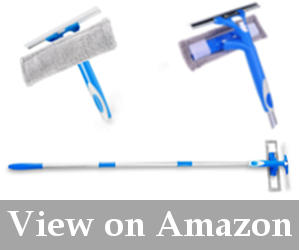 The Alswell window squeegee is a 3-in-1 tool that can tackle all types of window cleaning jobs. It consists of a rubber squeegee itself and a microfiber scrubber, which can be used together or separately depending on your window cleaning needs.
The squeegee comes with an extension pole that consists of three parts with a total length of 59 inches. A microfiber mop can be tilted in any position within a 180-degree range allowing you to clean curved and sloped surfaces. This window cleaning kit comes with a spray reservoir that attaches to the squeegee so that you can apply water or cleaning solution on your windows and wipe it right away in one simple motion.
Interesting features:
5-inch squeegee blade.
8-inch-wide microfiber scrubber.
55-ml spray bottle.
Three-piece extension pole.
Pros
Very long extension pole (59 inches).
Flexible microfiber scrubber allows you to clean effectively at any angle.
Comes with a detachable spray bottle.
Cons
The pole is not particularly sturdy when it is fully assembled and elongated.
Overall Impression
The Alswell squeegee is a versatile window cleaning tool. With this tool, you can clean windows without chemicals and achieve a sparkling, streak-free result.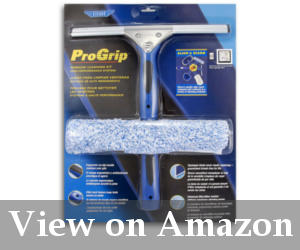 The Ettore window cleaning kit consists of a rubber squeegee and a washer with a microfiber mop. With this tool, you can perform two types of window cleaning interchangeably. Both tools can be secured on any of Ettore extension poles, which are sold separately[/su_label]
This squeegee is made of high-quality silicon rubber that fits closely to the glass surface and allows you to achieve a streak-free result. You can also use this squeegee to clean car windows, mirrors, glass furniture and other similar surfaces.
Interesting features:
12-inch rubber squeegee.
10-inch washer with a microfiber sleeve.
Pros
The squeegee features a durable rubber blade that does not need replacing.
Wide rubber blade.
Ergonomic handle provides a firm, comfortable grip.
Cons
An extension pole needs to be bought separately. The tools fit only original Ettore poles, so if you want to use them with a conventional threaded pole, you will have to get an adapter.
General Verdict
The Ettore kit consists of basic tools required for cleaning windows, mirrors, and other glass surfaces. This commercial window cleaning squeegee is also suitable for residential use, but in order to get the most out of it, you will have to get an extension pole.
4. ITTAHO 3 in 1 Kit – Excellent Window Washing Squeegee with an Extension Pole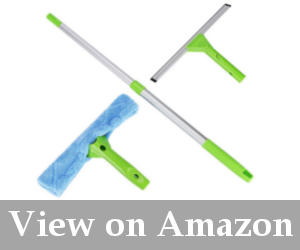 This window cleaning kit consists of a rubber squeegee, a microfiber mop, and a retractable pole. This combination offers rather flexible use, allowing you to clean tall windows, glass doors, solar panels and many other hard-to-reach surfaces.
The window squeegee can be used independently or in combination with a microfiber washer. Besides, you can switch the position of a squeegee to clean only with a mop. The tools are attached to an extendable pole, with a maximal length of 35.4 inches. It is quite lightweight and features easy-grip handles for comfortable use.
Interesting features:
2-inches-wide squeegee.
3 ways of use.
Pole length: 35.4" when retracted, 24.8" when extended.
Pros
Flexible use.
An extendable aluminum pole allows reaching high spots effortlessly.
Lightweight (weighs only 10.5 ounces).
Wide cleaning path.
Cons
At a certain angle, a metal part of the squeegee comes very close to the window and might scratch it.
 When the pole is extended, you can not apply sufficient pressure to it for proper cleaning (which is in principle natural).
Common Representation
The ITTAHO window cleaning kit is designed for all types of smooth surfaces, including windows, mirrors, solar panels, shower doors, tiles, etc. It is quite flexible, but there are some design nuances that do not allow it to clean properly in the remote parts of your windows.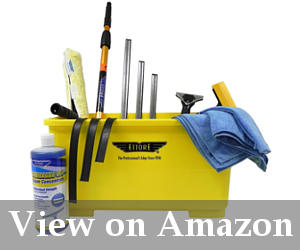 This product is not just a squeegee, but a complete window cleaning kit. It consists of a telescoping pole, a cleaning head, a pack of three cleaning pads, three polishing pads, and a sprayer. This is basically all you need for effective streak-free window cleaning. One of the main advantages of this kit is that it cleans with a minimal amount of liquid (water or solution). Therefore, it is safe to use in places where excess water is undesirable.
The cleaning process is rather simple. You just need to fill a sprayer with a solution, disperse it in a moderate amount all over the glass surface and wipe it with a cleaning pad. Afterward, you can go over the surface with a polishing pad for a sparkling result.
Interesting features:
6-foot aluminum pole.
8-inch aluminum cleaning head.
6 microfiber pads.
Sprayer included.
Pros
This cleaning kit does not require water.
Easy to assemble, all the essential parts are provided.
A telescoping pole allows to clean on different heights.
Spare cleaning pads are provided.
Cons
A cleaning head is not as wide as most of the squeegees.
Common Impression
If you are looking for a mess-free window cleaning tool, this kit might be a good choice. It includes all the essential parts and even spare cleaning and polishing pads. However, on large surfaces, it will not be as effective as a window squeegee due to a smaller cleaning path.
6. MR.SIGA Window Combo – An Extra Large Squeegee for Windows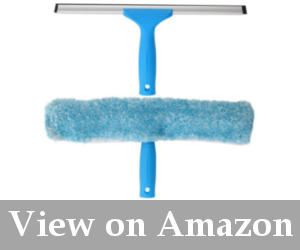 The Mr. Siga window cleaning kit consists of two tools: a window squeegee and a microfiber washer. Both tools are rather wide and can facilitate large area cleaning with less effort. The good squeegee for windows has a plastic handle and an aluminum clip that holds a rubber blade. Handles on both tools are designed to fit any extension pole, not necessarily the proprietary one.
Interesting features:
7-inch squeegee blade
7-inch microfiber scrubber.
Pros
Both squeegee and a washer have wide cleaning passes.
Compatible with any extension pole.
The rubber blade is replaceable.
Cons
An extension pole is not included in a kit.
General Representation
This window cleaning kit consists of essential tools: a washer and a squeegee. The tools can fit any extension pole available on the market, but a pole needs to be bought separately. A significant advantage of this kit is wider tools (as compared to other similar kits).
7. Modern Domus: Super Neverending Reach Combo Cleaning Set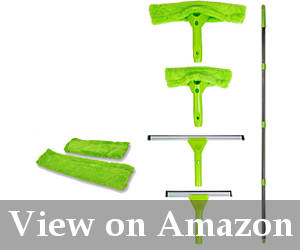 Do you need to clean second-story windows in your house? This perfect set of washing tools helps you to solve any cleanup task. Quite naturally, you might need a ladder in some cases. However, this extendable pole is a miracle! It lets you reach top edge of your high windows, even if the ceiling in your house is very high.
Consisting of 4 sections, the pole is sturdy and lightweight. It's beneficially made of stainless steel, being durable and reliable. Measuring 1.25 inches in diameter, it's easy to assemble and use. So, this perfect set helps you wash anything in your house and garage, indoors and outdoors.
Additionally, the set is pretty good to clean large mirrors, tiles in your bathroom, car interior, and exterior, painted walls or slider doors. It's handy and versatile. A 12-month warranty is provided by Modern Domus.
Interesting Features
Extendable (4-section) telescopic pole.
2 detachable squeegees (8.2" and 12.2-inch wide).
2 machine-washable microfiber heads (8.2" and 12.2-inch wide).
2 extra microfiber cloth.
1 microfiber towel for free.
Pros
Long and sturdy extendable pole.
Easy to assemble and use.
Versatile, suited to clean and wash anything in your house and outside.
Lightweight.
Cons
You are to apply pressure to clean windows at a distance.
Water might enter into the pole sections' cavities.
Overall Impression
If you have high windows or large mirrors, this perfect set is essential. It lets you clean all hard-to-reach areas of your tiled or painted walls, doors in your house or garage. The heads just don't swivel, so the surface is to be flat.
8. CM Concepts: Super Handy Squeegee with Telescopic Pole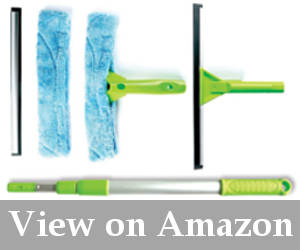 Do you need to clean your home, car or office windows? This kit works. It lets you save your precious time. Even if you have just moved into a new house, it does the job fast and efficiently. Long telescopic pole reaches tall, second-floor and outside windows. It lets you reach even the upper corners.
It takes only about 5 min to clean all windows in your house! It also works great for doors, mirrors, and glass tables. Use it with plain water or any cleaning liquid you like. Rise windows with water afterward. The handle is ergonomic, comfortable to grip.
Microfiber washcloth is heavy-duty, durable. It cleans soap stains, washes and dries window surfaces in one movement. With rubber squeegee blade and washcloth mounted to the pole, it's easy-peasy. The cleaning tool leaves no streaks. So, it's great to clean your glass or plastic shower enclosure.
Useful Features
Extendable (3 sections) aluminum telescopic pole.
12-inch wide washer and squeegee.
Bonus microfiber washcloth and rubber squeegee strip available.
The set is easy to assemble and use. Three pole sections are detachable. When you need and arm extender, fit popup on the handle with the grooves. Twist them, turning clockwise, to lock. Aluminum pole is lightweight and sturdy. It lasts long, as a replacement rubber blade and a microfiber washer pad are available. It easily collapses for storage, taking virtually no room.
Pros
Long reach.
Sturdy and lightweight aluminum pole.
Easy to assemble, use and store.
Leaves no streaks.
Bonus replacement parts available.
Cons
Not for commercial use.
Screw the handle tight to avoid collapsing.
Overall Impress
Telescopic squeegee set by CM Concepts is handy and easy to use. The pole is sturdy, long and lightweight. The washcloth is soft and heavy-duty. It leaves no streaks. So, save your time with this set. Make windows cleaning easy and fun.
How to Find the Better Window Squeegee? – A Buyer's Guide
At a first glance, all the best window squeegees are pretty much the same. But if you want to get a perfect one for your windows, you should pay attention to the following choice criteria:
The width of a rubber blade. You might think that wider squeegees are better, but you always need to keep the size of your windows in mind. While a wide cleaning path is great for large windows, it won't work on small areas, such as car windows. In that case, a smaller squeegee would be more appropriate.
Is a washer included? Many squeegees come with microfiber washers to be used either together with a squeegee or separately. Having a washer is a good idea since microfiber absorbs water and prevents it from dripping all over the place as you remove it with a squeegee.
Length of an extension pole. An extension pole that comes in a kit is always a big plus, especially if you have tall windows. However, you should make sure that the pole is sturdy enough to withstand the pressure, which you will inevitably apply while cleaning the remote parts of your windows.
Quality of rubber. The quality of the end result largely depends on the quality of rubber used in a squeegee. Naturally, the rubber should be stiff enough to ensure a close connection with a glass surface. On the other hand, it should not be too rough, otherwise, it might scratch your windows.
What is the better squeegee for cleaning windows?
There are many different types of window squeegees and the choice usually depends on your window cleaning needs. For home use, you might want to choose a compact squeegee that is undemanding and easy to keep at hand. Professional window squeegees usually have more durable rubber blades and longer poles and often come with higher price tags.
Other Window Cleaning Tools
A window squeegee is one of the most convenient tools for window cleaning. However, there are some advanced tools that might be worth your attention.
One of them is a vacuum squeegee from Leifheit. It works as a regular squeegee, but a significant difference is that it sucks in moisture instead of just wiping it, thus providing even better-cleaning results.
Another cool option is a magnetic window cleaner. It consists of two parts, which are held together by a strong magnet that works through the glass. So you can clean both sides of your windows with just one motion. Definitely worth trying!
Conclusions: Top Window Squeegee
Window cleaning can become an enjoyable task with a proper window squeegee. In this article, we have compared the five most popular products on the market to help you choose the top squeegee for window cleaning that will work for you. Or, maybe, you will want to try out some technological tools, such as a vacuum squeegee or a magnetic window cleaner. The choice is yours to make!