Disclosure: This post contains affiliate links and I may earn a small commission if you purchase through these links.
You've said goodbye to another vacuum cleaner. You are yet again asking – what is the best vacuum for home cleaning service? Truth is, there is no one answer to this.
The market has vacuum cleaners with diverse features and price points, which are enough to confuse anyone. I know I went through a rollercoaster of emotions when I was trying to find the best one. The dominant emotion was frustration because I was so overwhelmed with the variety of products out there. I didn't know how or what to choose.
One thing I definitely learned is that if a vacuum is good for a homeowner, it doesn't mean that it will be good for a business.
You need a vacuum that will make you more productive and make your cleaning flow better than before. This is what will increase your productivity and your bottom-line.
I'd suggest you look for a vacuum that has strong and long-lasting suction power. One that can handle frequent use, clean many houses, and is easy to use for both you and your staff members.
Why Buy the Best Vacuum For Home Cleaning Service?
In general, vacuum cleaners for a home cleaning business have a durable build, strong suction power, and long cord length.
Some of the vacuums I'm reviewing here may or may not be a good fit for homeowners. These are more geared towards business owners and their needs.
Let's look at 4 vacuum cleaners that are worthy of being a part of your home cleaning business.
A backpack vacuum is one thing you will not mind carrying on your back. When you're cleaning stairs or a large room with above-the-floor surfaces, this comes in very handy.  It's much easier to carry around than an upright vacuum.
The Super CoachVac might be the best in this product category, with its large canister and long-lasting strong suction power.
A lot of cleaning business owners swear by this product for its maneuverability and ease of use. It might be a little uncomfortable to move around with this on your back if you're not used to backpack vacuums.
If that's the case, I'd suggest you go for an upright vacuum with similar features instead.
Pros
An excellent four-level advanced filtration system and a High Efficiency Particulate Absorbing (HEPA) media filter
A very large capacity canister
A 50-foot power cord included
Doesn't make a lot of noise during operation
Cons
Not recommended for delicate floors and high pile carpets
Higher price point close to $400
Not comfortable to carry if you're used to upright vacuums
Uses canister bags which can be difficult to change between homes
Features of the ProTeam Super CoachVac Backpack Vacuum
Four Level Advanced Filtration
The Super CoachVac comes with a built-in, four-level, advanced filter and a HEPA filter.
The HEPA filter picks up allergens and dust particles. So you can get a deep clean and get rid of these irritants in your clients' homes.
Long-Lasting Suction Power
This unit also packs a very powerful and durable motor built for long and frequent use. The powerful motor, filtration system, and sturdy build are what make the suction power on this vacuum so strong.
Ease Of Use
Since this is a backpack vacuum, it takes away the physical stress of holding the vacuum. If you're less tired, you will be able to clean quicker and cover more space. This is a handy feature if you're cleaning larger rooms and stairs.
Lightweight
The Super CoachVac has a large, but lightweight, canister that is very easy to carry around.
Long Power Cord
The 50-foot long power cord ensures that you can clean larger rooms while using a single power outlet.
What Do The Users Say?
While looking for a vacuum cleaner suitable for a business, I came across a few user reviews about the Super CoachVac that looked very promising.



It is clear that the Super CoachVac is a viable option for a home cleaning service with its strong suction power and maneuverability.
If you're interested, you can buy the product here.
2.    Dirt Devil Endura Reach Upright Bagless Vacuum Cleaner
The Dirt Devil Endura Reach is a lightweight, but powerful, upright vacuum. It has a strong suction power and is one of the best vacuums for a home cleaning business.
This sweet baby comes with a new and improved filtration system. This filtration system picks up dirt from all the nooks and crannies.
If you and your employees are used to upright vacuums, this is a very good option to go for. You get the advantage of a very compact design that is easy to carry.  It also comes with a reach of 10ft for a thorough clean.
The Endura Reach will not disappoint you with its performance on hard floors. It's a lean, mean cleaning machine that can be used on all kinds of flooring.
The cord length on this one is a little short–at 20ft. You might have to use extension cords to move farther away from the outlet while cleaning.
Pros
Quick-release extension wand for a 10 ft wider reach
Endura filtration system that preserves suction power
Lightweight and well-priced at $59.99
Easy-to-clean, dirt cup
Cons
Needs to be carried on stairs
A 20 ft cord length can be limiting in larger spaces
The vibrating sensation while vacuuming may be uncomfortable for some
Features of the Dirt Devil Endura Reach Upright Vacuum
Endura Patented Cyclonic System
Endura isn't an industry leader for nothing, they have their own patented cleaning system. The Endura Reach comes with a three-stage filtration system called the Cyclonic system. Included is a multi-floor brush roll. This brush roll sucks up all the dirt and dust from hard floors and carpeted surfaces in a matter of seconds.
Suction Power
This filtration system also comes with another benefit – no loss of suction. Meaning you can continue using it day after day for hours.  And you won't have to worry about it losing its suction power.
Easy Clean Dirt Cup
Cleaning has never been this easy. You push a button and voila, the 1.5-liter dirt cup pops out for you to empty and clean. When you're cleaning houses, one after the other, this feature will be a blessing.
Extra Tools
The unit also packs a 2-in-1 dusting brush and a crevice tool which are pretty handy in reaching tough spots.
What Do The Users Say?
Expensive doesn't always mean better, and this Dirt Devil vacuum is such a great example of that. It's cost-effective and great at what it's built for. While searching for reviews about the product online, here is what I found: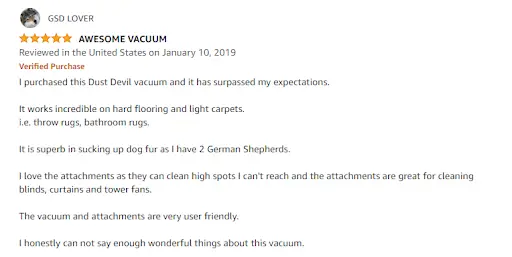 Final words? The Dirt Devil Endura Reach is the best vacuum for home cleaning service. If you're looking for an affordable option that has great performance, go for this one.
You can check out the latest price for the product here.
Are you a big fan of innovation in products? I know I am, and that makes this Shark Navigator an interesting option to look at.
The Shark Navigator is an addition to Shark's more powerful range of professional vacuums. There is a great balance between strong power and ease of use in these vacuums.
If you ever find yourself having to choose between upright vacuums and backpack ones, this baby here will solve the problem for you.
The entire unit is very lightweight and won't break your back while cleaning. If you need to lift it up for cleaning stairs, you can detach the canister from the vacuum with one push of a button.
That's pretty cool and makes cleaning around houses super convenient. The coolness doesn't stop here. It also comes with a swivel steer that's pretty useful while you clean around furniture.
Pros
2-in-1 Lift-Away Technology
Brush roll ON/OFF button
HEPA filter for air quality maintenance
Adjustable suction levels
Cons
The unit can lose balance in an upright position due to the swivel steer
Short cord length (25 ft). Not recommended for larger rooms or floors
Brush tool can get tangled with hair and thread
Strong Suction Power
For the price range of $150-$165, this is a pretty decent option for a home cleaning business. It has a strong suction power that comes with a HEPA filter for picking up dirt and dust while also cleaning up the air.
2-in1 Lift-Away Feature
The Lift-Away feature is a good option for homes that have stairs and makes it easier to carry. You can carry the canister in one hand and use the hose/tools with the other hand.
Swivel Steer
The Swivel steering feature lets you clean around furniture. This is very handy for a home cleaning business. It helps you or your employees clean around household items on a day-to-day basis.
Brush roll ON/OFF Feature
For houses that have delicate floors, the unit comes with a brush roll ON/OFF button. This means you can turn on the brush roll when you vacuum carpets. And turn it off when vacuuming hard floors.
I'm sure your clients don't like scratches on their delicate floors, and this feature will prevent that.
Adjustable Suction Levels
The Navigator also comes with adjustable suction levels. This can come in very handy on spots where the vacuum gets stuck. You can simply release suction to move it around.
What Do The Users Say?
I scoured the internet to see what people had to say about the Navigator. I wanted to see what day-day users say about it. Here is what I found:


My Verdict? The Shark Navigator is good for a home cleaning business when ease of use and suction power are top priorities.
The short cord length can be a problem while cleaning larger areas. But this vacuum's handy features would still make it a nice addition to your business.
You can check out the specifications and latest price for this here
Last but definitely not least, let's talk about the cleaning beast. I am referring to the Oreck Commercial Upright Vacuum Cleaner. I'm not exaggerating when I say it's a  "beast" because this vacuum cleaner will give you a 12-inch cleaning path.  That saves you an extra workout during your cleaning sessions.
Besides, the name says it all; the vacuum is for commercial use. This makes it a very good fit for the category of  "best vacuum for home cleaning service". Like most of the Oreck commercial vacuums, this one also has a very lightweight skeleton build.  It's easier to carry around when you clean and store in your vehicle.
This Oreck comes with a very large bag which means you won't have to worry about cleaning it, again and again. You can plug those earphones in and keep on cleaning!
With this vacuum and its double helix brush by your side, you can conquer the world of home cleaning in no time.
Pros
Lightweight and portable skeleton design
Large bag for less emptying
Double helix brush for picking up embedded dirt
Auto head adjustment for different surface types
Protective bumpers for the brush head
Cons
Very strong suction doesn't work on thinner rugs – they get sucked up
No extra attachments, and large clean path can make it difficult to clean stairs
Very loud when cleaning hardwood floors
Design may make it difficult to get cleaner edges
Features of the Oreck Commercial Vacuum 
Power-packed Advanced Brush Roll
This has got to be the best feature of this vacuum. As the feature name suggests, this Oreck vac has a killer suction power. Pair that with its double helix brush that rolls at 6500 RPM, and it uproots all the embedded dirt in your carpets.
Lightweight
Whenever I hear of a commercial vacuum, I immediately wonder about its weight. It's commercial, so it must be heavy, right? That is definitely not the case here. This vacuum is actually very lightweight at 9 pounds. You won't break your back if you carry it around the house.
A Wide Cleaning Path
Now, this is where this guy takes the cake. It has a very wide cleaning path. That means fewer rounds for you around the house, and the job gets done quicker. A 12-inch cleaning path means more productivity and more income for your business.
Floor Adjustment
As a home cleaning business owner, you need a vacuum that can clean all types of floors. The Oreck comes with a floor adjustment feature that makes it easy to use on any kind of flooring.
What Do The Users Say?
During my search for some customer validation about the Oreck commercial vac. I stumbled upon some reviews that seemed pretty promising: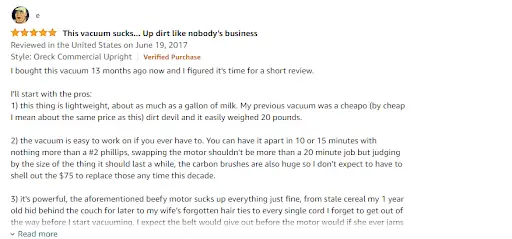 All in all, the Oreck's light weight and strong suction power tick all the boxes. But, if you aren't a fan of carrying units on stairs, this one might not be the vacuum for you.
You can check out the product and its latest price here.
Buying Guide – Things to Know Before You Buy a Vacuum for Your Home Cleaning Service
The world of vacuums can be a confusing and overwhelming one. A bad decision may result in you sitting in a client's home with a burst vacuum bag and a room full of dust. And that is not a pretty sight or a good situation to be in.
The point is, there are several factors you should be aware of before you decide to buy a new vacuum for your cleaning service. I'm sure you will do your research too. But I want to make your life easier by sharing my experience and things that I've picked up during my search.
Let's first look at the types of vacuums available in the market:
Upright Vacuums:
These are your classic vacuums that come with a long power cord. These are good options for your business. If you clean larger rooms, floors, and open spaces regularly, this is a good option.
Canister Vacuums:
These vacuums have a cleaning head attached to the canister which contains the motor and the vacuum bag. A good option for large open spaces where you have to clean under furniture. Canister vacuums are more maneuverable and easier to carry around while cleaning.
Backpack Vacuums:
As the name suggests, the canister in these vacuums is lightweight and worn on the back for easy movement. These are ideal for homes and buildings with stairs and above-floor surfaces. Being hands-free allows you to move around furniture while cleaning.
Wet/Dry Vacuums
This one is built for cleaning all types of wet and dry messes. It can help you clean up after a pipe bursts and also after a wall is taken down. These vacuums are generally very powerful and also very loud. So it's best to have employees wear ear protection while using these.
Robotic Vacuums
Robotic vacuums, a very recent concept, are becoming popular. These are an ideal choice for busy homeowners. These vacuums map their way across your house using navigation systems. You can program them to detect boundaries and off-limit areas.
Their software allows switching modes for different kinds of flooring. Some of these babies also have mopping functions.
You can control the latest models through your smartphone. These vacuums can start cleaning at set times. They can return to their charging docks and recharge when the battery is running low.
While Robotic vacuums may be a great choice for busy homeowners. They won't help a cleaning business owner. They take their sweet time to clean around the house. And a business owner needs to take care of several houses in a day. Also, these are not a good choice for cleaning surfaces other than flooring.
Stick Vacuums
Stick vacuums are light and perfect for homeowners living in a small space. These may or may not be cordless. Some also come with HEPA filters. These can also come in handy for quick clean-ups around larger houses. In general, these aren't a very good choice for business owners due to mediocre suction power and durability.
Now you know the different types of vacuums that you can choose from. But how do you decide which one is the best for YOUR job? It's simple, there are a few things that you should check for when you're buying a vacuum:
Strong Suction Power:
This is key when you are looking for a new vacuum for your business. Look for a vacuum that has a strong suction power and doesn't lose its suction power as it gets older.
When buying a vacuum, compare suction powers, and choose the one that has the highest suction value. Do not go for a cordless vacuum, you won't have the time to charge it between houses.
Floor Adjustment
You need a vacuum that can transition between different kinds of surfaces. This will save you time compared to using two different vacuums. Your aim should be to clean the entire house in one go.
Capacity
 Balance is key here. If the dirt cup or dirt bag is too small, you will find yourself making cleaning trips more than you would like. If it is too big it can emit bad odors, and that's not good either. A capacity of 1 liter is ideal. It allows you to clean large areas before you have to empty the bag.
Easy to Empty and Clean Canister or Bag
While moving from house to house, it would be difficult for you to keep changing bags. I'd recommend you go for a bagless canister as that's easier to clean out. Or a vacuum with a large bag that can hold a lot of dirt.
You should make it a routine to clean out the canister after every house you clean. Keep a large trash bag in your vehicle and empty the canister/bag before you pack your vacuum cleaner. Later, throw the trash bag away after you're done for the day.
Long Power Cord
Small things can kill your productivity and that includes a short power cord and you having to plug and unplug it several times during your cleaning. You should look for a vacuum with a long power cord and also use 50ft cord extensions to save time.
Easy to Clean and Maintain Filters
Your filters should also be easy to remove and clean. Like your canister or bag, you should clean your filters out on a daily basis. Ideally, you should have many filters so you can use one while the other dries out.
Diverse Tools and Attachments
Almost all vacuums come with extra tools and attachments to clean difficult areas.  You should look for a vacuum that has attachments for cleaning high and low surfaces.
If the unit doesn't come with these attachments, it should at least come with the option to buy these tools separately.
Noise Level:
Since it is safe to assume that most clients dislike noise, having a quieter vacuum is key. There are plenty of options on the market that don't make a lot of noise and still have a powerful performance.
You need to look at the specifications of the vacuum and aim for a vacuum that has a 60-65 decibel noise level. Anything around 70 decibels will sound like an automatic kitchen garbage disposal.
Allergen Control
You need a vacuum that has a very good seal. When you capture allergens and germs, your vacuum should keep all that in. You should review the allergen retention scores of a vacuum before buying it. Usually, vacuums that come with a HEPA filter have a good seal to prevent allergen leakage.
Price:
Let's talk about money. A good vacuum doesn't have to be expensive. You need to stay within an affordable range of $200-$500 max. There are plenty of good contenders in that price range that you can choose from.
Frequently Asked Questions
Do I need a Canister Vacuum or an Upright Vacuum for my home cleaning business?
This depends on your vacuuming needs. Canister vacuums are a great option if you clean different types of floors. They're lightweight and you can carry them upstairs. Upright vacuums are a good option if you work with carpeted floors only.
These have always been THE vacuum cleaners since the introduction of the very first one on the market. Some variations of the Upright vacuums have dual motors and brush roll features. These features can make them suitable for cleaning hard floors. Again, the choice depends on your vacuuming needs and preferences.
How frequently should I clean my vacuum bag or canister?
The answer is – usually after each clean. But, this can vary according to usage and also the size of the canister or vacuum bag on your vacuum. If you have a medium-sized canister or bag, you should clean it between every house.  Not doing this might affect suction power and disrupt your cleaning flow. A larger bag can last you more than one cleaning session.
Does a powerful motor mean more suction power for a vacuum?
If a vacuum cleaner has a powerful motor, it means that it has good amperage. Good amperage doesn't mean that the suction power will be powerful. The suction power of a vacuum cleaner depends on its design, filtration specifications, and airflow.
Airflow is usually measured in cubic feet of air per minute (CFM). Now, this is a value that reflects how powerful suction is. Vacuums with a high CFM have the best suction power.
Is a HEPA filter a must-have for a vacuum?
This depends on your clients' needs. But generally, having a HEPA (High-Efficiency Particulate Air) filter is a good thing. If you have clients that have pets or breathing issues like asthma, this filter can be your friend. It cleans allergens and dust from the air that usually trigger breathing problems.
How often should I clean the filter?
You should clean your filter every day. As the owner of a home cleaning business, you should invest in many filters. This is so you don't carry odor or dirt from one client to another. Keep in mind that the HEPA filter only needs replacing once every six months.
When should I change the belt?
If the vacuum isn't cleaning as it used to, or your brush roll has stopped turning, it is time for you to replace that belt. All you need is a screwdriver and a new strap, and you can change the belt within minutes.
Why do I need attachments/tools with my vacuum cleaner?
A lot of vacuum cleaners come with attachments and tools. These help you clean different types of surfaces. Let's look at how different attachments can be helpful:
– A motorized power nozzle can help you clean particular spots on a carpet.
– A floor/wall brush can help you clean the dust in these areas.
– The crevice tool removes dust on bigger appliances like air conditioners, refrigerators, etc.
– The upholstery attachment cleans mattresses, curtains, and cushions.
– A dusting brush cleans dust from smaller appliances like lamps and microwave oven tops.
What should I do if my vacuum stops picking up dirt?
There are many reasons why a vacuum may stop working. You should look at the body of the unit and see if a part is damaged. The brush roll or the belt may be broken. You need to remove and replace the damaged part.
The bag or canister may be full. This can cause a blockage and affect the suction power. You need to check the bag and empty it if it is too full.
Keep in mind that a new carpet can fill up the bag quicker. It has more fiber than an old carpet. This can cause the bag to fill up quickly and affect the suction of your vacuum.
If you've resolved these issues and the vacuum is still not picking up dirt, it's time to take it to the service station.
Can I use my vacuum on an Oriental rug?
Yes, you can. But, you have to remember that oriental rugs are very delicate. So, you have to be super careful when vacuuming them.
If you're using a canister vacuum, use the bare floor brush for the carpet. And use the upholstery attachment to clean the delicate fringe.
If you're using an upright vacuum, make sure you turn the agitator brush off. Tip the front of the vacuum to clean the fringe.
Always clean under the rug to help keep it in good shape.
Can I use powder fresheners?
If you have a heavy-duty vacuum, then you can use powder fresheners. Be careful though, using powder fresheners can fill up the vacuum bag quicker. You will have to empty it before it gets full and affects performance.
What type of vacuum cleaners work best on stairs?
The answer is – all types. It basically depends on what you are comfortable with. Usually, a cordless handheld vacuum can do the trick. However, larger vacuums have an extension hose for this purpose.
How can I improve the suction power of my vacuum?
As your vacuum cleaner gets older, you will experience a lower suction power. There are a few factors that affect a vacuum cleaner's suction power:
– The bag may be too full. If this is the case, you need to change the bag. You should also use bags made by the vacuum's manufacturer to ensure compatibility.
– Your pre-motor filter might be caked up with dirt and dust. This filter prevents debris and dirt from reaching the motor. Check the user guide to see how to clean or replace this pre-motor filter.
– There might be a tear in the hose, or an attachment might not fit. This causes air leakage that can affect suction power.
– If everything else is in working order, the motor might be the issue. If this is the case, you will need to get it repaired or replaced.
Further Reading