Some people are more focused on buying locally to support the country's economy, while others don't pay that much attention to it. As long as the product is well and functioning, they'll buy it.
When it comes to the vacuum cleaners industry, there are some appropriate options that you can provide an impressive performance at a catchy price. Why not get the best of both worlds? A nice deal on a fantastic vacuum cleaner while supporting your country's economy?
I've researched the market thoroughly to find the best vacuums out there that are made in the US. I've handpicked 4 of them that I've been able to track down to production in the US and do great at cleaning.
Read on to find out the best vacuums made in America. Your house floors are in for a treat!
Why Buy Vacuums Made in America?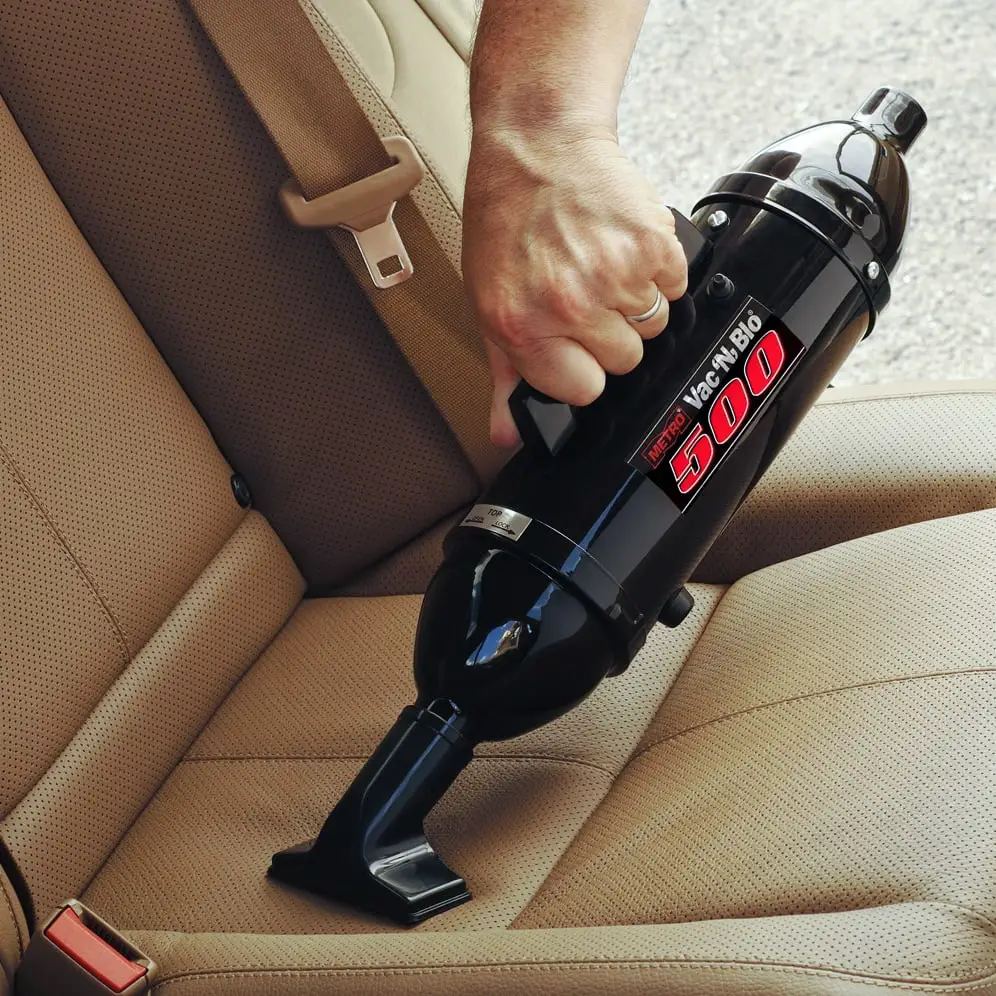 You might be wondering, "What's the need of buying American products? Would it make a difference to the country? Would it benefit me?"
Well, the short answer is yes.
Buying products made in America, and especially vacuum cleaners, will grant you quality through smart longterm investment. American manufacturers are among the best when it comes to electrical home appliances, and vacuum cleaners are no different.
On the big scale, putting money into an American product means that the money will stay in the country. When multiple people do that, it'll help rejuvenate our economy, reward American workers, and support the industry.
You might be thinking about how significantly cheaper other products are. For instance, the "made in China" label is equivalent to attractive, affordable prices. While that is true, it doesn't provide any quality guarantees, and experience has proven that most of these well-priced products have a short lifespan because their quality is compromised for the low price.
Thinking about a longterm investment like a vacuum cleaner, I don't think I want to go for the cheaper, less competent product. Because sooner or later, I'll have to replace it or fix it, which is an overall greater cost.
Top 4 Vacuums Made in America
To save you the hassle of going over dozens of vacuum cleaner models on the internet, each promising to be the best with no tangible proof, I've compiled this list of the best vacuum cleaners on the market that are made in America.
I've put into consideration their motor power, dust bag capacity, maneuverability, ease of use, and above all, price.
Let's dive in.
Another interesting model of upright vacuum cleaners is Oreck's Elevate cordless cleaner. The whole Elevate line of Oreck is made and assembled in the US, alongside Axis and Forever Series Gold. Buying this beast, you won't only be giving yourself a priceless asset in home cleaning, but you'll also be honoring and supporting the US workers.
Oreck Elevate's cordless cleaner oozes style and functionality. It works on a rechargeable lithium-ion battery, saving you the hassle of pulling over a long cord to get through every corner of your home. For an upright cordless vacuum to function well, you need it to be lightweight and easy to maneuver. Oreck Elevate is just that!
To ensure it gives you a stellar cleaning session, this vacuum cleaner operates on an 18 volts, 6 amps battery with dual speed control that you can adjust to suit your floor. To help you out, they installed a HEPA filter on the bag to trap 99.97% of airborne particles. In addition, the cleaner features LED lights that'll help you see around accessing tricky places. This big boy isn't surrendering to a mediocre cleaning session!
The only downside would be the ridiculous price tag. Despite being full of attractive features, we still find it a bit extravagant compared to its competitors. Yet, we doubt anything else will come close to its ease of use/functionality balance.

Pros
Cordless
2 speeds
Rechargeable battery
Lightweight
Hoover is among the most well-known brands in the vacuum cleaners industry. It boasts of its "Made in America" label,, and honestly, it has every right to do so. Hoover offers high functioning vacuum cleaners at affordable prices. Its MAXLife Pro Pet Swivel cleaner is no different.
MAXLife Pro features enhanced longevity of suction so that it runs "Like New 3X Times Longer" in their own terms. According to people who reviewed it, this has proven to be true.
It moves seamlessly through furniture and tight corners, thanks to its swivel steering. Besides, you can turn the brushes on/off according to the surface you're cleaning. The brush roll action is remarkable and manages to get those nasty dirt particles that might be stuck to your carpet.
You've got to put in mind that this is a bagless cleaner. Instead of a bag, it embodies an extra-large dirt cup that's easy to empty.
This vacuum cleaner has gained tons of praise from pet owners. True to its claim, it functions exceptionally well when it comes to pet hair and debris. You can do nothing about your cat's or dog's shedding, but you surely can get a vacuum cleaner that claims your carpet and floor super clean!
Similar to its counterparts, Hoover's MAXLife Pro has its own HEPA filter to block dust and allergens. In fact, this isn't a feature to sacrifice these days!

Pros
Works perfectly with pet hair
Long lasting suction
Does a great job with textured carpets
Cons
A bit heavy and cumbersome
Next on our list is a low profile American brand that's as equally functional as the other reputable ones. Let me present to you the VacuMaid GV30.
This wall-mounted garage vacuum represents power, robustness, and efficiency. Thanks to its 120 volts motor that gives up to 25% more motor life than other comparable brands, we're talking 400-450 hours of motor life here. This beast will tackle your floors like no other, leaving zero traces behind!
GV30's sturdy structure is its strong suit. It's made of galvanized, rolled out steel that's powder-coated to protect it against rusting and corrosion. If you plan to use this cleaner for your garage or lawn, it'll be particularly handy.
VacuMaid is proudly made by American hands, on American land, adding to its allure the satisfaction of rewarding our country's industrial sector. Lindsay Manufactring has been in the vacuum cleaners business since 1956, so you're in for a treat!
VacuMaid GV30 comes with an easy-to-change 7 gallon dust bag that's made of 5 layers, including its own HEPA filter. In addition, it comes with a floor brush for outdoor floors, a floor, an upholstery tool, a cervice tool, a curved wand, a hose hanger, and a caddy bag for storage.

Pros
Comes at an attractive price
Heavy duty motor
Spacious dust bag saves you frequent replacements
Includes a blower functionality which comes in handy in garages
Comes with a plethora of accessories
Cons
It might develop a smell in the bag after a couple of uses
I'd love to wrap up this list with a dual option—a wet dry vacuum cleaner from Shop-Vac.
Made in America? Check. Performs well? Check. Versatile functionality? Double-check!
If you want an all-inclusive vacuum cleaner that works out wet and dry dirt perfectly and fits anywhere, then Shop-Vac 5989300 vacuum is your safest bet.
Let's talk numbers. This vacuum is composed of a 5-gallon tank and a 4.5 horsepower motor. Together, they produce a max airflow of 175 CFM. The tank is made of stainless steel to fight corrosion, and the peak air reaches 320 watts.
The stainless steel structure is lightweight and portable, making this vacuum a perfect companion for your garage, basement, or patio cleaning sessions. I love the fact that its cord extends to 6 feet so that it won't be limiting your movement range. Furthermore, it comes with 3 extension wands that cater to different needs.
Apparently, Shop-Vac cares about their customers' needs; they're dedicated to giving their customers the best experience by providing them with plenty of accessories. Among them are a floor nozzle, a crevice tool, a gulper nozzle, and a foam sleeve.
Instead of the regular HEPA filter, this cleaner feature a cartridge filter and a foam sleeve to filter debris. They also filter liquids from the wet vacuuming. In case of excess fluid, it's smoothly drained from the vacuum's tank.

Pros
5 horsepower motor
Features a plethora of accessories
Portable and compact
How to Choose the Best Vacuum Cleaner? – A Buyer's Guide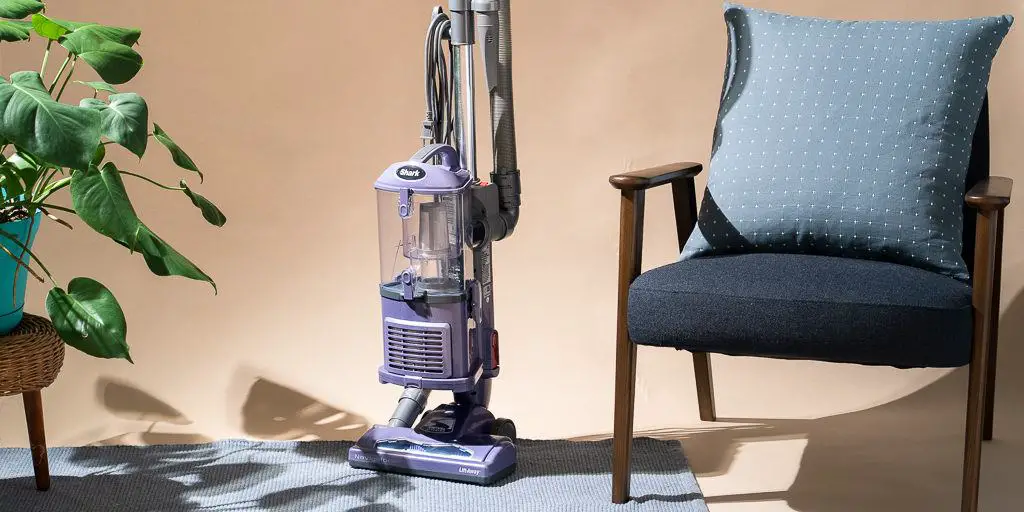 Now that you've taken a close look at how the top American models on the market compare, all that's left is to know how to identify the one that suits you best. In this section, we're addressing the question, "What should I look for when buying a vacuum cleaner?"
Vacuum Cleaner Types
Most of our picks were for upright vacuum cleaners. This is mainly because most of the vacuums with a "made in America" label are of this type. However, there are multiple types of vacuum cleaners. You might take a look at them below to decide which suits your needs best.
Upright Vacuums
These are the most dominant type for plenty of reasons. For starters, they cost significantly less than other types. Besides, upright vacuums cut a wide cleaning swath, and their brushes are driven by robust motors, deeming them the perfect option for deep cleaning carpets.
They're present in bagged and bagless models, each with their own pros and cons. As you've seen on our shortlist, they usually come with plenty of extras to cater to different purposes. Their only downside is that they tend to be on the heavy side. Although there are lightweight models, usually the case in upright vacuums is the heavier, the better.
Stick Vacuums
Stick vacuums share the same elongated sporty appearance of uprights, but they vary in every other aspect. Their strong point is how lightweight and portable they are. This translates into easy movement and a smaller dust bag, which might be offputting to some.
Yet, stick vacuums aren't made for deep cleaning sessions. They're rather used for casual daily brush-ups to pick up litter and debris. Their prices are moderate. If your home is mostly hardwood, not carpet, go for stick vacuums.
Canister Vacuums
Canister vacuums are similar to the old-ish traditional bulky vacuums our mothers used to have. They're composed of a main body with a motor and dust bag and a long hose with a cleaning nozzle.
Canisters do a better job on bare floors. They're not the best choice for carpet. Think of them as the exact opposite of upright vacuums.
Their main pitfall is that they're bulky, making them hard to maneuver. So they won't be helpful when you try to reach out for tricky spots.
Handheld Vacuums
Handheld vacuums come in corded and cordless variations. They do an amazing job of cleaning big chunks efficiently, yet they require your control. Handheld vacuums are perfect for people who have pets. You can clean your pet's hair quickly and efficiently in a matter of minutes.
As you might've guessed, they don't possess the power nor precision of other models. That's why they're used as extras, but they won't suffice on their own.
Robotic Vacuums
Technology has invaded the world of vacuum cleaners as well. For good this time!
Robotic vacuums are magical! All you need to do is relax and let that little robot do its work. We'd only recommend you let it operate in a room that's not messy. Stumbling upon multiple barriers won't be for your vacuum's best interest, nor yours.
HEPA Filters – What's All the Fuss About?
You've seen how I stressed the importance of having a HEPA filter in your vacuum cleaner. HEPA is short for High Efficiency Particulate Air. HEPA filters trap minute dust particulates and debris that might slip away from regular filters or vacuums with no filters; without a filter, these particles will recirculate into surrounded air. Having a HEPA filter in your vacuum cleaner prevents that.
Specifically, standards demand that 99.97% of particulates as small as 0.3 macarons be trapped in the filter. Leaving no room for any dust or particles to get back to your room's air. HEPA filters are a must for people with allergies or asthma.
Bagged vs. Bagless Vacuum Cleaners
Bagless vacuum cleaners have been luring their way into the market for a while. They're easy to use, lightweight, and relatively cheaper. No wonder customers are raving about them!
Bagged Vacuums
Dust bags are low maintenance. If you're using a bagged vacuum, you'll need to replace the dust bag when the bag is two-thirds full, which is a lot of dust! This means that it requires less frequent replacement and translates into ease of use.
A bagged vacuum is a convenient option for allergics like me, where we want to keep our contact with dust at bay.
Bagless Vacuums
On the other hand, bagless vacuums require you to empty the dust cap after every use, which might be bothersome to some, myself included!
The merit of bagless vacuums is that they save money that's normally spent on replacing bags every now and then.
Verdict
There you have it, the best vacuum cleaners that are made in America on the market. They're capable, they're sleek, and they come at reasonable prices!
If I were to pick a round winner, it'd definitely be Oreck's Elevate. This vacuum cleaner is really state-of-the-art. However, I know it might be above the average budget. For this reason, I tag along Hoover's MaxLife Pro as the runner up.