Disclosure: This post contains affiliate links and I may earn a small commission if you purchase through these links.
The noise of vacuuming can be a major hassle for you and those around you. A loud vacuum isn't just stressful, but it can also limit when and what you're able to clean in certain situations such as sleeping children or jumpy pets.
Additionally, the noise level of a vacuum cleaner can cover up external sounds, preventing you from hearing your phone ring or when someone is at the door.
There are surely several downsides to a noisy vacuum, which is why we're here to review the quietest upright vacuum cleaners on the market so you don't have to sacrifice your ears for cleaning power.
Whether you're searching for your first upright vacuum cleaner or your current one is starting to become too loud, we're here to guide you through the confusion that accompanies making a new investment.
We've put many long hours into testing and reviewing products to present you with a list of the best 5 quietest upright vacuums you can get your hands on. So without further ado, let's dive in!
Why Should You Buy a Quiet Upright Vacuum?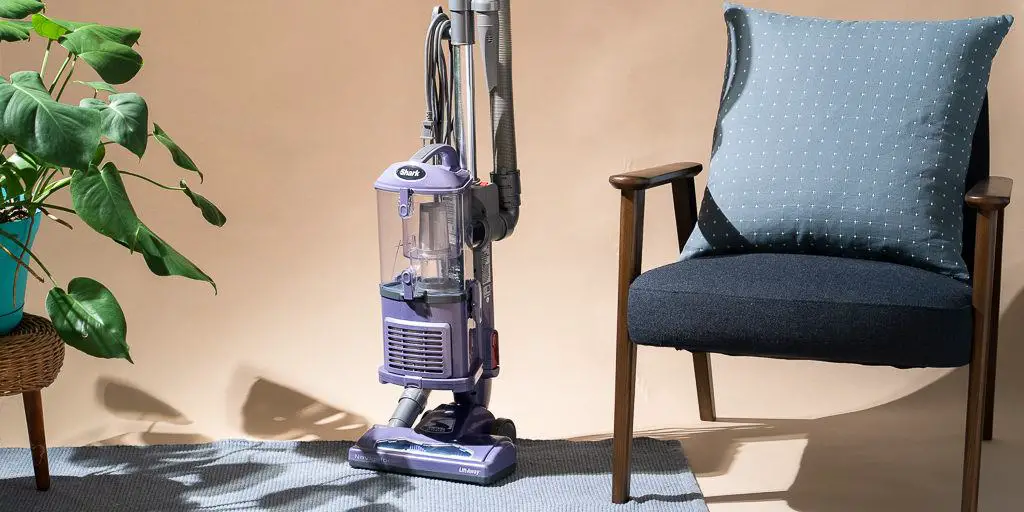 Before we dive into today's reviews, you may be wondering why does the noise level of a vacuum even matter? You may have not given this topic much thought when you started shopping for an upright vacuum, so why should you do it now?
The noise output of a vacuum cleaner is indeed one of the most underrated features, but its importance sinks in once you actually use the vacuum.
Buyers usually get caught up in comparing performance specs such as suction power and filtration systems that they don't check the decibel output until it's too late and they've already made a purchase.
However, a quieter upright vacuum cleaner is the more practical choice that you should always go for, and well, it's in human nature to dislike loud sounds since they can be very annoying.
Funny enough, some people think that loud sounds in appliances translates into more power and better performance, so they worry about that when buying a quiet vacuum.
Unfortunately, this is how buyers end up with a vacuum that disturbs them and others every time some cleaning is due. If you're still not convinced, here are 4 reasons why you need a silent upright vacuum in your life:
1. You can Clean Longer with Less Stress
No one wants too much noise in their house, or at least, a minute or two is where they draw the line. I mean, raise your hand if you ever felt that a too-loud TV or a noisy car engine is driving you crazy!
Don't worry, you're not alone. Several studies have proven that noise can have adverse effects on your health.
For example, prolonged exposure to loud sounds can cause an increase in the production of cortisol (a stress hormone). This is why most people feel cranky when they're spending time in a noisy environment.
A quiet upright vacuum does make some noise, but it's way less than what standard or commercial vacuums generate. This means less stress for you, so you can extend your cleaning sessions.
The bigger the house, the longer time it takes to clean. This can be extremely frustrating when using a loud vacuum.
A lot of noise takes away the comfort and replaces it with mental strain to the point where you end up with a headache. A quiet upright vacuum cancels out all that hassle and you can use it for hours without a problem.
2. You won't Disturb the Neighbors
Just like you wouldn't appreciate it if your neighbor fires up their loud vacuum when you're chilling in peace, your neighbor also won't like your noisy vacuum especially when they just want to unwind.
One of the most common fears of people living in crowded places, such as apartment buildings, is having to deal with the noise coming from the folks next door.
In this sense, investing in a quiet vacuum makes for happier neighbors. We can all afford to be a bit nicer to one another, so do your part.
3. You can Clean Whenever You Want
Using a quiet upright vacuum, you can clean any time you want even if it's in the middle of the night.
Such vacuums won't wake sleeping family members or disturb neighbors. This can be particularly helpful if you often get home late and can't clean until nighttime.
4. You'll Give Your Pets a Break
Animals are usually far more sensitive to sound than humans. What sounds decently quiet to you could be awfully annoying to your dog or cat.
Noisy machines can affect pets psychologically, and if you own a particularly jumpy pet, then you know how much of a struggle cleaning with a vacuum can be.
You've probably noticed your dog or cat behaving differently when you switch on your cleaning appliance. Of course, reactions will vary from one pet to another, but they're all signs of disturbance nevertheless.
Some pets will hiss or growl, while others will chase or hit at the vacuum. Some animals may even move away in fear. To ensure the well-being of your pets, you need to use a quiet.
5 Quietest Upright Vacuum Cleaners
Kicking off our list with a widely popular candidate from Shark, the Shark APEX Zero-M Upright Vacuum has thousands of users praising its reliable performance. It's more of a 3-in-1 machine because you can use it in 3 modes: powered Lift-Away mode for extended reach under furniture, above-floor cleaning by detaching the hose, and of course, the classic upright mode for deep carpet cleaning.
There are two brushes working together in this vacuum, which supports the "DuoClean" technology. The soft brush and the bristle brush will rid you of small, large, and stuck-on debris on floors and carpets.
The suction power is excellent and it comes with a cleaning path width of 11 inches. A 30-foot cord guarantees that one outlet is all you need to clean your entire apartment.
This vacuum is also equipped with LED lights on the handle and floor nozzle placed to reveal hidden dirt. Additionally, it carries the Zero M self-cleaning brush roll to prevent hair build-up as it gets picked up.
The Shark APEX Zero-M Upright Vacuum is a bit on the pricey side, but it's a great choice for those who suffer from asthma thanks to the advanced anti-allergen complete seal and HEPA filter.
Specs
dB: 73
Watts: 1350
Airflow (CFM): 90
What We Like
Dual brush technology
Zero-M self-cleaning brush roll
30-foot cord
Suitable for asthmatic people
Another excellent option from Shark is the Rotator Professional Upright Vacuum. This version is also very popular, especially among users looking for Shark quality cleaning but at a more affordable price.
This upright vacuum offers great versatility with 3 ways to get your cleaning done. You can go for the traditional powerful cleaning of the upright mode, the Lift-Away mode on stairs to avoid carrying the whole vacuum, or the Lift-Away overhead configuration for above-floor cleaning.
The Shark Rotator Professional Upright Vacuum features enhanced swivel steering and a decent dust cup capacity of 1.3 quarts. It's also equipped with anti-allergen complete seal technology with HEPA filter to maintain the clean quality of air at home.
Moreover, this model carries powerful LED headlights on the floor nozzle to make the hidden debris around your house easily visible. It also comes with a 25-foot long cord for extra convenience.
Specs
dB: 70
Watts: 1200
Airflow (CFM): 125
What We Like
Affordable alternative to the APEX version
More lightweight
Great suction
Easy to maneuver
What We Don't Like
Detaching the canister is a bit tricky
Next up is the Eureka NEU182B PowerSpeed Upright Vacuum, which is a terrific choice for shoppers on a budget but still want reliable performance with quiet operation.
This vacuum features a dynamic motor and brush combo that works to lift stubborn and heavy particles. It has a 12.6 inches wide nozzle to cover more space in less time.
Weighing in at only 10 pounds, the Eureka PowerSpeed is one of the most lightweight candidates on our list. Not only is it a breeze to maneuver, but it also offers 5 height adjustment levels to suit all types of floors at your home including carpets and hard floors.
The smooth wheels protect your hardwood floors against scratches, while the 4.3-quart extra-large capacity of the dust cup holds a lot of dirt so you clean more and empty less.
The Eureka PowerSpeed Upright Vacuum comes with multiple accessories including a quick-release handle, a dusting brush, an upholstery tool, and a 7-inch long crevice tool, which are all stored on the vacuum for your convenience.
Specs
dB: 70-72
Watts: 960
Airflow (CFM): 145
What We Like
Very budget-friendly
Suitable for a wide range of floor types
Lightweight
Comes with multiple accessories
What We Don't Like
Not the strongest suction
When we learned that the folks at Hoover designed an upright vacuum with noise control specifically in mind, we just had to see what the fuss was all about. Fortunately, we were pleasantly surprised by the quiet yet powerful performance of the Commercial HushTone Upright Vacuum.
The HushTone features a capable 2-speed motor that produces a noise output of less than 69 dB. This allows you to do your cleaning whenever you want while giving you reliable results when you need it.
Additionally, this vacuum features a sealed allergen system with Hexaguard technology that traps 99% of dust, dirt, and pollen to provide cleaner air. The HEPA media filter is also washable, so you save up on the cost of buying new filters.
As a result, the HushTone vacuum is ideal for users suffering from allergies and those who are looking to improve the quality of air at home.
Assembling this quiet upright vacuum is a piece of cake since it comes ready to use right out of the box – no extra tools needed.
We also really appreciate the Quick-Change cord feature that lets you replace the extension cord when it gets damaged, saving you money and minimizing downtime.
Specs
dB: 69
Watts: 1200
Airflow (CFM): 152
What We Like
2-speed motor
Supports cleaner air
Easy to assemble
Quick-Change cord
Last but not least, the Sanitaire EON Allergen Upright Vacuum offers impressive suction performance at a super low noise level of just 68 dB.
This vacuum is equipped with an efficient HEPA filter and features an extra-wide cleaning path of 13 inches. It also comes with a 40-foot long detachable power cable for easy storage.
This particular model has 2 motors, one is responsible for the suction and the other rotates the brush roll. The dual-motor configuration supplies enough power to pick up dirt and debris from high-pile carpets.
The Sanitaire EON Allergen Upright Vacuum sits on top of special ball bearing wheels to facilitate maneuverability over both carpeted and hardwood surfaces.
Moreover, this vacuum is the first commercial vacuum to be certified asthma & allergy friendly by the Asthma and Allergy Foundation of America. The only real downside of this upright vacuum is its somewhat higher price. Other than that, it's a solid option.
Specs
Amps: 10:
What We Like
Dual-motor design
Long cord
Certified by the Asthma and Allergy Foundation of America
What to Consider in a Quiet Upright Vacuum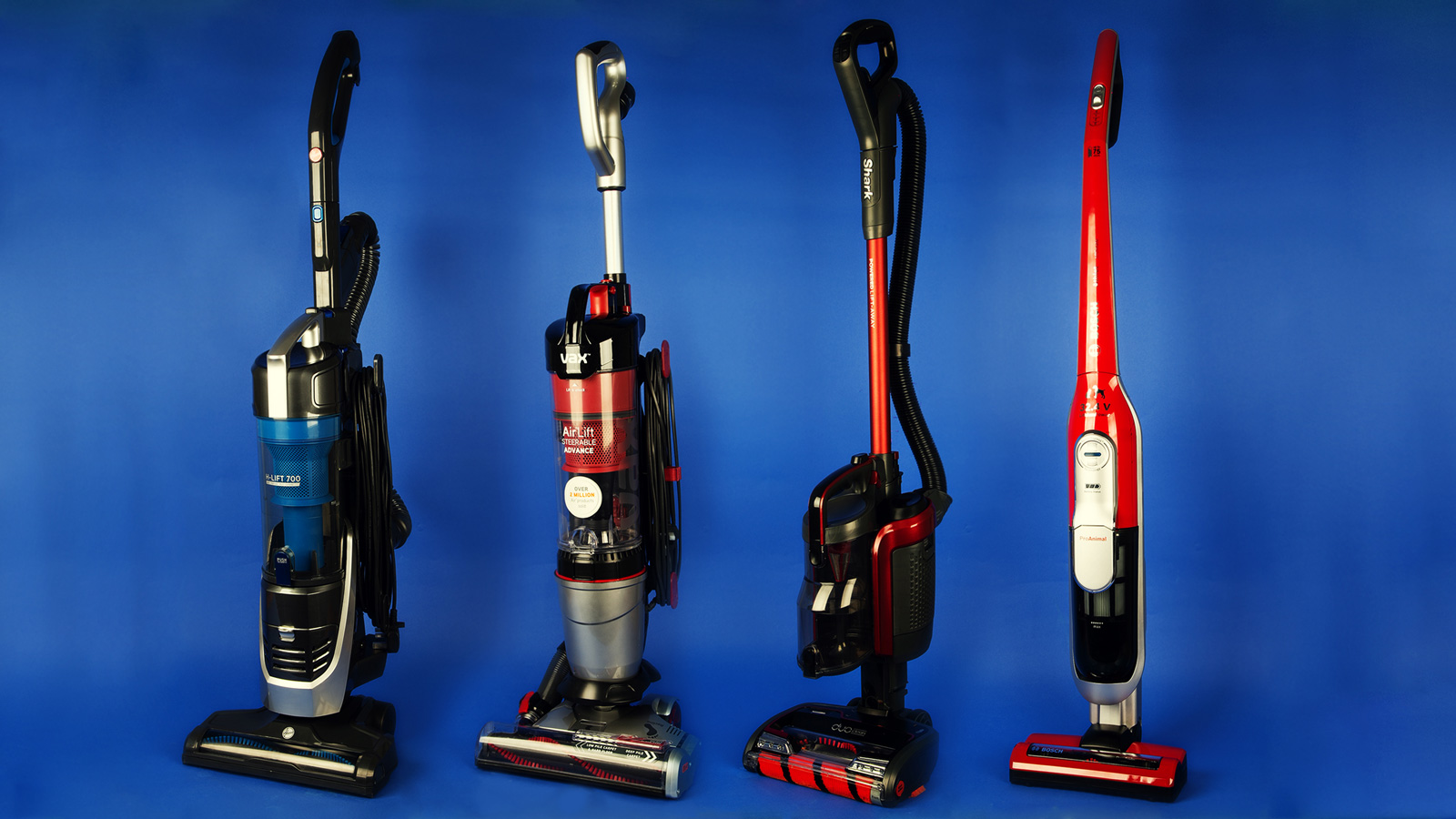 When shopping for a quiet upright vacuum, there are several features you need to take into consideration so you end up with a reliable purchase. The following are the most important ones to consider:
Noise Level
Generally speaking, a full-sized vacuum cleaner has a noise output level of 78 to 80 decibels (dB). To put things into perspective, 80 dB is the noise level produced by an average garbage disposal system.
An upright vacuum is considered quiet if it offers a noise level of less than 74 dB. Ultra-quiet models range between 55 and 65 dB, but these aren't possible for the upright design and power.
Moderately quiet vacuums generate between 66 and 73 dB, while any vacuum above 78 dB is categorized as noisy.
Size and Storage
This is an issue only if you're living in a limited-space apartment or your storage closet isn't that spacious. In both cases, the smaller the appliance the better, so checking the size of your vacuum cleaner should be a priority.
A large bulky vacuum will certainly clean your floor, but it'll most likely be a pain to move around. Not to mention, it'll bang against your furniture and take up lots of space.
Still, you don't want to go for a vacuum that's too small and end up with insufficient power or limited capacity that forces you to pause frequently for emptying trips.
Ideally, you want your upright vacuum to be compact enough to allow for easy maneuverability and convenient storage, all the while packing decent suction power. Some upright models feature wall mounts so you can make use of vertical space in your house to hang the vacuum.
Weight
No one in their right mind would want to drag a 20 or 30-pound appliance while cleaning – as if it's not a hassle enough already.
You should be able to easily push your vacuum and maneuver it around with minimal effort, which is why a lightweight vacuum is a great choice. An upright vacuum weighing less than 20 pounds should fit these criteria.
Suction power
The whole purpose of a vacuum cleaner is to remove all the dirt, dust, debris and whatever else mess you need to get rid of. For this reason, when you're shopping for a quiet upright vacuum, pay attention to watts and airflow to make sure that the suction power is rather sufficient for your cleaning demands.
Bagged vs Bagless
Another choice you'll need to make is between a bagged and a bagless model.
On one hand, a bagged vacuum will save you from emptying the bin and causing dust to fly everywhere. You'll just dispose of the attached bag when it's full.
The downside to this type, however, is that the suction efficiency drops as the bag fills up. Additionally, there's an extra cost because you need to buy replacement bags.
Still, bagged vacuums are a wise choice if you suffer from allergies.
On the other hand, bagless vacuums require you to empty out the plastic container after it gets full but you'll be risking having particles escape into the air. On the bright side, these models are more budget and environmentally friendly.
Dust Collection Container Size
Once you start your cleaning routine, you'd probably want to finish up as quickly as possible. Stopping every 5 minutes to empty the dust collection container will surely slow you down.
A smart move on your part would to compare dust collection capacities and achieve a practical balance between an overall compact size with a fairly large dust compartment.
Wrap Up
Choosing the best quiet upright vacuum isn't an easy task, especially with all the features and specs you should take into account. This is why we made sure to include only the top-performing upright vacuums on the market to ensure you land a great deal no matter what you pick.
That being said, we recommend the Shark Rotator Professional Upright Vacuum as today's winner thanks to the excellent balance between noise reduction at 70 dB and cleaning capacity at 125 CFM airflow.
Further Reading