Disclosure: This post contains affiliate links and I may earn a small commission if you purchase through these links.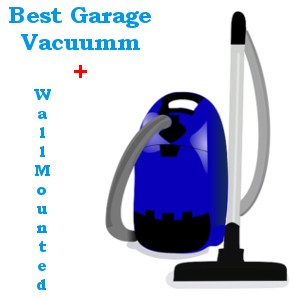 Let's try to find out why and who is able to purchase the best garage vacuum wall mounted? Are you the owner of the garage doesn't matter what size is it. Or workshop, where you spend most of the time. Likewise, just work in the area, where quick and proper cleaning is welcoming?
Then, you are worthy of the powerful device with a set of features that will be reliable assistants in a fight with the respective mess. Please pay your precious attention to the simple solution in your case – wall mounted vacuum for the garage. Follow further in the exploration of pros and cons of mentioned garage vacuum cleaners. All are considered top on the market. Taking into account the below reviews, you are able to decide on the fitting version.


See our selection of the best product!
VacuMaid GV50PRO
Includes 50 hose, hanger, caddy, wands, dusting brush, and floor/upholstery tools

Galvannealed steel and powder-coated for corrosion-resistant lifetime use. 7 gallon dirt capacity.

Big 5.7 Ametek Lamb motor, up to 75% more life than comparative brands.

Sealed HEPA-style bag - No messy cans to empty or filters to clean

This system mounts quickly & easily to the wall eliminating tipping over
Top Garage Vacuum Wall Mounted in 2023
1. VacuMaid GV50PRO: An Ultimate Wall-Mounted Garage & Car Cleaner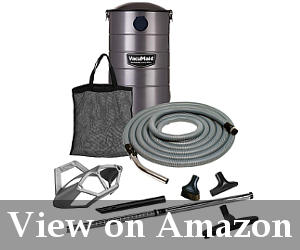 This unit can tackle even the toughest cleaning jobs in your garage, workshop or basement. It is designed for heavy-duty cleaning and can pick up even large debris. This vacuum is mounted to the wall via a hanging bracket. Once installed, it won't need to be moved around thanks to the extra-long 50-foot hose. The vacuum is equipped with basic attachments including an extendable wand, a floor tool, two ducting brushes and a crevice tool. All the attachments can be conveniently stored in a mesh bag that comes along.
Aside from being extremely powerful, this vacuum cleaner is also rather capacious. It accumulates dirt in a 7-gallon disposable bag. No portable vacuum can boast such a capacity. The body of the main unit is made of powder-coated galvanized steel, which is durable and corrosion resistant.
Additional Accessories
7-gallon dust bag.
50-foot hose.
4 attachments included.
740-Watt vacuuming power.
15 Amp motor.
Galvanized steel body.
Pros
Has a powerful motor that lasts longer than most other brands.
A capacious duct bag facilitates uninterrupted cleaning of large and heavily-littered areas.
Provides unhindered reach to the remotest parts of your facilities thanks to an extra-long hose.
Easy to mount on any wall.
Supplied with a hose hanger and a tool storage bag.
Disposable bags eliminate contact with dirt.
Can double as a leaf blower.
Cons
Only works with dry debris. No moisture is allowed.
Just like all bagged vacuums, this one tends to lose suction once a bag gets too full.
Conclusion
This versatile canister vacuum is a great solution for both commercial and residential facilities. It has all the necessary attachments to clean inside a garage or in a vehicle. The motor is very powerful and long lasting. However, this device shares the downsides of all bagged vacuums.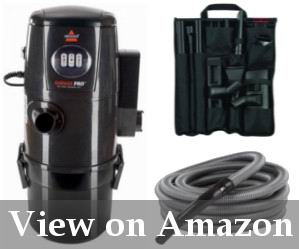 The wall-mounted garage vacuum cleaner made by Bissell has a load of positive feedbacks (for example, on Amazon), so it could be interesting to you the details. Let's find out the reasons big popularity.
Multipurposeness of this wall-mounted garage vacuum's utilization such as snowblower or leaf blower could gladden. You and pay off your costs. As a blower, the wall-mounted garage vacuum will be a good assistant outdoor. Please note that suction with average level is possible despite the object of sucking up. It can be good small pieces of a mess, not bigger ones.
Important information: the hose is narrow has not standard size which means complication to replace it with other ones.
If the hose is clogged, don't worry. And just turn on the blow mode in order to clear it out. You don't have to pull it down. It is a crucial point taking! Into account the hose's length.
Features and Characteristics
The first and undeniable benefit of wall mounted garage vacuum might be a good possibility to do wet or dry clean up. Some handled vacuum cleaners are not able to handle with both functions. Next advantage is the capacity of four gallons. It brings up more possible to do proper cleaning. Moreover, there is no necessary a lot of space wall mounted garage vacuum cleaner thanks to wall mounted system. Comparing to those which are located on the floor, it may be great. Wall mounted garage vacuum has the hose with 32 feet, it means that you have enough freedom for your movements at the time of cleanup.
Set of additional tools are purposed to be your reliable assistant in case of clean up in the distant places of your car or garage. Detailing tools which could be met at any car wash are supplied with this wall mounted garage vacuum. If you don't desire to lose any of them, you might be happy with the possibility to gather together in the attachment bag.
There is no need extra tools or big efforts in order to assemble it. Easy steps and a fast start in order to utilize are guaranteed, comparing to other wall mounted garage vacuums.
Other
This wall mounted garage vacuum has some cons too. You might be not satisfied with required proper installation as it is the only wall mounted system. The filter which is purposed for collecting of the dust may be clogged from time to time. It can be not convenient to throw it away as there is no special dust bag . Too much dust may be a problem for this wall mounted garage vacuum as the dust turns into to the mud quickly. It will be a good option not to utilize it at all.
Pros
Both dry and wet cleanup
Enough capacity
Convenient location
Not required a large space
Set of additional tools
Attachment bag
Easy installation
Cons
The filter may become clogged.
No bag for dust
Conclusion
To sum up all above-mentioned information, it is crucial to highlight that Bissel garage pro version of wall mounted vacuum cleaner is suitable both variants of not so serious cleanup (dry or wet) with a middle level of the power. Versatile tools will be great assistants in it.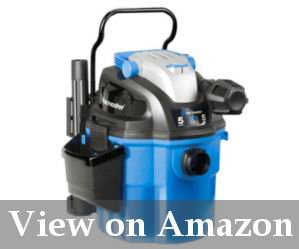 The manufacturer declares that its wall mounted garage vacuum is able to handle any mess – there is a master of every mess. Moreover, this one is at the top of the list of a wall mountable wet/dry vacs some customers taking into account their feedbacks. Why might it be a good solution in your garage or workshop?
Vacmaster has used innovative technology and added remote control to its dry/wet wall mounted garage vacuum. At the same time, it is still wall mounted. It means that you don't have to look with huge space for it despite what would you like to clean – the interior of the car, own garage or the basement. Well thought out point is that all required tools requested for wall mounted garage vacuum, in general, have already been included in your purchase. It may be convenient in order not to interrupt the cleanup.
Detailed research about what is great and what is wrong with wall mounted garage vacuum clean produced by Vacmaster is below.
Interesting Benefits
The remote control is on the handle and able to work out with WIFI. It allows you to switch on wall mounted garage vacuum and switch it off distantly. You may appreciate the wall mounted installation as it gives you valuable expanse of the place you are. You can leave wall mounted garage vacuum cleaner on the wall or take it off.
Next characteristics play a crucial role as it has an impact on general work – motor with five horsepower. Thanks to 2 stages and such power, it is enough to do wet cleanup or its dry version. Despite the powerful option, wall mounted garage vacuum is able to operate without any noise. 74 dB is a really low level of the noise which makes your operations comfortable. Accessories purchased here are versatile: additional brushes, hoses or wands. They have the convenient option – all of them are able to store on the board. So they have not required the extra expense a place.
Other
Design with calm colors (blue and black) should be suitable for the most decors of basements or garages. General feedbacks are positive taking into account some independent sites with reviews. Customers who have already purchased this wall mounted garage vacuum are satisfied except complaints about remote control powered by WIFI. It has tended to switch on unexpectedly. Children or pets play with it and to turn it on incidentally. Anyway, this issue is solved if you set cut-out device to "off" position when you don't need a worked wall mounted garage vacuum cleaner.
Pros
Enough place for hose
No problem with the weight
Hose can extend if needed
Enough capacity
Simple reinstallation
Function "blower" is available
Cons
The remote control turns on unexpectedly when the device remains in the "on" position.
No wheels at the bottom.
Conclusion
If you contemplate the possibility to utilize the vacuum produced by Vacmaster at home conditions (garage, basement), you should be satisfied. Remote control saves your precious energy at the time of cleanup. Wall mounted system give you additional expense for other purposes. It will be a simple process of wet or dry cleaning as you have enough powerful engine.
4. VacuMaid GV30: Wall Mounted Vacuum For Garage With 30ft Hose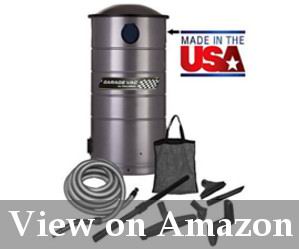 The manufacturer declares that this vacuum cleaner has durable features such as power and solid galvannealed steel. Apart from that, it sounds off with a firm and thick vacuum bag. You can remove it without any mess. The capacity of this bag has amazingly 7 gallons which are bigger than other vacuums.
Hose with thirty foot is able to reach any piece of the space in your basement or workshop or garage or auto detail shop. The motor has enough horsepower in order to deal with the mess within a thousand hours! It is a fascinating point comparing to similar vacuums.
You might be wondered with the figure of the weight taking into account above characteristics. It is only 17 pounds which consider as a lightweight class. Thanks to a durable combination of plastic and steel you are guaranteed the absence of suction wand break off, especially at a time of cleanup of your car seats.
You are lucky if you desire to work out with big pieces of the mess like leaves or heavy ones. In case of installation of VacuMaid at your house, you get a five years warranty and only ninety days if it is installed in business accommodations.
Interesting Characteristics
Made in the USA VacuMaid is able to propose you versatile tools such as filters, replacement bags, lint screens. So you will not have any issues with respective accessories. The position of installation is only on the wall, which saves extra expense.
Unfortunately, you are forced to buy replacement bags constantly. It is better if you decide to purchase them in a set of three, for example. Additional noise like whine might be irritating. VacuMaid is not purposed for any messes connected with liquids. You don't have to forget it while you are cleaning up. Of course, if you occasionally sucked up some amount of liquid, there is nothing wrong with it. Anyway please try to avoid large spots of any liquid you don't want to have your vacuum rusty.
It is possible to use the vacuum as a blower if it is needed. At the same time, it might be not so comfortable as for vacs of other companies.
Holding bag is purchased additionally with accessories. It may be comfortable in case of cleanup inside your car.
Pros
Solid galvannealed steel
Firm and thick vacuum bag
7 gallons
Hose with thirty foot
17 pounds of the weight
Work out with big pieces of the mess
Warranty for five years
Versatile tools
Cons
Additional noise
Not for liquid mess
Conclusion
The vacMaid should be a great assistant with solid features such as capacity, the length of the hose, durable steel and one thousand hours of the workout. It might be perfect dry and light messes.
5. Shop-Vac 3942300: Wall Mounted Car Vacuum Cleaner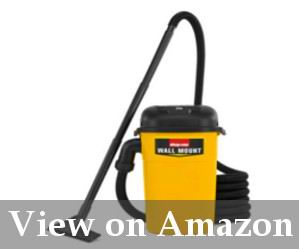 If you have a big garage, then, there might be great news. Shop-Vac model 3942300 is specially designed such purposes.
The first thing which is noticed by you is horsepower. Luckily, you can meet 4 horsepower in this model. A massive tank for dust is another crucial option that may be important at the time of cleanup. Five gallons is excellent capacity and should be enough either your workshop or garage. It is able to deal with large spaces.
Your Shop-Vac will be required with a cartridge filter and respective disposal bag. Foam sleep may be an undeniable assistant while you are working out. Hose with 18 foot is not so long as other similar models, but the manufacturer declares and promises that this length should be enough cleaning goals.
Useful Information
Such additional tools as three extension wands, round brushes, wet dry nozzle, crevice tool and gulper nozzle make the process of dusting and sweeping simpler and quicker. One more convenient point here is that all these tools will be always with in touch thanks to the specially designed bag.
As the vacuum has an option – both wet clean up and dry variant, you may utilize it for low-pile carpeting if it is required. Bare floors are also on the list. Except for garage and workshop, this device can be an ideal variant for any leisure area or even the laundry room. Shop-Vac 3942300 is not afraid of big spaces. Customers are satisfied with its slim shape and easy carrying to the place where it should be located. Suction is well enough. Measures of Shop-Vac 12x12x33 which are considered as compact and suitable in any available place.
The filters will be excited with regular cleanup and respective replacement after some period of the work. Such simple operations should help to provide the suction and air flow in better conditions. With the possible increase of the air flow, the pressure of the suction will be decreased. Even with an extended hose, the vac is able to suck up sufficiently. It is a crucial option as some customers said.
Other
The power can disoblige something, other clients, it is irritating how loud can be noise, reaches high-pitched sound when you try to turn on the vacuum. Moreover, there is no blower feature. Please take it into account before you make the decision about purchasing. Most of the customers agree that the length of the hose can be longer.
Pros
Powerful work
Massive tank
Deal with wet and dry options
Manage with large spaces
Great for garage, workshop or hobby area
Disposal bag
Saves the space
Gratifying suction
Cons
No blower option
Not long hose
Conclusion
The undoubted advantage of this model is decent power, as well as a large number of additional accessories. In general, the vacuum cleaner is quite powerful, well-organized and stylish. This is confirmed by numerous reviews of buyers on Amazon.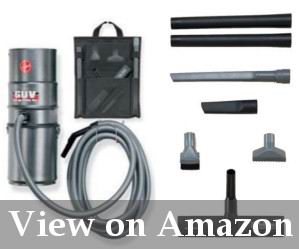 Hoover is a reputable company since 1908 and it is worthy of your trust for 100%. This company produces high-quality vacuum cleaners for all housekeeping needs. It proposes you to solve issues with cleanup quickly and safely. You may accept their proposal or not. Before you make the final decision, let's look closer on particular features.
This wall mounted vacuum is simple to install. There is no necessary too much space as it is located on the wall. Professional and durable central system has enough power and convenience to provide uninterrupted work at the time of cleanup. Powerful suction and noise are not equal terms and Hoover's company can prove it. Their wall-mounted garage vacuum is able to do quiet operations. Such power is possible thanks to the motor with 120 volt, which vacuums everything from small things to big ones. Everyone is delighted with a quiet and powerful mode.
Features and Benefits
Hoover wall mounted garage vacuum looks after about the length of the hose as well. 30 foots should be enough to clean up the garage optimized three cars. 5 gallons of steel canister is a large capacity which may be enough for proper vacuum cleaning. One more great benefit is an everlasting filter. It saves you precious money. And you don't have to waste minutes to replace the filter in this wall mounted garage vacuum. It is also a convenient and crucial point. Thanks to side clamps, you are able to empty canister. After that place it back quickly.
There are seven assistants in the attached set of tools in your fighting with the dust. Dusting brush helps you in the cleaning process. 14-inch deluxe wheeled floor nozzle and extension wands are specially designed for sweeping the floor.
Pros
Simple installation
No need a lot of space
Quiet mode
Everlasting filter
Enough capacity
Cons
Not sufficient length of the power cable
Too much heat sometimes
Conclusion
Hoover Vacuum Cleaner might be a good choice for those who appreciate their time wherever they are – in a busy workshop or own garage. This vacuum designed by Hoover has a set of versatile characteristics which may play a crucial role for you. For example, a powerful, quiet vacuum with an everlasting filter and large capacity.
7. DeWALT DXV10P: Durable and Quiet Vacuum Cleaner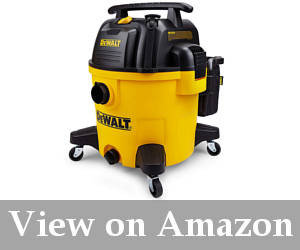 Do you make a renovation in your house? This powerful vacuum cleaner does any serious work in your house and garage. It's large enough, providing great suction. It's 10-gal. water tank capacity is sufficient to eliminate any mess, removing sawdust and large debris particles.
Thanks to the 2-stage motor and true blow port, the unit can be efficiently used in your workshop or garage. It meets woodworking needs, pulling dust from your miter saw and router table. Meanwhile, the vacuum is quiet, convenient to clean garage corners, being a breeze to use.
Will you mount this unit to your garage wall? It's not necessary, as it's perfectly portable. The vacuum is equipped with a large, ergonomic carry handle. It features durable swivel castles that enable smooth and easy movement. 360-degree rotation is enabled, so you can move the unit in any direction.
Useful Features
Do you realize why I recommend this vacuum cleaner to you? It's pretty handy and versatile, suitable for cleaning all rooms and areas in your house, workshop, and garage. It comes with a large tank, draining a lot of liquid before refilling.
Its cartridge filter is common, circular, made of synthetic materials and folded paper. However, it's washable, so, you don't need to dispose and replace it every time after use. Additionally, the vacuum is bagged, easy to empty, collecting allergens quite efficiently.
What I like most is the storage bag. Is it flimsy, made of thin plastic? It's true. However, the bag is detachable and pretty handy. It accommodates multiple accessories and nozzles, such as:
crevice;
floor;
utility ones.
Both extension wands can be put there too. So, all your tools are kept organized. The unit is easy to store. Additionally, it's safe, water-resistant by design. 1-year service and 3-year limited warranty is beneficially provided by the leading, internationally-recognized manufacturer.
Pros
Sturdy construction
Quiet operation
Large water tank
Portable, easy-to-move
A blower makes it suitable for woodworking jobs
Cons
Flimsy latches and ports
No upholstery brush
Conclusion
Vacuum cleaner from DeWalt is handy, powerful and quiet. It does any serous cleanup job, providing sufficient suction. Large tank and 20-inch-long power cord let you remove dirt and grime from a large garage or home areas. Additionally, this unit is handy and easy to use.
Do you need a shop or garage vacuum? Craftsman brand is one of the most reliable. This line of tools and garden equipment are available on the market since 1927. Initially, it belonged to Sears. Now Stanley Black & Decker controls it. It's an American legend or icon.
Wet and dry vacuums are only a part of their extremely wide product range. Several devices are available. They suit all applications meeting home and car owners' needs. CMXEVBE17925 model is what you need to use in your shop or garage. It's wall-mounted, offering you a space-saving solution.
21-feet hose is enough for a 2 or 3-car garage. It consists of 2 attachments that are 14 and 7 feet long. It's easy to connect them to each other or main port, using POS-I-LOCK clip.20-feet cord is also a good option. It's long enough to reach all garage corners. The vacuum is powerful, standing out by great suction.
Additionally, it comes with multiple useful attachments.
Kit Contents
Car and utility nozzles.
A crevice tool.
A dusting brush.
2 extension wands.
All accessories find place in a spacious caddy or rack that is built-in on the bottom. Keep them there, and you won't lose any item. A large toggle switch is on the top. All of these features make vacuum handy and easy-to-use.
The unit is comparatively compact and lightweight. It's easy to remove from the wall and transport to another location. The vacuum is portable, coming with a large and sturdy carry handle. Meanwhile, it's perfectly versatile and easy to use. It's possible to use this vac as a blower. Connect it to a blowing port and blow leaves and debris.
Pros
powerful;
versatile;
handy;
compact;
space-saving.
Cons
no wheels, as the vacuum is wall-mounted;
you are to buy replacement filters.
Verdict
Wall-mounted vacuum by Craftsman is handy and powerful. It meets the needs of car owners, small shop and office renters. Coming with multiple useful accessories, it provides great suction. Additionally, this unit is versatile and easy to use.
A Brief Buyer's Guide to Select the Best Wall Mounted Garage Vacuum Cleaner
What factors should be considered by you before you agree and accept the thought of respective buying:
Possible Noise. A better choice is a vacuum with the whisper-quiet operation as constant noise can be irritating. Luckily, new motor technologies are able to provide it.
Enough Capacity is the next important factor. The greater the capacity of the vacuum cleaner, the fewer attempts to empty it you will need.
Hose length. You feel free at the time of any movements if you are satisfied by this feature. Durability is also a crucial point for it. Crush resistance and long lasting are presented in new models.
Powerful Motor. The higher it's rating in horsepower is, the more power it is able to provide. Whole performance of the vacuum depends on this factor.
Lifetime Filter. The good variant is to choose the vacuum with the permanent filter. It saves money for you.
The noise. Mostly of powerful vacuums can be irritating while they are working. Please examine those variants of vacuums, which are able to propose you quite-mode operations.
The feedbacks. Nowadays, it is simple to check out vital information from those people who have bought and shared their feedback.
You don't have to rack your brains and waste time anymore. Here is the list of garage vacuum wall mounted. Which combine all benefits and unlock the potential of each type.
Conclusions and Recommendations
The vac is purposed to be hung on the wall on clamp holdings. It is able to
save precious expanse
in your workplace or house.
Three years is a warranty period
.
Such features as a massive tank, powerful work with large expanses, both dry and wet possibility to clean the area at your basement, garage or workshop and set of versatile tools-assistant make this model wonderful and worth your attention.
Overall rating
Taking stock, it is crucial to examine all above information about versatile variants of wall mounted garage vacuums presented to you here. Each of them has undeniable pros and debatable cons which should be carefully analyzed by you. For example, VacuMaid has a high rating on the market thanks to its overwhelming features such as powerful suction, enough capacity and set of additional tools, but it is not able to deal with liquids. In this case, vacuums with the possibility to provide both dry and wet cleanup (like VacMaster or Shop-Vac) worth your attention.
Please take into account diverse feedbacks from real customers on Amazon or other websites. Combination of these factors will let you make up your mind. After you purchase wall mounted vacuum corresponding to your needs, your workshop or garage or basement will not have disappointed you with its uncomfortable mess anymore. It will be a wonderfully easy and comfortable solution from now on.
Further Reading