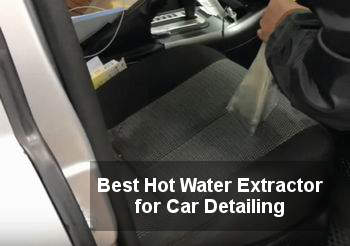 Do you like traveling? After an off-road trip, your car may get dirty not only outside. Its interior would require cleaning. Your vehicle can get soiled, covered by pet hair or dust. Have you got small kids? Food and spills of beverages on the upholstery are to be removed. Therefore, you would need the best hot water extractor for car detailing.
High pressure, hot water, and cleaning agents do the job. What about the carpet cleaner? It is to be portable, powerful and handy. Let me highlight several perfect machines. Select any of them, understanding all its basic aspects. It lets your car look and feel brand new.


See our selection of the best product!
Aqua Power C4 Quick Dry Hot Water Carpet Extractor
Protects your Family-According to studies outlined in the Journal of Exposure Science & Environmental Epidemiology, carpet that is properly cleaned and maintained can reduce Allergens creating a more healthy living space for your loved ones.

Protects your Home-Our system has been tested and has been proven to clean better, protect better, and prevent re-soiling better than many of the leading brands! Safe for use on carpet and upholstery.

Superior Value-This commercial C4 Quick Dry Extractor uses half the water as most leading brands. It allows you to clean more square feet without having to constantly fill, empty, and refill!

Earned the Platinum Rating from the Carpet and Rug Institute-http://www.carpet-rug.org/deep-cleaning-extractors-and-systems.html

There is no easier way to clean your carpets, protecting your family and your home. See why thousands have rented and owned this machine for more than 25 years!
5 Best Hot Water Extractor for Car Detailing in 2020
Image
Product
#1. Aqua Power C4


Motor - single, 2-stage
Airflow, CFM - 112
Tanks Capacity, g. (solution/
recovery) - 4/4
Pump Pressure, psi - 35
Water lift," - 108

Editor's Choice


Check Price


Read Our Review
#2. JaniLink Premium


Motor - three, 2-stage
Airflow, CFM - 97
Tanks Capacity, g. (solution/
recovery) – 11/13
Heater's Power, watt - 2*1000
Pump Pressure, psi - 500 (adjustable)
Water lift," - 228

Check Price


Read Our Review
#3. Mytee HP-120 Grand Prix


Motor - single, 3-stage
Airflow, CFM - 100
Tanks Capacity, g. (solution/
recovery) – 10/9
Heater's Power, watt - 1200
Pump Pressure, psi - 120
Water lift," - 137

Check Price


Read Our Review
#4. EDIC Galaxy 2000SX-HR-AE


Motor - dual, 2-stage
Tanks Capacity, g. (solution/
recovery) - 12/11
Heater's Power, watt - 2000
Pump Pressure, psi - 100
Water lift," - 150

Check Price


Read Our Review
#5. Bissell BigGreen BG10


Motor - two, 12-amps
Tanks Capacity, g. (solution/
recovery) - 1.75/1.75
Pump Pressure, psi - 26

Check Price


Read Our Review
1. Aqua Power C4: A Heavy-Duty Upholstery Steam Cleaner
Is the machine commercial-grade, as well as the other items I recommend herewith? Yes, it would be a great extractor for a small carpet cleaning business. It can be used in a hotel or restaurant. I would say, it's pretty powerful. It's equipped with a high-performance Ametek motor. Its operation is 2-stage. It means it's quiet.
Meanwhile, the unit creates a significant airflow. Specified as 112CFM, it's higher than large, awkward machines provide. The extractor lifts 108 inches of water. Can it be described as half the water the most leading brands use? I would tell, it's about 1.5 times less.
However, it lets the carpet be cleaned and dry fast. The 4-gallon tanks are perfect! They are easy to empty and refill. Additionally, you can do it less often. A carpeted facility up to 26,000 sq.ft. can be deep cleaned. Emptying and refilling the tank is recommended room by room.
Interesting Information
The amount of dust and debris the cleaner removes are huge! It speaks to the extractor's effectiveness. The solution tank is equipped with a level-drain tube. A filter is available, to protect the pump. The recovery tank is also very handy.
In terms of design, the extractor is awesome! Weighing 46 pounds, it's easy to move. The wheels are large, equipped with tires. Floor damage is prevented. A large handle is adjustable to your height. As to durability, the machine is amazing. The body is made of stainless steel, aluminum, and polyethylene. It's made to last for years.
What is special about this model? A hose and hand tool attachment is convenient to use on the stairs. However, as well as the wand, it's not included. Buy it separately. The user manual is intuitive. The basic directions with pictures are available on the body.
Pros
powerful;
designed for being used with a rotary brush;
portable;
easy to use;
removes all stains.
Cons
the accessories are not included.
General Verdict
So why do I recommend this item? It's assembled in the USA. The machine is powerful and maneuverable. The body and the parts are durable. The cleaner is user-friendly and efficient. Additionally, it is approved by the Carpet and Rug Institute. The machine has got a platinum seal for its effectiveness.
2. JaniLink Premium: A Heavy-Duty Hot Water Extraction Machine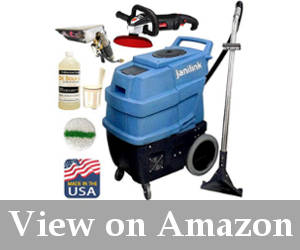 Do you need a powerful carpet cleaner? A heavy-duty machine would be necessary for big jobs. For example, if you own 3 or 4 cars, or have off-road trips every week. If you have a pet that makes a lot of mess, dry and wet carpet and upholstery cleaning are necessary.
The unit can be used for commercial applications. For example, car washing or additional filling station services. Any ground-in stains can be removed with its help. They may be petroleum-based, food or red wine. The premium extractor does the job.
It's time-saving, able to clean large carpet or upholstery areas immediately! The area is sanitized with a perfect cleaning agent that is included. It adds a pleasant citrus smell.
Useful Accessories
Additionally, you get:
a hand polisher;
4" detail tool;
a bonnet pad;
12" wand;
a hose;
a bottle holster.
The extractor is so powerful! The suction power is provided by three vacuum motors. The machine can lift 19 ft. of water! Meanwhile, it's still compact and quiet. Two heaters make the water hot very fast. Watch your hands!
But the pump is unbeatable. You would hardly need this 500 psi of pressure. Therefore, it's adjustable. 3 separate switches are available. Nevertheless, the velocity of water extraction is high. The upholstery dries faster after the detailing.
Pros
powerful;
quiet;
compact;
adjustable;
strong.
Final Impression
So, I recommend this powerful JaniLink machine. It runs like a clockwork. Being compact, quiet and lightweight, it's handy for any kind of jobs. The cleaner is made in the USA. The corporation's facilities are located in Atlanta, GA. The company was founded in 1996, so it's experienced. And the machine is time-proven. It's a bestseller for more than 10 years. So, quality is guaranteed.
The machine is large and heavy-duty. However, it still compact, for a commercial cleaning machine. Due to large back wheels, it's pretty stable. The extractor is designed for the automotive detailing industry. It can be professionally used on car washes. Dealers, contractors and retail shops would be also interested in reselling.
This item is innovative. It is based on the popular Grand Prix HP 100 series. It included the first water extractors that used a single power cord for the heater and the pump. Now it's advanced. The cleaner comes with a large, 10-gallon solution tank.
The extractor is equipped with a single motor. However, it's three-stage and very efficient. Due to low-voltage design, it consumes less energy and lasts longer. So, the unit provides sufficient, 100 CFM airflow.
Meanwhile, the pump is also single. It's powerful, featuring 1,200 watts. So, it heats water to 210 °F quite fast. Water heating time is 8-10 minutes. The unit lifts 137 inches of water. The pressure is only 120 PSI, and it's not too impressive for the industry. However, the extractor's performance is good.
Interesting Facts
What is outstanding with the item? The technology that is called Snap-n-Lok Cuff Lynx is unique. It helps to keep the hose out of the way during the work. The hose is hidden inside the body for security reasons. A high drain valve promotes emptying the tank to the bucket without efforts.
The hose wrap branded as HeatGuard is made of Closed Cell Neoprene. This perfect material is wet-suit. It eliminates any damage. The material helps to avoid quick hot disconnect, protecting you and the car interior. Additionally, the 4" upholstery tool is made of stainless steel.
Pros
powerful;
safe;
user-friendly;
1-year warranty;
made in the USA, by a family-owned company.
Cons
the 8300 Easy Wand is not included.
Overall Judgment
So, I recommend the machine to dealers and professionals. It's safe, handy and energy-saving.

4. EDIC Galaxy: Portable Carpet Extractor for Auto Detailing
Do you need a commercial-grade carpet cleaner? This item is designed for professional applications. Its performance is relatively similar to the operating results of the other heavy-duty machines. The extractor comes with 2 quiet motors.
It's able to deliver up to 100 PSI of pressure. This suction power is sufficient to lift 150 inches of hot water. It lets great jobs be done! But for car detailing, the extractor can be used for carpet and hard flooring cleaning. The area it sanitizes is as large as a family house or a medium-sized hotel.
Meanwhile, the unit is portable and comparatively lightweight. Its weight is 78 pounds. The machine is conveniently designed. It's handy due to 10' non-marking wheels and 4" front locking castors. A push helps also helps a lot. The tanks are still quite sizeable.
Interesting Benefits
This model is heat-ready. It means you can add a powerful external heater. The temperature it provides is 170-210°F. The heater is optional, so you need to buy it additionally. It is to be placed outside the machine. Therefore, it runs cooler and lasts long. Additionally, it's made of stainless steel, rust-resistant. The wand is neither included.
Which parts and tools are available? You get only a 25-feet long hose and a mesh bag for it. Don't confuse, the length of the power cord is 50 feet. Meanwhile, the extractor's quality is outstanding. Therefore, I recommend the carpet cleaner for you. Do you need proof?
Pros
commercial-quality;
durable;
long hose and power cord;
versatile;
it does the job.
Cons
a heater and a wand are not included.
Common Judgment
Quite naturally, the extractor is made in the USA. EDIC company is reputable. It was founded in 1975. It manufactures reliable and innovative carpet care equipment. So, EDIC provides a 5-year warranty for parts and service. The polyethylene body of the machine comes with a lifetime warranty.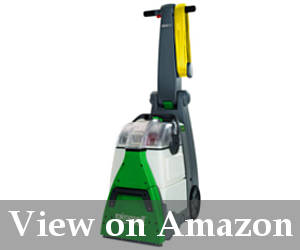 The extractor machine is commercial-grade. It's heavy-duty. However, it's still designed for use in your home. Have you got several cars or pickup trucks? Are your carpets low-pile and large? If they are wall-to-wall or you have several fluffy pets, it's quite suitable.
So, what about the machine's performance? It comes with 2 powerful motors. The tanks are described as large-capacity ones. Are they really large? Each of them, designed for clean and dirty water contains up to 1.75 gallons of liquid. However, the extractor uses less water. The carpet and upholstery dry faster.
Additionally, it's sufficient to clean a path that is 10"-wide. The cleaner provides perfect, edge-to-edge suction.  What about 26 psi of pressure? It's sufficient for household use. Meanwhile, the machine is amazingly handy. It weighs only 42 pounds. The extractor is not too compact. Due to large, adjustable handle, it's easy to move around. It folds for storage. Then the unit is small.
Useful Opportunities
What are the other features that make it user-friendly? A flow indicator shows you when you are to refill the tank. Quite naturally, a long, 25-feet power cord is a benefit. The brush roller is advanced, easy-to-clean and efficient. Nevertheless, a hose is still not included.
Pros
great residential-style machine;
easy-to-use;
efficient;
durable;
amazing brush.
Cons
a hose and upholstery cleaning tools are not included;
not completely powerful for commercial use.
Final Judgment
So, the machine can be used for car detailing. The extractor is lightweight and handy. It's durable, provided with a 1-year warranty. I am sure, you remember the famous Bissell Company. It's family-owned and its history dates back to 1876. So, the products' quality is unbeatable. They are just the best for deep carpet cleaning.

Buyers' Guide
Do you like carpets? As for me, I adore them. Carpet flooring provides comfort, safety against injuries and interior beauty. Do you have to avoid them if you suffer from an allergy? Not at all. According to the study, conducted by Airmid Healthgroup, carpets are beneficial for health.
They trap dust particles, mites, and allergens. They are kept from being released into the air. Therefore, the air is dust-free. The only condition is that the carpet is to be efficiently or deep cleaned. Car upholstery and rugs need the same regular maintenance. The best hot water extractor is necessary.
What is Hot Water Extraction?
The method is highly recommended by carpet manufacturers. It involves deep upholstery cleaning that includes using hot water and cleaning agents. It's applied to deeply soiled areas of your car interior. Why? It's effective.
It makes the textile or fabric surface:
last longer;
look new;
smell fresh.
The method may be described as a type of steam cleaning. It's very similar. However, hot water extraction vs steam cleaning is less damaging to the carpet. It lets remove all dirt, old stains, and debris from the deep inside of the fabric. It uses high pressure and solvents to remove soiling.
Pros and Cons of Steam Mopping
The steam method doesn't require using any chemical agents. Therefore, it's ecologically-friendly. Steam mop on a carpet is beneficial. It uses higher temperatures, up to 250 °F. According to CDC Centers, the heat is sufficient for sterilization. However, for high-traffic areas of the vehicles, steam mopping is not sufficient.
How long does carpet cleaning take to dry? It depends on the method you select and the air humidity. Commonly it takes from up to 24 hours. But for the high temperature of the steam. An extractor lets the car interior dry in 4-7 hours. Meanwhile, a risk of fungal and bacterial growth still exists.
How Does Professional Carpet Cleaning Work?
Hot water extraction lets you clean your carpets professionally. Do you prefer having your car detailed at the car wash? The process is the same. It includes:
Mixing water with detergents.
Injecting the liquid onto the surface.
Applying a chemical directly to the stains.
Extracting the moisture back to the machine.
However, car detailing process is special. Initially, you are to remove everything from the floor and the upholstery. Vacuum and brush the carpets. Pet hair stuck in the rugs can be removed by a piece of pumice stone. Don't forget about the places under the seats! Map pockets and cup holders are to be thoroughly washed. Finally, clean the windows from inside. Use a glass cleaner and a soft microfiber cloth.
Final Conclusion
The best hot water extractor for auto detailing is the machine, made by JaniLink. It's the most powerful, fast to heat water. Additionally, the cleaner is complete with multiple helpful accessories. The item by Mytee is the safest and technologically advanced. The EDIC Galaxy extractor is durable and rust-resistant.