Dyson is beyond a doubt the trailblazer when it comes to the new tech of vacuum cleaning. And every time the appliances market feels comfortable, usually, Dyson disrupts that laid back scene with a shocking new invention.
Mostly, the other manufacturers imitate the newly introduced innovations. But the clever ones, like SharkNinja, act differently. They'd improve the disruptive concept, adapt it to customer needs, and offer it at a competitive price.
This variety is what creates all the buzz around the appliance market. Every product comes with a bunch of dazzling features, and inevitably, a few weak spots.
In this article, we'll explore the differences between two outstanding cordless vacuum cleaners. So how would the comparison of Shark Rocket vs. Dyson V8 play out? Read on to see who wins in each round, and who gets the prize!
Overview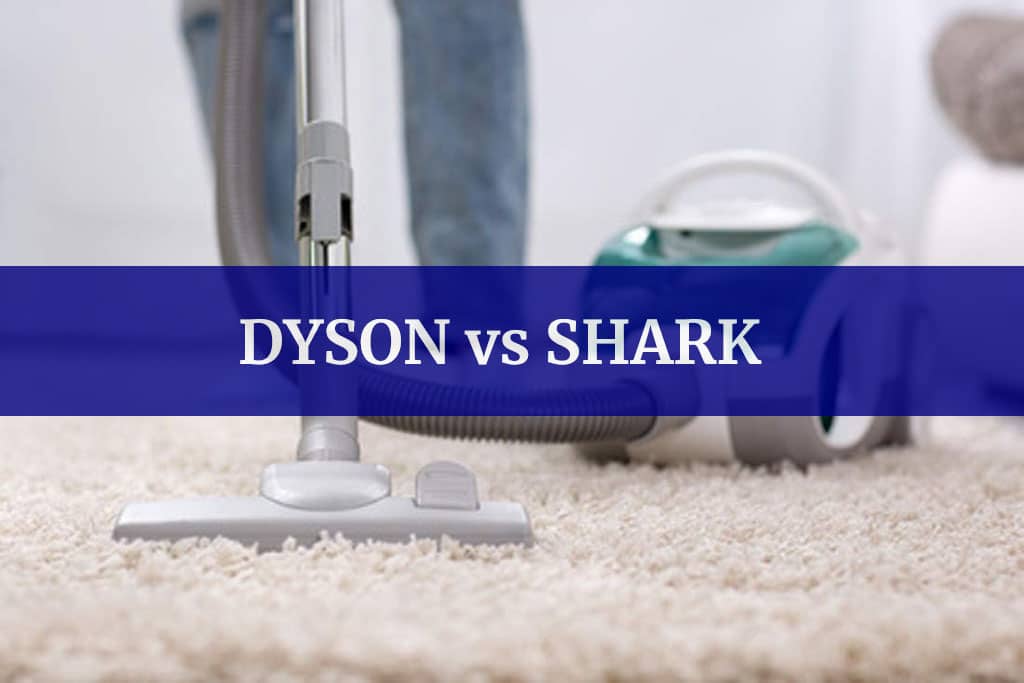 The Shark Rocket and the Dyson V8 Absolute Cordless Sticks are super popular models in their respective brands.
They're both lightweight, have their main units near the handle, and transform into a handheld cleaner. Would they have any stark differences that sway buyers from one brand to the other? Let's see now. Starting with the general features, pros, and cons of each vacuum cleaner.
Shark Rocket
The Shark Rocket Blue Iris is among the earlier models of the Shark Rocket series. Currently,  this line is slowly being replaced by a new generation of cordless vacuum cleaners. The new features include a longer run-time of 60 min, and a Multiflex tech which allows the wand to bend.
Still, the classic Shark Rocket line is holding its own among buyers worldwide. The PetPro, DeluxePro Ultra-light, and DuoClean Ultra-Light are sold en masse, and many houses count on their high performance for their everyday cleaning.
The Blue Iris has a smart design, and as it splits into a handheld unit, it has almost universal accessibility. With that lightweight cleaning the whole house a breeze. It's also perfect for sprucing up your car, or any other spots where there's no electric outlet around.
It works pretty well on all surfaces, and its cleaning prowess extends from the powdery spills on a carpet, to the harder messes that stick to the floor. It has a large canister, so you wouldn't need to empty it every two seconds. Also, the whole process is hygienic, and mostly you wouldn't need to use your hands.
The suction powers of this cleaner work on two levels; high and low. The higher setting depletes the battery more quickly but gets the job done. It's actually among the features that come as a pleasant surprise to many users who expect a cordless broom to have less punch.

Pros
Two-in-one design
Powerful suction
Deep cleaning
Works well on floors and carpets
Lightweight with only 7.5 pounds
Extra-large dust cup
Hands-off disposal of debris
Versatile attachments for upholstery and car
Special attachments for tight spaces
Long run-time of 40 min
The filters are washable
LED lights to clean under-furniture spots
Cons
Doesn't have a wall mount for storage
The filters require 24 hours to dry after washing
Doesn't have a holder for the attachments
Dyson V8
The Dyson V8 is an upgrade over the previous V6 and V7 cordless models. It has a much higher suction power, in addition to a longer run-time in the low-power mode. The high suction remains limited to 8 min.
The main features of the V8 are inherent inside its main unit and cleaning heads. This is actually where most of the work of Sir James Dyson was done. The cyclones hiding behind the floral shape of the main unit create an air turbulence that drives even the tiniest debris inside the dust bin.
As for the Dyson digital motor driving this broom, it operates at a noise level lower than 70 dB. This is among the quietest we've come across. It's lightweight, and you can maneuver it around cluttered spaces quite easily. The whole design is centered around making vacuuming less of a chore.
Among the clever features in the Dyson V8 is the easy cleaning of all of its parts, from the canister to the filters. It's intended to eliminate the allergens from the surroundings while vacuuming, which is especially important if there are pets around the house.
The accessories and attachments that come with this broom are also quite comprehensive. The mini-motorized tool handles the heavy lifting, the narrow brush for tight corners, while the soft brush is suitable for screens and similarly sensitive surfaces. The unit can be easily stored along with its attachments in a wall mount. This is, of course, among the winning features of the Dyson V8.

Hi-Tech design
Two-in-one design
Integrated HEPA filtration
Washable reusable filters
Deep cleaning of thick carpets
Hygienic dirt ejector
Neat storage of the stick and accessories
Long run-time of 40 min
Efficient usage of battery power
Cons
The direct-drive cleaning head works for around 8 min only
The vacuuming power is comparably less effective on hard floors
It's an expensive appliance
A Full Comparison of Shark Rocket Blue Iris vs. Dyson V8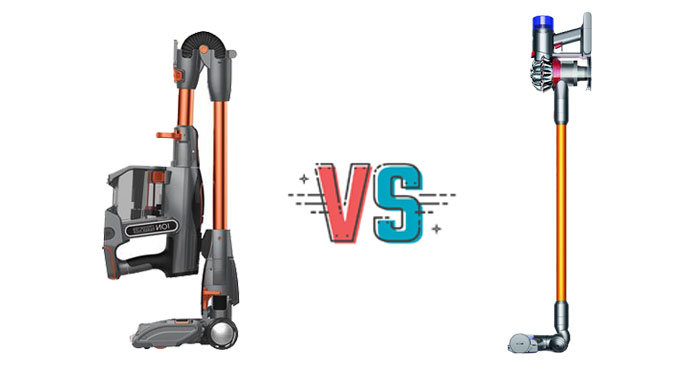 In the previous sections, we went through the general features of each vacuum cleaner. We've seen their good sides and weaker aspects. However, that doesn't put any of them ahead of the other.
To be able to judge the performances of these two remarkable appliances, we need to compare each attribute of the Shark Rocket to the corresponding one in the Dyson V8. Let's see how that plays out!
Company Profile
Companies create products that follow a certain credo. Some are after making extremely durable machines, others are addicted to innovation, while a third group is all about superior quality. The origin story of a company always reveals the strongest aspects of its products.
When we present the company profiles, we also get a better understanding of the designs.
Shark Rocket
SharkNinja didn't always hold that name. When it first saw the light, it went by Euro Pro Operating LLC. At the time, the public knew the founder, Mark Rosenweig, more than the company name. He was in all the telemarketing ads, and the Canadian people liked him.
As he expanded and moved the headquarters to the US in 2015, it seemed appropriate to change the brand as well. The company's name became SharkNinja Operating LLC. This new label was a sum-up of the two most successful products of the company: Shark and Ninja devices.
SharkNinja made a good name in the American market, as it previously did in the Canadian one. They sold Shark vacuum cleaners primarily and supported that line with other domestic appliances. The Ninja division focused on multi-cookers, blenders, air-fryers, coffee makers, and other kitchen devices.
Dyson
Sir James Dyson is a true engineer who couldn't help trying to make everything better. This instinct to fix things was challenged sharply one day as he tried to use a vacuum cleaner. His Hoover lost all its suction abilities every time the dust accumulated in its bag. It was also riddled with various shortcomings.
While most people would just clean up the dust bag, James Dyson invented the Dual Cyclone bagless vacuum cleaner. That was in the late 1970s. The new invention didn't take final form till 1983 after he'd developed thousands of prototypes, and it was aptly called the G-force.
Despite his active marketing efforts, no manufacturer in the UK wanted to produce the device that would shut down the vacuum cleaner replacement bags. The constant rejection only motivated him to do the manufacturing himself. In 1993 he built a factory together with a research center, and that was the beginning of Dyson Ltd.
Currently, Sir James Dyson is the richest man in Britain. In addition to his brilliant record as an industrial engineer, he also established himself as a clever investor and major landowner. His net worth is more than 16.5 billion pounds.
Dyson's production lines churn new models of their flagship dual cyclone vacuum cleaners on a regular basis. And this naturally places them as the industry leader, with the other brands following their trends.
Vacuum cleaners aren't the only product that Dyson gives the world. They also make other household appliances like air-purifiers, heaters, hand-dryers, dryers, and bladeless fans.
What We Think
Dyson definitely has a bigger name and a well-established legacy.
Unpacking All the Attachments
Attachments, add-ons, and accessories are the life and soul of a vacuum cleaner. You could always tell if manufacturers really know what they're doing if they provide the right set of accessories with the main unit.
Vacuum cleaners are often used on varying types of floors, such as carpet, hardwood, and polished marble. It's also routinely used to clean up upholstery, curtains, and other furniture. A perfect set should contain parts that reach tight spaces, as well as delicate surfaces, or elevated points.
Shark Rocket
SharkRocket is well-equipped to clean up almost every conceivable surface. And yet, it doesn't have a thousand little attachments. Most of its add-ons are designed to be multifunctional. This is what you'd see as you unbox it:
The stick vacuum main unit
The pet tool
The crevice tool
[/su_list][/su_box][/su_column]
Cons
The Dyson comes with these attachments.
Main unit
Direct-drive cleaner
Soft roller cleaner
Mini motorized tool
Combination tool
Rigid crevice tool
Telescopic tube
Wall mount
[/su_row][/su_table]
What We Think
Both Vacuum cleaners contain the necessary attachments without any excesses. However, the Dyson is more attentive to the requirements of the various surfaces.
This round goes to Dyson.
Size and Weight
When you buy a stick electric cordless broom-like these, size definitely matters, and so does weight.
Vacuuming a big house is a lot of work. It involves holding the cleaner and moving with it from room to room, reaching upwards to spruce up the curtains, and kneeling down for the narrow spaces under the furniture.
If there are stairs, then there would also be multiple trips up and down, with all the weight of the broom. The work is naturally doubled if you have kids and pets around the house.
Once the work is done, then there's the required storage space. Smaller cleaners can fit in any place, as opposed to large massive ones.
That is why size matters.
Shark Rocket
The Shark Rocket usually comes in smallish units. With 46 by 10 inches, it's certainly slim and almost petite. Its weight is 7 pounds give or take, which makes it rather easy to carry around.
Dyson V8
The Dyson has a bit more length over the Shark. It's 49 by 10 inches, which makes it better suited for reaching higher surfaces or for cleaning the ceiling. It weighs 5.75 pounds, so lifting it up for that sort of drill wouldn't be hard at all.
In fact, you clean the whole house with it without feeling all drained out at the end of the day.
What We Think
The Dyson is far lighter, which grants it the round. Then again there are the extra 3 inches it has over the Shark Rocket. So it's definitely Dyson here.
Run Time
Runtime is among the fundamental details you should know about a cordless vacuum cleaner. If it takes 10 hours to recharge, then works for 5 minutes, that device is a dud! It would probably end up as a decorative rather than a functional appliance.
Shark Rocket
The Shark Rocket supposedly runs for a full 40 min, but most of the time it works well for the first 30 min, then its suction powers start to fade.
Recharging the battery takes around 4 hrs to become full.
Dyson V8
The Dyson V8 also works well for the first half-hour, but it could carry on to its nominal 40 min of run-time. Its eternal weakness is in the high-suction mode which lasts below 8 min.
Recharging the battery fully after depletion takes around 3 ½ hours.
What We Think
The run-time and recharging of both batteries is quite similar, so it's a tie. However, the low span of powerful cleaning deducts a little from Dyson's points.
Aesthetics
Form and function should always be good. An ugly looking machine that works well isn't worth buying. And the opposite is also true.
We use these appliances almost on a daily basis, and even when they're in storage we can still see them. Fortunately, manufacturers understand that well, and the aesthetics of any product are an integral part of any comparison or review.
Shark Rocket
The Shark Rocket Blue Iris is a classic beauty. It doesn't go overboard in any of its external features, and it's formed in an elegant manner. It wouldn't be an eyesore as you use it, or even as you put it aside for storage.
Dyson V8
The Dyson V8, like the rest of its peers, has a flamboyant exterior. It certainly makes an entrance with its colors and the floral shape adorning the control unit.
Some people do like the exotic and unorthodox design of the Dyson. And the fact the flower hides behind it the cyclones, seems to add interest. It's after all, the top tech in the vacuuming world.
Even though this broom is slim and lightweight, there's a bulky feel about it.
What We Think
The Shark Rocket Blue Iris is far prettier than the Dyson V8 Absolute.
Price and Warranty
The price is a determining factor when all the specs and features are a tie. As for the warranty, it's usually a good sign when the manufacturer offers a two-year warranty. And when that extends to five years, that certainly demonstrates a brand that stands by its products.
Shark Rocket
The Shark Rocket Blue Iris ranks a bit higher among its peers. It retails at around $300, which compares to the $150 of the other ones. It's not a translation of a single huge upgraded feature, but rather an overall increase in quality from the previous models.
The best part is that the Blue Iris comes with a five-year warranty for parts and labor.
Dyson V8
The Dyson V8 first came out with a huge price tag of around $600, but it was often offered at discounted prices here and there, till it reached a new norm of around $500. This is still a load of cash, but the popularity of this broom says clearly that it's worth the extra buck.
It comes with a two-year warranty, which is not bad at all.
What We Think
The Blue Iris certainly wins this round with both its moderate price and generous warranty period.
The Final Verdict
This concludes our exploration of two highly popular vacuum cleaners, the Shark Rocket Blue Iris vs. Dyson V8. And here's our bottom line on the matter.
They're both similar in most aspects, but there are some points that might be more appealing to certain users in each vacuum cleaner.
If you're someone who needs a budget-friendly, but effective, cordless vacuum cleaner, then you would probably prefer the Shark Rocket. Because of its high suction, long run-time, and moderate price.
However, if tech and quality are things that matter more to you, then the Dyson V8 is your best option because of the cutting edge engineering employed in its design.