Comparing two giant brands is always interesting. Especially, when the products in question are domestic appliances that we all use almost daily.
The sharkNinja and Dyson names are well known all over the globe, and each one has a loyal base of happy customers. So is one brand better than the other? Let's find out.
In the following sections, we'll review each of the vacuum cleaners, then move on to a head-to-head feature comparison of the Shark Rocket vs. Dyson V7.  Read-on to the very end, as this is where we'll reveal the winner!
Overview
Shark Rocket and Dyson V7 are the flagships of their respective brands. And they're further subdivided into specialized models. Here we'll look into the Shark Rocket Pet Pro, and its counterpart on the other side, the Dyson V7 Animal.
They're both equipped with the features of the basic model, plus the extra consideration of dealing with pet hair, odors, and debris. This should aid in comparing the two vacuum cleaners, and we'll get to see them on their best performance. This is also the best way to make sure that we're not comparing apples to oranges.
Shark Rocket
The Shark Rocket is among the most versatile and easy to work with cordless vacuum cleaners.
It's a lightweight electric broom that works for around 40 minutes continuously, and effectively removes dust plus other messes from around the house. It works well on hard floors, carpets, and upholstery as well.
You can use it as an electric broom or split it and utilize its hand-held form. The quick connect joints facilitate the transformation from the handheld mode, to the stick vacuuming. This makes cleaning the whole house a breeze. It's also perfect for sprucing up your car, or any other spots where there's no electric outlet around.

You wouldn't need to look for the nearest plug, or limit yourself to the cable length. However, you should stay aware of the remaining battery charge. This is easy with the LED lights that mark both the battery charge when the vacuum cleaner is on duty, and how full it is while it is charging.
The brushroll is among the best features of the Shark Rocket. It's designed specifically to deal with the toughest messes on the hard floors, carpets, and upholstery. The brushes are designed so that they catch all the hair and debris, but don't get clogged while doing so. If you have pets, this is priceless, and if you don't it gives you superior hassle-free cleaning.
As it's designed with pets in mind, this vacuum cleaner contains a solid filtration system that minimizes the allergens around the house. The canister is also hygienic, and can be washed as thoroughly as you'd like.
It operates with two basic settings: a low power suction level for wooden and semi-solid floors, and a high-suction mode for carpets and messy floors. The controls are pretty close to your hands, so you wouldn't have to suffer to move from one vacuuming mode to the next.
Overall, the Shark Rocket is an appliance that exceeds users' expectations, and it certainly earned its popularity.

Pros
Two-in-one design
40-min runtime
Effective removal or long hair and pet hair
Brush roll is capable of self-cleaning
Wide cleaning head
Anti-allergen technology
Full-engagement with bare floors
Powerful suction on carpets
Equipped with HEPA filter
LED lights on the nozzle to reveal dirt
Batteries can be charged in or out of the unit
Cons
Doesn't have a wall mount for storage
Detaching the canister can be a bit resistive
May not be sufficiently powerful for extra-thick carpets
Dyson V7
The Dyson V7 is a cordless stick vacuum cleaner, that can also double as a handheld cleaner. It has plenty of tech and brilliant design features, which is the trademark of all Dyson products. Sir James doesn't accept anything but the absolute best.
Among these features is the two-tier radial cyclones, which create guided air turbulence in addition to the suction power. In simpler terms, this gadget lures the dirt off the floor and into the dust bin. It does that with higher efficiency than regular vacuum cleaners.

These radial structures are placed directly underneath the flower shape in the control unit. Furthermore, there's a filter in the center of that cyclone for trapping the solid debris.
There are two operating modes for the Dyson: a low suction and a high suction. The former lasts for around 30 minutes, while the latter lasts for a mere 7 minutes. Supposedly, the suction power is huge, so these minutes amount to a lot of deep cleaning.
The accessory set that comes with the Dyson is on-point, and it's expected that you'd use every bit of it. Some parts have a double function, and work as a combination tool. Also, they're all easy to connect and detach via a little red quick-release button.
Not all model variations of the Dyson V7 are equipped with HEPA filters, but the Animal has one. The others have a high efficiency filtration system as well, and the best part is that it can be washed. Together with the hygienic aspects of the dust bin, you get a cleaner that caters to your wellbeing in more ways than one.

Pros
Hi-Tech design
Lightweight
Transforms easily to handheld
Reaches high and narrow spaces
Sealed filtration system
Combination cleaning tools
Soft brush for gentler cleaning
Powerful digital motor made by Dyson
Efficient use of battery power
Cons
The vacuuming power is a little weak on hard floors
It's not very responsive to larger-sized remains
The battery charge is indicated by a single LED that fades on low battery.
A Fair and Square Comparison of Shark Rocket vs. Dyson V7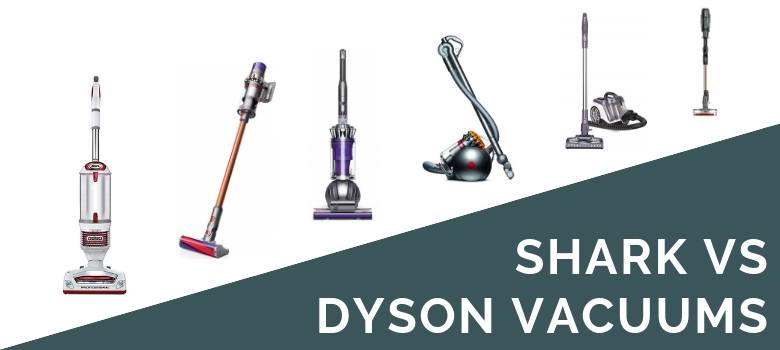 So far we've presented both products, their general features, in addition to the pros and cons of each. That's nice, but hardly underlines the differences and similarities of both brands. Next, we'll compare their performances point by point, and see how each one of them ranks.
Company Profile
The products we use are a reflection of the manufacturer's beliefs and business models. That's why knowing the origin stories of each company helps in understanding their designs better.
Shark Rocket
Mark Rosenzweig is the Founder and official face of SharkNinja in the public eye. He started the company in Canada as Euro Pro Operating LLC, but in 2015 changed the name to SharkNinja Operating LLC. The headquarters were moved about the same time to the United States.
The name change was mainly to capitalize on the success of the company's two main brands: Shark and Ninja appliances. In 2017 the company was acquired by CDH Private Equity attached to Weston Presidio and American Capital.
Despite the change of branding, headquarters, and ownership, the product line is still intact. The Shark branch focuses mainly on vacuum cleaners. While the Ninja counterpart produces coffee makers, air fryers, blenders, and multi cookers.
SharkNinja is committed to "innovation, ease of use, and competitive pricing". Which shows clearly in all its products, and the enthusiastic response from buyers worldwide.
Dyson
"Like everyone we get frustrated by products that don't work properly. As design engineers we do something about it. We're all about invention and improvement." says Sir James Dyson, who is the man behind the  brand, and also the inventor of the cyclonic vacuum technology.
This statement sums up the credo of Dyson. This company is all about innovation, and before a product has been in the market for a few years, you'll find a newer version replacing it. They're always looking out for new ways to make better appliances. At the same time, pushing the boundaries of the available technology.
This British giant has been in the market for only 30 years, as Sir James Dyson founded it in 1991. It's now a global business with more than 12000 employees working all over the map, creating yearly revenues north of 5.65 billion dollars.
Besides the wide assortment of vacuum cleaners, Dyson also produces other domestic appliances like hair dryers, hand dryers, bladeless-fans, heaters, and air purifiers. There were some plans in 2019 that Dyson would move to Singapore and venture into the electric vehicle market, but that was canceled early 2020.
Being a brilliant engineer himself, Sir James Dyson invests heavily in technical education. Among the impressive feats in that department, is the joint robotics lab at Imperial College London. In addition to students' design awards, the James Dyson Foundation to inspire young learners to become engineers, and The Dyson Institute of Engineering and Technology.
What We Think
While Dyson is a much bigger entity, SharkNinja is an agile one. Furthermore, they're both innovative and invest in developing their products constantly.
SharkNinja has an extra concern of keeping the price tag closer to the mid-range. This, however, doesn't seem to be a priority for Dyson. For the latter quality precedes everything, even presenting their products at a moderate price. Interestingly, they have a wide base of customers, rather than a niche group of select buyers.
Clearly, there's a tie here.
Unpacking All the Attachments
To assess both products properly. We often unpack the whole package, and see what will come out. Some manufacturers enclose the bare necessities, while others wow us with their generosity.
Besides the thoughtfulness thing, there's also the aspect of being practical. Everyone who has ever vacuumed their house knows that some attachments are never used at all. While other parts are extensively used till they wear out. Clever manufacturers design usable accessories.
Shark Rocket
The Shark Rocket Pet Pro comes with a pretty basic kit.
The pet pro main frame/the stick
Standard wand
Cleaning head
Crevice attachment
Upholstery attachment
Battery charger
Dyson V7
The Dyson also has a minimalist kit, but there's a part worth taking note of. That's the wall mounting. It's not a staple in most vacuum cleaners, but it's quite useful to the point that users are often looking for that feature.
Wall mount
Motorized brushroll
Charger
3 Cleaning tools
Wand
What We Think
Both Vacuum cleaners contain the necessary attachments without any excesses.
The wall mounting attachment that comes with the Dyson is actually an important feature that's missing from the Shark. It helps users in storing and charging their electric brooms in an orderly manner.
Size and Weight
The size of a vacuum cleaner implies two things: how easily it moves about the house, and whether it needs special arrangements for storage.
The weight of a vacuum cleaner is among the most important differentiators between brands. Cordless brooms are especially concerned with that characteristic, as they're mainly purchased for their easy movement.
Also, with a pet around the house, people often vacuum on a daily basis. A lighter unit will certainly be much appreciated.
Shark Rocket
The Shark Rocket is about 46 inches long, with a cleaning-head/base-width of around 10 inches. It weighs slightly over 7 pounds, which makes it among the lightest vacuum cleaners in this category.
Dyson V7
The Dyson is a bit longer than the Shark, with a total length of 49 inches. It's also just a tad wider at the base as it measures about 10 inches. The weight is surprisingly less though, with a mass of around 5.5 pounds.
What We Think
The Dyson gets this round with its evident light weight.
The Brushroll
The main cleaning head of a vacuum cleaner is important, as it defines two main attributes: the size of the debris that the vacuum cleaner can remove, and the type of that debris.
It can also make your life much easier as you go about cleaning the floors, or it could be a source of trouble in and of itself. That's because cleaning heads, or brushrolls, could easily be clogged by the mess on the floor or carpet. Larger objects, hair, or even a piece of paper can wreak havoc in that attachment.
New tech abounds in the design of brushrolls, and it usually differs from one vacuum cleaner to the other.
Shark Rocket
The Shark Rocket has one of the most elaborate designs of brushrolls. And it's not just a futuristic look that doesn't extend its wow effect to functionality, and we do see plenty of that!
The Dirt Engage technology deep-cleans the carpets and quickly removes stubborn debris from the hard floors. Moreover, the self-cleaning feature eliminates the hair-wrap we often see with regular brushrolls.
On top of the inherent cleaning features, there are also LED lights at the front end of the brushroll. This helps in finding and eliminating dirt. Especially the stuff that's lodged in the corners or under the furniture.
Dyson V7
The Dyson employs a completely novel design for its brushroll. It's also focused on quick deep cleaning to make the best use of the available run time.
What We Think
The Shark Rocket has a bit more elaborate brushroll, and it's geared towards maximum cleanliness with minimum hassle. This round goes to the Shark Rocket, but not by a huge difference.
Run Time
The runtime of a cordless vacuum cleaner is of paramount importance. A vacuum cleaner that works for 20 minutes then needs to rest and recharge has very limited uses. It would be nice for sprucing up your car or patio. But it would be completely useless for cleaning an apartment, not even a small one.
There's a nice trick that manufacturers use to help users with that. They advise them to buy extra batteries, and design the batteries so that they can be recharged directly from an electric outlet. You just need to stop for a minute to replace the depleted battery with a fresh one.
Shark Rocket
The Shark Rocket nominally has 40 minutes of runtime, but that might not happen if you're constantly on high-suction mode.
Dyson V7
The Dyson has a rate run time of 30 minutes. But there's a design aspect that utilizes the run-time fully and effectively. The vacuum cleaner has an 'instant release trigger', which rations the demand on battery power.
On the downside, the direct drive power depletes the battery quickly, and it should be used for less than 6 minutes.
What We Think
The Shark Rocket has a clear advantage in run time.
Aesthetics
The general appearance of any device often reveals its technical capabilities. But there are always personal styling preferences, so this point is more food for thought than a deciding factor in this showdown.
Shark Rocket
This vacuum cleaner has perfect looks and a style that pleases almost every palate. It's well proportioned, has a unique but reserved color, and wouldn't stand out too much in its surroundings.
Even when it's split into a handheld cleaner, it's still nicely shaped.
Dyson V7
The Dyson has a curious appearance that might not sit well with everyone. The flower shape in the middle of the control unit catches the eye right away. Its shape and purple color accents are hard to miss, and that's probably to guide the users to that spot. It's actually where the main tech of the Dyson is located, the radial cyclones.
The electric purple of that floral design is echoed once more in the cleaning head and the tip of the control unit. This is also where an innovative tech is placed. Otherwise, the vacuum cleaner has a charcoal silver color that's quite classy.
The split handheld unit seems a bit bulky though.
What We Think
We did mention that tastes are largely a personal matter. And clearly, both models are popular with users. However, we like the elegance and form of the Shark Rocket a tad more than the Dyson.
Price
In close competitions, the price points don't vary drastically between peers. Yet, some manufacturers surprise us from time to time.
Shark Rocket
The Shark usually retails at upwards of $300. This price is completely justified if we consider its merits, but it seems a bit high when it is compared to the usual pricing of the company. Overall, it's a moderately priced device.
Dyson V7
The Dyson mostly hovers around the $250 mark. As opposed to the Shark, this is actually less than what Dyson normally offers. Probably, since there's a newer model that'll soon replace the V7, which is the V11. And that one is expected to sell for $600.
What We Think
The current prices of both the Shark and the Dyson brooms would hardly sway any potential customer this side or that. Again, these two competitors end up in a tie.
The Final Verdict
This concludes our exploration of two highly popular vacuum cleaners, the Shark Rocket vs. Dyson V7. And here's our bottom line on the matter. They're both similar in 90% of the important features.
If you're someone who has a large house and needs a thorough vacuum cleaner, then you would probably prefer the Shark Rocket because of its elaborate brushroll and longer run time.  However, if new tech and a color-pop are things that matter more to you, then the Dyson V7 is your best option because of its cutting edge innovative design and unique appearance.