Disclosure: This post contains affiliate links and I may earn a small commission if you purchase through these links.
Cleaning the house is such a chore, literally. The best spray mops will help you to it less so. While vacuum machines make it much easier, they just aren't enough. You still have to mop the floor with water and cleaning detergent for that final shine.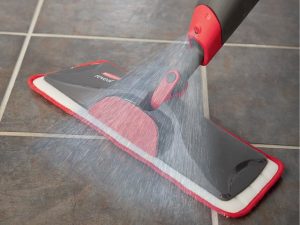 What if we told you it doesn't have to be challenging?
That there's a more efficient solution that doesn't involve you drenching your floor in the water?
And in case you're wondering, it doesn't cost much at all! It's as simple as finding the best spray mop out there.
Yes, the answer to all your problems is a spray mop. It's what you need to leave your home pristine clean, smelling pleasant, and with little to no effort!
We're going to walk you through the process of finding the ultimate spray mop. We've already selected our favorites and reviewed them for you along with a few tips to choosing one.
What's a Spray Mop?
A spray mop has a container you can fill up with water or liquids in general, so you can spray them on the floor before you mop.
There's a trigger attached to the handle that you pull in order to spray the liquid. The mop itself is flat and has a rectangular shape so that it covers more ground yet can fit in narrow places.
Why Use a Spray Mop?
This is the fun part. Using it is as simple as filling it up with water and spraying as you mop. But there's more to it than that!
While you can simply use water, we urge you to spice it up a bit. You can do that by adding a cleaning solution to the water. You can go for good old soap, detergent, or even any aromatic liquid!
This hits two birds with one stone. You get the moisture you need to thoroughly clean your floor, sans a bucket full of water, and your house will smell incredible!
Yes, you can now forget about bathing your floor in water to clean it up. The beauty of spray mops is that you use as little water as possible.
The spray provides the perfect amount of water needed for cleaning without any going to waste! Not to mention, it prevents the floor from being damaged from massive amounts of water.
Little amounts of water mean you can use your spray mop with almost any kind of flooring, whether it's tile, linoleum, vinyl, or even hardwood floor, it doesn't matter!
It's one spray mop-fits-all.No more struggling to clean the hardwood floor without the fear of damaging it.
Many spray mops are also designed to fit in narrow spaces. In fact, some are super thin to fit under surfaces your regular mop can't reach.
They also save you a lot of money since they're durable. With a spray mop, you can simply replace the mop head once it's worn out. As long as the mop and the container receive no damage, it can last a lifetime with you!
Overall, spray mops save water, they're versatile and extremely easy to use.
10 Best Spray Mops Reviewed
Are you ready to meet the best spray mops on the market? Oh, and the shipping is for free!
Image
Product
#1. Swiffer WetJet Hardwood and Floor Mopping Starter Kit
Editor's Choice


Check Price


Read Our Review
#2. O-Cedar ProMist MAX Microfiber Spray Mop

Check Price


Read Our Review
#3. Rubbermaid Reveal Spray Mop

Check Price


Read Our Review
#4. Bona Stone Premium Spray Mop



Check Price


Read Our Review
#5. Rubbermaid Commercial Pulse Microfiber Light




Check Price


Read Our Review
#6. VENETIO Premium Spray Mop



Check Price


Read Our Review
#7. MANGOTIME Microfiber Hardwood Floor Spray Mop




Check Price


Read Our Review
#8. Crazove Microfiber Spray Mop

Check Price


Read Our Review
#9. Yocada Microfiber Spray Mop



Check Price


Read Our Review
#10. Decorus Hard Floor Spray Mop




Check Price


Read Our Review
1. Swiffer WetJet Hardwood and Floor Mopping Starter Kit
Swiffer WetJet kit has what it takes to clean your hardwood floor or any floor type for that matter!
The mop pads are made of a microfiber-like material so that it's soft on your flooring and doesn't scratch it. What it will do, however, is absorb the dirt and dust from the floor. Once they're in, they're locked until you wash them out.
You order one mop and get 10 pads as a bonus. In case you don't know, 10 pads can last you years before you have to think about buying extra. This saves you a good deal of money.
The mop features a dual-spray nozzle. The nozzle sprays water evenly so that it covers the ground equally.
You won't have to worry about puddles of water in one spot while the rest of the ground is dry. This guarantees your entire floor will be cleaned.
Are you impressed yet? This kit contains the WetJet all-purpose cleaning solution. It's wood-friendly and it makes it much easier for the mop to catch the dirt and grime on the floor.
What We Like
Good value for money
Blunt edges to clean corners
Mop head size covers more ground for quicker cleaning
Mop head twists for easier cleaning
Easy to use
What We Don't Like
Spray function requires batteries, which can be inconvenient
Heavier than most mops
This is one of the best spray mops that you can get.
If you like the idea of a dual-sided spray mop, O-Cedar ProMist MAX might just be up your alley.
Why dual-sided? To save you time and effort. Rather than stopping mid-mopping to change the mop pad or clean it, just flip it over!
You can use both sides in one cleaning session, thereby getting more cleaning done than most people. Talk about practicality.
That, combined with the size of the mop head, will drastically change the cleaning process when it comes to large spaces. The mop head is quite large, which is perfect if you own a spacious home.
The design of the mop pads itself is quite clever. It has "scrub zones" that take microfiber pads to a whole new level. They might make you forget about getting a scrapper since they could take care of your stubborn stains.

What We Like
One-touch release button to easily eject container
Easy to hold and comfortable handle
The container is sealed against leaks
Machine washable mop pad
Thin mop head fits under furniture
What We Don't Like
Head comes off, which can be annoying
Rubbermaid Reveal Spray Mop is an all-purpose spray mop.
You can use it with almost all floor types, worry-free. Whether your floor is hardwood, vinyl, laminate, or tile, you should have no problem!


The beauty about this mop is that its container can withstand hot water. Hot water helps in removing stains and dries in no time. Therefore, it's less likely to leave the ground muddy. Not to mention, streaking shouldn't be an issue.
Another thing we love about this spray mop is its spray range. It can spray as far as several feet at one pull. Of course, you have complete control over the distance. You can adjust the angle of the mop to do so.
The mop head also has a fantastic design. While it's wide enough to cover more space, it's also quite narrow. This is particularly beneficial as it helps you clean narrow spaces in your home with no trouble.
You can even reach the corners of your home with the blunt corners of the heads. It adds pressure on the mop pad to ensure the collection of as much dust and dirt as possible.

What We Like
Machine washable pads
Durable
Free scrubber included
The container is quite large
Lightweight
What We Don't Like
A bit pricey
Container caves in upon spraying
Bona Stone Premium Spray Mop is a mop that specializes in stone floorings, which can be a headache to clean. Not anymore!

Whether your floor is tile, laminate, linoleum, sealed porous marble, or terrazzo, this is a good option to keep in mind. Bona Stone Premium Spray Mop can also be used with non-wax sealed tile, such as ceramic, Mexican Saltillo, and quarry.
This mop is an excellent choice for hard to clean floors and it comes with a cleaning solution. You receive your 34 oz bottle filled with Bona Stone Tile and Laminate Floor Cleaner to give your floor the care it deserves.
To clean well, you need a good grip on your mop. That's why there's a secondary grip on the post, so you can have better control maneuvering your spray mop.

What We Like
The large mop head covers more ground
Flexible rubber corners to avoid damaging furniture
Lightweight
Machine washable pad
Retractable hook for easy storage
Available for hardwood floors
Another Rubbermaid prodigy, Commercial Pulse Microfiber Light, is made for frequent cleaners.


It's designed for commercial use, and thereby it's all about comfort. Comfort starts with weight. This spray mop is stunningly lightweight. You can mop for hours and hours without straining your back.
The trigger is conveniently located so that you can pull it without removing your hand from the handle. Imagine having that option when mopping is a big part of your day. Sounds nice, right?

What We Like
High capacity container
Large mop head
Easy to use and assemble
What We Don't Like
Pricey
Not the best material
VENETIO Premium Spray Mop is safe to use on most floor types.
Hardwood, laminate, vinyl, marble, ceramic, and polished tile are all floor types you can use this mop to clean. It won't damage them whether by water or scratching the surface.


VENETIO Premium Spray Mop's size is one of its many pros. The mop head catches most of the dirt and dust in one swipe or two. Thanks to its size, you should be done in no time! It also means that you can cover more distance while standing in your place to facilitate cleaning.
The versatility of the mop head makes it possible for you not to move a lot while cleaning. It can rotate both vertically and horizontally, giving you the ability to clean with ease you won't get with other mops.

What We Like
The large container doesn't need frequent refilling
Secondary grip for better control
Scraper included for cleaning the mop pads
Lightweight, so it doesn't hurt your back
Affordable
Hook attached for easy storage
What We Don't Like
The container gets sucked in with frequent usage
No replacement containers available
7. MANGOTIME Microfiber Hardwood Floor Spray Mop
One of the things we love about MANGOTIME Microfiber Hardwood Floor Spray Mop is its sleek look. Its gray-silver colors give it a sophisticated look.
The noticeable difference between this mop and other spray mops is the pads. They're much thicker than the other options. This serves to improve the absorption of the pads, which, in turn, doesn't leave water behind.


Don't worry, the thickness doesn't affect the mop's ability to clean easily-damaged floors. It can still clean hardwood floors without scratching it. Of course, it won't leave it wet either.
The mop comes with 3 of these thick pads.
Because each one of us is different in their own way, MANGOTIME Microfiber Hardwood Floor Spray Mop is adjustable to fit everyone. The mop's post had an adjustable length.
You can shorten it or extend it up to 47". If being tall isn't your forte, you'll probably love this feature!

What We Like
360 degrees swivel mop head
Scraper included for stains and mop pad cleaning
Comfortable handle
Budget-friendly
Easy to use and assemble
What We Don't Like
Fluffy mop pads might not properly clean corners
The small tank needs frequent refilling
8. Crazove Microfiber Spray Mop
One of the best handle-trigger combos on the market is Crazove's Microfiber Spray Mop. It's crafted with the user's comfort in mind.
The handle is designed to fit perfectly in your hand. You can spend long hours of cleaning without feeling uncomfortable. The trigger is right at the tip of your fingers for your convenience so you can easily spray while cleaning.


You can even mop single-handedly! You don't need both hands for the best results; all you need is one hand with your fingers on the trigger and the microfiber pad will take care of the rest.
When it comes to the post, it's long enough to spare you any back pain. It's also made of high-grade stainless steel that's quite durable. Don't worry about getting it wet, it's anti-rust too.
The mop head is 360degrees rotatable; all you need to do is push it around and it'll automatically adjust and glide on the ground.
The container is sealed and should prevent leakage. Just fill it with water, add two tablespoons of your choice of cleaning solution, and you're good to go! You can use cleaning solutions, detergents, disinfectants, or even essential oils.

What We Like
Easy to install
2 extra mop pads
Very lightweight
Can reach corners of the room
Compatible with hardwood floorings
What We Don't Like
The small reservoir needs frequent refilling
Plastic is a bit flimsy
9. Yocada Microfiber Spray Mop
Yocada Microfiber spray mop makes cleaning easy. It's specially designed for your furry friends!
It's 360 degrees rotatable; you clean the ground at different angles while standing straight. The mop head is quite intuitive; it twists to reach where you need it to go. You can clean under your furniture with ease!


The mop pads are made of microfiber with some special materials added in by the manufacturer. The added materials pick up hair and animal fur. If you have pets, this mop could be the key to maintaining a fur-free household.
Your mop will arrive with its own scrubber. To extend the life of your mop pads, you can use the scrubber to keep your pad dirt free. This saves money rather than having to buy replacement pads regularly.

What We Like
Lightweight for effortless cleaning
Machine washable mop pad
Works great wet or dry
Suitable for all flooring types
Non-toxic PP plastic
What We Don't Like
Might leak
Can't use harsh acid or alkali detergent
10. Decorus Hard Floor Spray Mop
Decorus Hard Floor Spray Mop can help you maintain a clean household.
You can single-handedly clean your house with this one. Yes, using one hand only. Its compact size and lightweight definitely enable you to do so.


Not to mention, the handle should allow you to comfortably grip and maneuver it.
360 degrees swivel equals easy cleaning. It means you can reach out and clean underneath your furniture without having to move it around. Cleaning doesn't mean you don't have to be a bit lazy!
For an affordable price, you'll get the mop, 3 mop pads, and a scraper. This means that you should be set for a while before you'll need to purchase anything else.

What We Like
Wide range of spray
Can clean corners well
Wide mop head for cleaning large areas
Narrow mop head for reaching narrow spaces
Washable mop pads
What We Don't Like
The small container has to be refilled several times
Final verdict
There are lots of great options out there. Our absolute favorite is
Swiffer WetJet Hardwood and Floor Mopping Starter Kit
. The kit contains almost everything you're going to need for a long time, the mop is easy to use, and it's quite affordable.
If you need the mop to clean large spaces, you can't go wrong with O-Cedar ProMist MAX Microfiber Spray Mop. The dual-sided mop pads are like using two different mops at once! They are large enough to get the most done in a short period of time. Once again, its price is pretty irresistible.

Tips on Choosing a Spray Mop
As you can see, the options are numerous and impressive. Here are some tips to narrow down your search.
Floor Type
The very first question you should ask yourself before buying a spray mop is what type of flooring do you have? You need to make sure that the spray mop is actually compatible with your floor.
Tile Floor
If you have a tile floor, then you should definitely consider a spray mop. Using a regular mop, whether it's with water or surface cleaners, might not do your floor justice. It's likely to dry, leaving behind undesirable streaks.
A spray mop uses the cleaning solution sparingly, providing the exact amount required to clean leaving your tile floor shiny and streak-free!
Vinyl Floor
Vinyl is also super easy to clean using spray mops. Whether you use water only or a cleaning solution, it will clean your vinyl floor quite well. Most spray mops are easily compatible with vinyl.
Laminate and Hardwood Floor
Laminate and hardwood floorings are among the hardest surfaces to clean. Water causes irreversible and costly damage, which is why they're quite tricky to maintain. At least they were until spray mops came into our lives.
Unlike regular mops and brooms, spray mops are compatible with hardwood floor
The lack of water means your chic floor stays safe. As for the cleaning solution, you can add liquid hardwood floor cleaners to the container. You could also opt for some homemade hardwood cleaners; they're a simple mixture of vinegar and water. You can even add essential oils for a pleasant smell.
The essential part about cleaning hardwood or laminate floor is the direction towards which you mop. Forget about the S shape. You're better off following the design by mopping in the direction of the grain. This way, if there's any streaking, it won't be visible.
Natural Stone Floor
Natural stone floors are also tricky surfaces to clean. You can use spray mops with natural-stone floorings, but be very cautious about what you use on it to avoid damaging it.
In order to avoid harming your floor, especially if it isn't laminated, make sure you only use compatible cleaners. Natural-stone floor cleaners are formulas that specifically clean floorings like limestone, travertine, marble, and slate.
Here's a guide that can help gauge what to use and avoid when it comes to your floor.
Carpet Floor
When it comes to carpet-covered floors, having a spray mop isn't really fruitful. The mop pads aren't really effective when it comes to cleaning carpets.
Unless you want it for a carpet-free section of the house, we don't recommend buying it with the purpose of cleaning your carpet flooring.
Mop Pad Material
So what makes spray mops unique? Aside from the spray option, the material of the mop itself is just as important.
Microfiber
Almost all spray mop pads out there are made of microfiber and for good reasons too.
Microfiber is made of polyester and nylon; the fiber itself is thinner than human hair, which is the reason behind its popularity. Its precision is quite impressive since it can make its way into the smallest of cracks and crevices. Not many materials can clean as thoroughly as microfibers can.
Not only can microfiber absorb around 8 times its weight, but it can also create a static electric charge upon its friction with surfaces.
As a result, the dust is easily caught and contained by the microfiber. Do you know what this means? No more scrubbing and re-mopping the same area to clean it thoroughly!
When it comes to hygiene, microfiber scores another win! Studies even show that microfiber can catch more than twice the amount of bacteria captured by cotton mops.
You wouldn't only be removing surface dirt and dust, but you would be keeping your home sanitary. If you have little children, this feature is pretty indispensable.
Microfiber can catch around 99% of dust, dirt, and more while saving 95% more water and chemicals than using other materials would.
Imagine saving this amount of water? Not only is it good for the environment, but it will save your floor from wasting away quickly from both the water and harsh chemicals. Oh, and save you some money!
Another plus is that it's pretty lightweight! While microfiber is highly absorbent, it weighs much less than other materials do with the same amount of water. Cleaning is much easier when it's done using microfiber.
Cotton Pads
Cotton pads are generally good but they're not as meticulous as microfiber pads. They can, however, absorb larger amounts of water than most other materials could.
The downside to this is the use of too much water, which could harm the floor, and they grow heavy.
Yarn-Microfiber Pads
Some pads are a blend of yarn and microfiber.
Yarn is one of the best materials when it comes to cleaning hardwood floors. Therefore, the blend of these materials has the best of both worlds. This is one of the best options when it comes to cleaning laminate and hardwood floors.
Microfiber is quite soft on the surface so it doesn't scratch the wood. It leaves behind a shiny, streakless finish.
Mop Versatility
Even though they might look alike, spray mops all have different designs, thereby different levels of versatility.
Mop Head Design
While all mop heads are rectangular, there are some differences that you should take into consideration.
The first thing is that you should make sure the mop head is as flat as possible. Some of them are rather bulky at the top.
Although it might seem trivial, it's actually a lifesaving tip. Having a flat mop head means that you can clean underneath furniture that's low to the ground.
You can't really do this with regular mops nor with vacuum cleaners. This way, you don't have to move your furniture frequently to clean underneath it, especially if you mop regularly before dust and dirt gather in there.
Mop Head Movement
The versatility of a spray mop lies in the head's design. It's crucial you pick a mop that has a rotatable head.
Mop sprays are significantly easy to use and this is mainly due to the rotating mop heads. If it has the right versatility, it means all you have to do is move the mop to cover the ground.
You don't need to bend over and turn around to get to certain spots; if the head rotates, it'll automatically cover hard-to-reach spots without any effort from you.
Rotatable heads make it much easier to clean narrow spaces. With a twist of the head, you can use it vertically so that it's longer and narrower. Believe us; you don't want to get stuck with a spray mop that doesn't have this feature.
Mop Head Edges
This might not be as important as the other features, but it's definitely a bonus point to consider.
Some mops have rounded edges and others have blunt ones. We believe that blunt edges are the better choice even though they're not as common as the former.
Unlike a round-edged mop head, a blunt-edged one can clean the corners of a room. While a lot of mop pads have a blunt edge, it's not backed-up with a blunt-edged mop, so it lacks the pressure required to thoroughly clean corners.
When the mop head has that blunt edge, it provides pressure so that the microfiber can better pick up the dirt and not just pass over it.
Watch out though; the edge shouldn't be protruding out. The mop pad should be about half an inch longer than the edge so that you don't damage your furniture.
Accessories
When you purchase the mop, what's in it for you? Are there any accessories? Are they any good?
Spare Mop Pads
Most spray mops come with spare mop pads, so make sure your choice does too.
This is equivalent to purchasing several regular mops since the former don't have parts you can replace once they're worn out.
The extra mop pads can last with you an entire year and even more!
Try to pick mops that come with a colored variety of mop pads. In some cases, these colors could mean the pads are made of different microfiber blends that are specific to certain surfaces.
Some pads are specifically designed for hardwood floors, ceramics, or general surfaces.
Even if they're all made of the same materials, you can create your own color code! For instance, you can keep the red pads for the bathroom, yellow for the kitchen, and blue for living spaces.
This way, you avoid cross-contamination and keep your home as clean as possible. Otherwise, you might have to resort to washing the pads after cleaning every room.
Scraper
Some spray mops come with a free scraper; if you like a mop with this option, grab it quick!
That scraper can be highly useful when cleaning stubborn stains.
If something's stuck on your floor and just won't come off, you can easily get it out with a scraper. While each has different uses, most of them have a rubber side for floor stains.
Other uses include removing hair clinging to the mop pad, dust, or dirt.
Extra Containers
You can receive more than one container for free with your purchase. While it's nice to have spare ones, you can also use them with different solutions.
If you have different floorings, you can prepare different formulas in separate bottles and switch them up. It's quite convenient actually, and doing so might save you a lot of time.
You can even prepare one formula for the bathroom and another for the rest of the house.
Container Compatibility
Not all containers are alike so keep an eye out for specifications by the manufacturer. Some manufacturers warn against adding certain chemicals to the bottles.
If you use cleaners with harsh chemicals, make sure the containers can withstand them before buying that mop.
Mop Size
Your spray mop can only be comfortable if it's the right size. Yes, you can get the wrong size for you.
The beauty of spray mops is that you can mop while you're standing straight, no sweat needed. This will only work out if your mop is the correct length!
If you're a tall person, pay close attention to the mop's length before you hit the buy button. If you're not, don't sweat it, literally!
Next up, you should think about your house; does it have many unreachable nooks and crannies? If so, then look for the narrowest mop-head you can find. The narrower they are, the better you can clean your home.
Large mop-heads are favorable when it comes to wide spaces. In this case, you don't need to worry about reaching narrow spaces so you should go for big mops that can cover more ground in little time. It's going to make the cleaning process even easier!
Budget
You're probably wondering how much this will cost you by now. The answer is not too much!
There's a wide variety of options out there for every budget.
If you don't mind spending too much, you might get what you pay for. More expensive mops may come with extra containers, mop pads, scrapers, and cleaning solutions. This would save you some money in the long run.
If you're on a tight budget, there are still high-quality mops at budget-friendly prices. You may have to sacrifice some of the accessories, though.
Post-Purchase Tips
So you've ordered your mop, now what?
How to Use a Spray Mop
First of all, we recommend using a vacuum cleaner or sweeping the floor before using a spray mop. While it can give you amazing results, a spray mop can't remove any bits or pieces on the floor; it'll only move them around.
Second of all, fill it up! Fill the container with the water solution you want and reattach it to the mop.
Now your spray mop is good to go! Start by spraying the floor once or twice and the mopping pads will do the rest. All you need to do is sweep the ground effortlessly with occasional spraying.
For the best results, start inside your room and work your way out. This way, you give the surface enough time to dry up without mudding it. Not to mention, it takes much less effort than going back and forth.
You can make S-shaped motions to quickly cover more ground. Nothing will stop you unless stubborn stains are sticking to the floor. It might take you a couple of sweeps to get them out, but you will so don't worry!
How to Maintain Your Spray Mop
Another amazing plus is that spray mops are very low maintenance.
It's important that you remove and clean the mop pads as soon as you're done mopping. This way, you won't go through them quickly and resort to replacing them often. That includes washing down the dust and removing any hair caught on it.
You should be careful about what you put inside the container. Some containers can't handle high concentrations of high chemicals. Strong acid and alkali, for instance, might harm your mop, so watch out. Generally speaking, it's better you dilute anything well before adding it.
It goes without saying that you should make sure nothing solid ends in the container, only diluted liquids.
When it comes to clogging, vinegar should do the trick. Dilute some vinegar and add it to the container then try spraying a few times.
If it doesn't work, use a toothbrush to clean the nozzles from the outside. Some people suggest using a toothpick or a safety pin, but you might risk damaging the nozzle.
We suggest you use vinegar every once in a while to prevent clogging in the first place.
FAQs
Check out these answers before you go.
What can I put in my spray mop container?
Aside from plain water, you can add diluted liquid soap, detergent, dish soap, or even essential oils. Some floor cleaners can also be used, depending on their ingredients and your mop.
You can also add diluted vinegar to clean your mop.
Should I use hot or cold water in my spray mop?
You can add hot water to have better cleaning results. It's also quicker since hot water dries faster. Just make sure it's not scalding hot, as not to damage your mop.
If you'd rather use room-temperature water or cold water, you can do so as well.
Why is my floor sticky after using my spray mop?
If your floor is sticky after spray mopping, the chances are that there's something wrong with your solution. It probably means you used too much detergent or soap.
You should generally use a couple of tablespoons only of soap or detergent in your cleaning solution.
Why is my floor sticky after using my spray mop?
If your floor is sticky after spray mopping, the chances are that there's something wrong with your solution. It probably means you used too much detergent or soap.
You should generally use a couple of tablespoons only of soap or detergent in your cleaning solution.
How often should I spray mop the floor?
In order to keep the floors clean at all times, you should use your spray mop once a day. Of course, it differs from one person to another. Especially if you have kids at home or if you're using it in your workplace, you're going to need to do it more often.
How often should I replace mop heads?
Even if you clean your mop heads every day right after you're done cleaning, replacing them is inevitable. You can't avoid wear and tear.
There are factors that affect how long your mop head lasts. These factors include how often you use the mop, how often you clean it, and how dirty the floor usually is. In general, mop heads last about 3 to 5 months, give or take.
Bottom Line
Once you've had a spray mop, you'll never go back! That's what we like to say because it's true.
What's not to love? They're ergonomic, easy to use, affordable, and leave your house smelling amazing with not a single spec of dust. Speaking from experience, spray mops are like a lifeline to pet owners.
Between you and us, you're going to want to clean your house a lot just to enjoy the smell it leaves behind. Here's a pro tip: you're going to want to order some essential oils if you don't have them already.
Further Reading