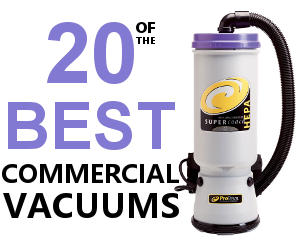 If you sneeze often in the office, it's because your floors are dusty. Then you should think about getting the best commercial vacuum. But first, let us talk about the most important choice criteria when choosing a vacuum cleaner to be used in offices, warehouses, and other types of commercial (and sometimes residential) sites. The range of commercial vacuums includes upright, canister, lightweight and robotic vacuums.
We researched the market and selected the best product for commercial use.
Professional vacuums are durable and sturdy and perform perfectly on a wide range of commercial cleaning tasks. Some of the top models are wet and dry vacuum cleaners. That means that they can pick up liquid spills, perform wet cleaning with a solution, and remove dust and dirt from hard floors.
The list below comprises commercial vacuums 2019 that are designed in all shapes and sizes including the backpack vacuums. The backpacks are compact and easy to carry around.
So, see a cool selection of proven products.
List of the Top Commercial Vacuum in 2019
Oreck Commercial XL2100RHS
Hoover Commercial Vacuum C2401
BLACK + DECKER CHV1410L
Shark Rotator Freestyle Pro (SV1112)
Oreck Commercial BB900DGR XL Pro 5
Black+Decker BDH2000PL MAX
ProTeam Super CoachVac 10 Quart
Oreck Commercial U2000R-1
Shark Rotator Professional Lift-Away (NV501)
Shark Navigator Deluxe (NV42)
Bissell Big Green Professional (86T3)
Rug Doctor Mighty Pro X3 Pet Pack
Hoover Power Scrub (FH50251)
Rug Doctor Vacuum (931461)
VacuMaid Professional (GV50PRO)
Dyson Multifloor Canister Vacuum
Shark Navigator (NV70)
Sanitaire Commercial Vacuum (SC3683B)
Vacmaster 4 Gallon Industrial Vacuum (VF408)
SharkNinja DuoClean APEX Upright Vacuum (AX951)
Although designed for commercial use, most of the models listed above are suitable for residential use as well.
[Read more…] about 20 Best Commercial Vacuums + AWESOME Buyer's Guide