Disclosure: This post contains affiliate links and I may earn a small commission if you purchase through these links.
Every once in a while, your cat will start to get a bit rebellious. My own cat was a real hooligan. He would scratch the furniture, eat everything, and worst of all, pee outside his litter box. They go out of their way to pee in some of the most annoying places. Like my concrete floor in the garage. As I am about to leave for the airport.
Cat urine is very concentrated and smells much, much worse than anything else I can think of. Worst of all, it soaks into everything. So the question stands, how do you clean cat urine from your concrete floor? Cleaning your floor can be as simple as using some vinegar and water, but for the very worst smells, we've got the list for you.
How to get cat urine out of your concrete floors? 
It can seem a daunting task at first. There are all sorts of commercial products and home remedies out there that claim to help. All these products do the same thing, but sales jargon and shop talk make things more complicated than they should be.
Luckily for you, I've done the research, put in the hard work, and now all you have to do is read!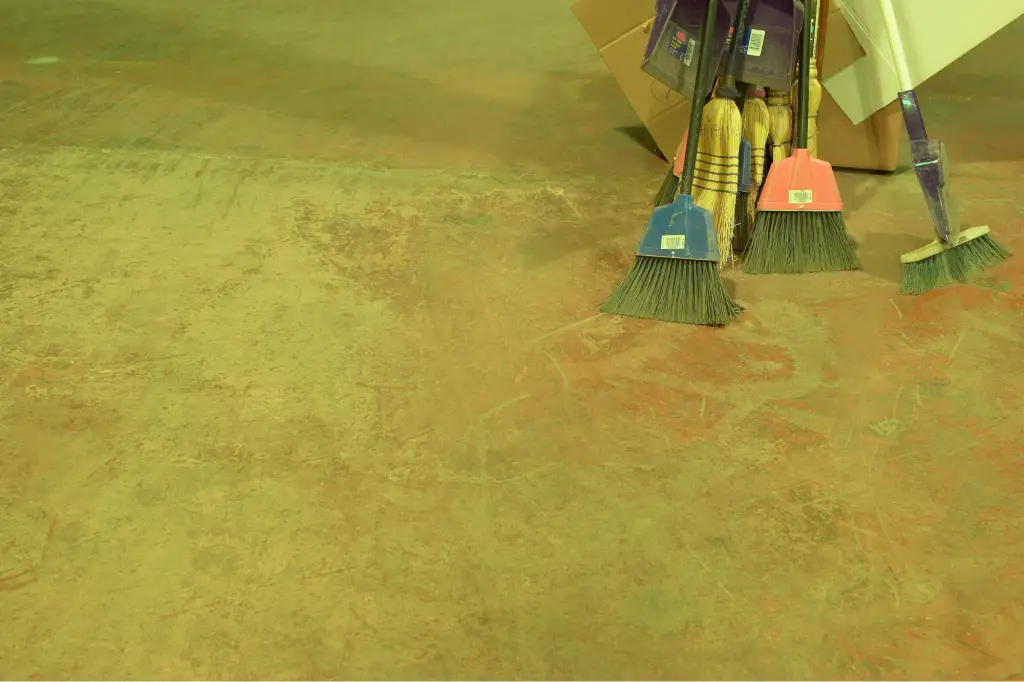 There are some simple tips and tricks to help get that mess cleared up. You'll find the list below covers everything you might need.
Remember, you should always clean up these messes as quickly as possible. Urine is made up of waste products, and it isn't healthy to be around it for any amount of time, for you or your pets. Cat urine is especially unhealthy.
Why Urine stains, and smells won't go away with regular cleaning:
If you're like me, you've probably tried to clean up this mess the usual way. Water, a bar of soap, and a bit of air freshener, and you think you've solved the problem.
Unfortunately with urine stains, even if the area looks clean and smells fresh, that smell will come back. Normal cleaning methods will not work, which is why you should take the time to learn what exactly is going on. If you do, you will save yourself some hard work scrubbing away with a domestic cleaner.
Remember that the longer you leave this type of stain alone, the harder it can be to get rid of it. While it might look like you've gotten rid of it, the smell and stain will come back if any moisture gets in.
It's much easier to deal with the problem right away, and with the right advice, than to leave it for later.
Concrete floors will pretty much absorb anything. They are a very porous rock, so when your cat urinates all over them, the smell can be extremely difficult to get rid of.
The smell can persist for weeks or even months if not taken care of properly. So it's best to figure it all out now and take care of that problem before it becomes an even bigger nuisance.
Risking great harm to my search history, I began to research why urine is so hard to remove from concrete. It turns out that urine bonds with the concrete. This makes it nearly impossible to get rid of unless you use specialized products. 
The urine and the concrete bond together at a molecular level, which is why it can be so hard, and take so long, to remove properly.
That is why you need something called an enzymatic cleaner. These cleaners separate the urine from the concrete making everything easier for you. 
Deep cleaning your concrete can be the only way to remove that pungent smell, so let's get started!
How to Spot Urine Stains on Your Concrete Floor
First off, you have to know where you need to clean. You can always rely on your sense of smell for this one, but if you're not confident, and you want to spare some time and your nose, there is a simpler way of doing it.
Once cat urine has settled into your concrete floor it can be very hard to spot. If you didn't notice immediately, there may be no signs at all!
This is where a UV light can come in handy. Scan your floor until the area lights up, and there you go. Now you know where to clean.
It's a good idea to mark the spot with some boxes or tape, just to make sure nobody walks through it, or you forget where it is.
Cat urine will glow green, yellow or blue, so you should have no problem spotting it. Just remember to turn off the lights first!
Enzymatic Cleaners
There is a variety of pet-based enzymatic cleaners that you buy commercially. They work by using bacteria (the good kind) to break down stains, liquids, and waste into harmless products such as carbon dioxide or oxygen. They work on a molecular level, so you can be sure that they'll get the job done right!
A spray bottle won't cut it for this type of stain. What you need to get your hands on is a gallon jug or container. There is no reason to be shy when using this particular product. It's quite harmless and it's best to use too much rather than too little when dealing with stains and smells. You can always get more after all.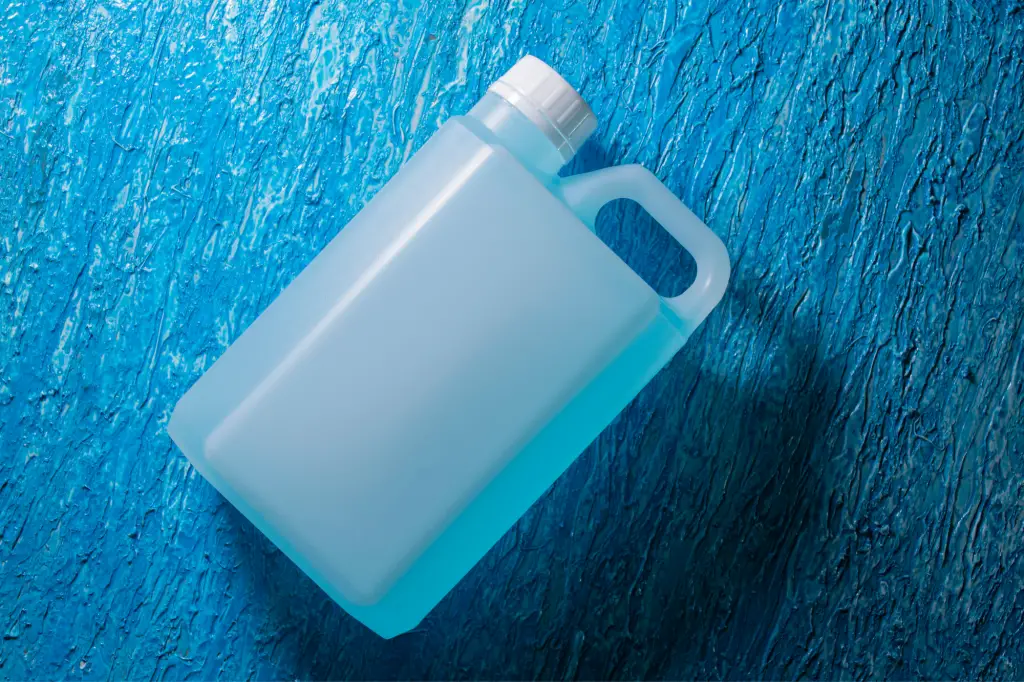 Depending on what product you decide to use, you'll need to follow the instructions on the back of the package. Usually, it's all very straightforward. All you need is a deck brush or another similar tool. You can use a tarp or other light cover to put over the stain while the cleaner does its work.
Enzymatic cleaners dissolve when they come in contact with air, even if only a little amount. It's best to get your money's worth and make sure you're losing the least amount of product possible.
For the very worst stains and smells, an enzyme cleaner can take some time to work. You may need to do a few cleanings, as the urine can be absorbed deep into the concrete. But as always, take it one step at a time and make sure you do what's best for you and your floors. If the smell still persists after the first clean, you can give it another go.
Using your UV light again will tell you whether you've been successful. 
More Natural Methods
If enzymatic cleaners don't seem to be working for you, you can always revert to our favorite natural method. 
Vinegar!
Vinegar is a great all-around bacteria cleaner and works where other products fail.
Mix 2 parts vinegar to 1 part water, and stir.

Pour on the stain, making sure you get it all covered.

Leave to sit for up to 24 hours
Of course, you should make sure you have enough to cover all of the affected areas before you get started. Leaving the vinegar to sit for as long as possible will ensure that you get the best possible results.
Going the natural route is something that I think we all prefer. But be careful and do your research! Vinegar can react with the alkaline in concrete and can create yellow stains on your floors.
Make sure to test this on a small area of concrete before you use it on the stain. That is unless you'd like some yellow on your concrete.
The Heavy Duty Methods
One of the most effective ways to rid yourself of this type of stain and smell is through using TSP. Or Trisodium Phosphate, if you want to be scientific. You should be very careful when using this product, as it is highly corrosive and can damage your skin and eyes.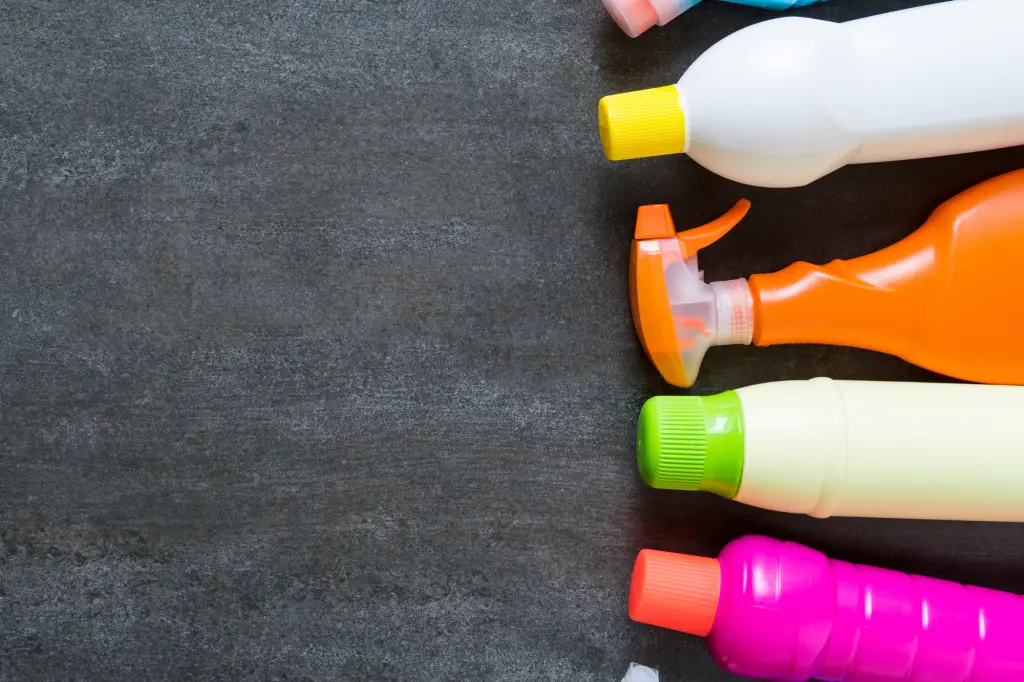 Safety is your number one concern here, so be sure to wear thick rubber gloves, a mask to cover your mouth, and eye protection such as goggles.
Firstly, you should scrub the area clean. Don't worry about further rubbing in the urine at this stage, the TSP will remove it fully.

Pour a half-cup of TSP into a gallon of hot water, and apply it to the area.

Use a tough yard brush or a nylon scrubber to brush the area gently.

Work quickly, and in a small area, as the TSP will evaporate fast.
The smell can get strong as you go through these steps so make sure you are wearing your mask and open all windows. Good ventilation will help clear up both smells, so there is no reason not to do it.
Just like with the enzymatic cleaner, you may have to go over some affected areas more than once to kill off the odor or stain. Just remember to be careful each and every time.
Bleaching and Ammonia Products
Do NOT use bleaching products on your concrete floors. No matter the stains, no matter the mess. You don't want to have bleach absorbed into your floor. It can be incredibly harmful to both us and our pets, and it isn't worth the risk.
There are a lot of articles on the internet that say bleach can be used on concrete and a lot more that say it should not. In my opinion, it is best to stay on the safe side, and not use it.
Besides all that, bleach products are unlikely to get rid of the smell.
All of the above applies to any ammonia-based products as well. Ammonia is a big component of urine, and adding more of it to the mix won't help.
In fact, it could be quite harmful, and will even draw your cat straight back to where you applied it. The cat is even likely to pee in the same spot again, starting a cycle that you shouldn't have to deal with.
Most importantly, never, ever, mix bleach with ammonia. It creates an extremely harmful substance.
Sealing Your Concrete Floor
Sealing your concrete floor might seem like a drastic step, and it is, but if you can't get that terrible smell out, it might be your only option.
There are tons of options to choose from, and it is possible to do it all yourself too. I would recommend consulting an expert to make sure you don't do anything wrong.
If you do it wrong the first time you will have to call an expert anyway. So why not skip all the extra steps and stress, and just get it done right the first time?
Sealing your concrete floor will solve a lot of your problems. Just be sure that you want to do it as it'll definitely cost you more money and time than anything else on this list.
The End
Perhaps the very best thing that you could do to prevent all this, is to train your pet cat to pee in one spot. Cats are independent creatures and can enjoy causing problems. So it's definitely something you should invest your time in.
Not only will it make your everyday life with your pet easier, but it will save you a lot of problems further down the line.
As always, if you're not sure how to use a particular product, or feel as if it might not be suitable for your floors, make sure that you do your own research. It is always best to be safe rather than sorry, and I'm sure that your floors feel the same way!
I hope that you've found the above article helpful.  I know that when I first got my cat, he caused quite a lot of mischief around the house. Bite marks, stains, and broken jars, it seemed he was going out of his way to cause mayhem.
Learning the fastest and easiest way to clean up after him was a must, along with training him as fast as I could. The easiest solution to any problem is to stop it from happening in the first place. I'm pretty sure that applies to cats too!
If all else fails, you can always try some catnip!
Further Reading