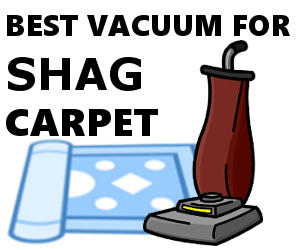 This time we are going to talk about choosing the Best Vacuum for Shag Carpet. A vacuum, also known as a sweeper, is a device that uses a centrifugal fan to create a vacuum to suck up dust, dry dirt and debris from different surfaces. The dirt is then collected in a disposable dust bag or a built-in container.
Vacuuming is one of the easiest ways of cleaning your home, especially carpets, which cannot be swiped effectively. Vacuums for shag carpets come in different sizes and designs and with various features.
Cleaning your home is an essential daily routine and it should be as painless as possible. Some surfaces are easy to maintain, but shag carpets can be a real challenge. A shag carpet is a high pile rug or wall-to-wall carpet with fluffy appearance.
Shag carpet is soft to the touch and gives your home a cozy and warm vibe. It is a trendy element of décor, as well as a luxury accessory. At the same shag carpets collect huge amounts of dust, pet hair, allergens and small debris deep inside the fiber. Not all vacuums can deal with shag carpets, so you will need a specialized one.
There are quite a few models on the market that are suitable for cleaning shag carpets. They all have both advantages and disadvantages. Some of them can perform wet and dry cleaning, others are good only for sucking up dirt and dust.
Features to Look for in Vacuum Cleaners for Shag Carpet
When taking care of your shag carpet you need to use high-quality tools to achieve the great result. While low and medium volume carpets can be more or less effectively cleaned with regular vacuums, shag and high pile carpets require specialized care. Thorough cleaning is important, since it helps maintain hygiene and increases the lifespan of your carpet.
Vacuums for shag carpets should have special features to protect your carpet from being damaged. Shag carpets are usually rather expensive and ruining them is the last thing you would want to do.
Choose a model with a detachable power head, which you can remove when vacuuming to avoid overheating. Getting a shag carpet grooming rake is also a good idea. It can clean pet hair and large debris out of your shag carpet and refresh its look without causing any damage.
When shopping for a vacuum for shag carpets it is important to note that small wheeled units are not the great choice, since they will be difficult to push. You should also pay attention to the proximity of a cleaning mechanism to the surface. Devices with high or raised vacuuming heads do not remove dirt very well.
So, see a cool selection of proven products.
List of the TopF Vacuum for Shag Carpet in 2019
Bissell 1825 Cleanview Plus Rewind Upright Bagless Vacuum
Hoover Max Extract Dual F7452900PC
Shark Navigator Lift-Away Professional (NV356E)
BISSELL 9595A Vacuum with OnePass – Corded
Hoover FH50150 Carpet Cleaner
Dyson DC65 Animal Complete Upright Vacuum Cleaner
Hoover T-Series WindTunnel Rewind Plus Bagless Upright Vacuum Cleaner
Shark DuoClean Rocket Vacuum HV382
Different shag carpet cleaning vacuums have customizable settings that allow you to get the perfect combination of suction and brush agitation that will thoroughly clean your carpet without damaging it. The following products are the top rated shag carpet vacuums in 2019.