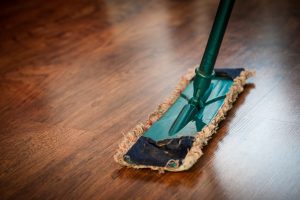 We know that keeping your floors feeling like new matters to you. That's why we have put together the ultimate guide to the best mops for laminate floors. Anyone can have an accident and make a mess but you now will be ready. Feeling confident that you made the right decision when buying that mop.
Note: if you are in a hurry, feel free to skip to the comparison and reviews sections:
Best Spin Mops   –   Best Dry/Wet Mops   –    Best Spray Mops
And if you want to get the absolute best across categories go for our favorite
Why You Should Get a Microfiber Mop for Your Laminate Floor
What's so special about laminate floors, that you have to get them their own microfiber mop? Well, aside from looking sleek, laminate floors are the same as any other wood surface; delicate.
The traditional wet mopping won't work for them unless you want to live with a scratchy surface for a floor. You should only use microfiber with it.
Here are 4 reasons your laminate floor needs a microfiber mop.
No Germ Build-up
Germs aren't welcome inside any house, but they don't know that. They occupy our floors like they were made for them. Nobody wants that, and that's when microfiber mops come into the equation.
Microfiber is a highly sanitizing material. When used with a little amount of water or vinegar solution, it'll sweep up everything that comes against it. This includes bacteria, germs, hair, dirt, and dust. So, mopping isn't only for cleaning your floor, but it's also necessary for making your house a healthy place to live.
Brand New Floor All Year Long
Using microfiber on your laminate floor frequently will cause it to look sleek all the time. The reason is simple; when you leave your floor without mopping, the dust begins to accumulate. When you step over it, again and again, it'll start carving into the floor forming little scratches because of the delicate laminate.
These scratches will grow by time to become very noticeable, which is an annoying sight. Microfiber collects even the tiniest dust particles. So, using it regularly on your floor will prevent any scratches from developing.
No Seasonal Coughs
Do you know how most people begin having coughing symptoms at the start of each season? Most of the time it's Dust Allergy.
If you're allergic to dust, or living with some who is, a Microfiber mop will be your best friend. Using it for daily cleans will pick up the debris that may be causing your coughs. That way, you won't have to endure a runny nose or a scratchy throat anymore.
A Shiny Floor Equals A Good-Looking House
Leaving your laminate floor too long without sweeping, you'll start forgetting how it looks like when clean. Shiny floors make your house look good, especially if they're laminate ones. Frequent mopping will ensure you always get that shiny look. If you're thinking of getting a mop for your laminate floor, don't hesitate.
What's Special About Microfiber Mops?
In order to know what's the big deal about microfiber mops, you need to know some facts about microfibers first. Microfibers are made out of polyester and nylon. Each fiber is 16 times thinner than a human's hair. These fibers are woven together to form the microfiber material that we know of.
Microfiber is full of millions of tiny holes. That's why it's highly efficient in cleaning; because all the dust and dirt get trapped in these crevices. That's also the difference between microfiber and cotton. Cotton isn't that good at locking dust inside. Plus, it's much less absorbent.
Now that you know what microfiber is, let's explore what's special about microfiber mops:
They require less water than regular mops, which helps preserve your laminate floor.
Less effort is needed to clean because their pads are compatible with washing machines.
Cross-contamination is minimized.
They're easier to wring than cotton mops because they're lightweight.
The Best 15 Mops for Laminate Floors – Sweep Through Them!
Here are the only 15 mops you'll ever need. We categorized them into spin mops, wet/dry mops, and spray mops. Go straight for what you want and take your pick.
The 5 Best Spin Mops for Laminate Floors – You'll Wish You Knew About Them Earlier
Are you a fan of the spinning motion of these mops? We are too! Check our 5 top picks of spin mops below.
The Oshang spin mop is the closest thing to perfection on this list. At 16.5 inches, the mop head is 30% larger than regular mops.


Using that advantage, you can cover larger spaces in a shorter time. Not only that, but the mop also has a stainless steel handle. It's covered with a spongy material at the top for a comfortable grip. Last but not least, the mop can rotate 360 degrees.
As for the bucket, it's not any less brilliant than the mop. It has a hands-free wringer that's highly convenient. Plus, it has a splash guard that ensures no dirty water splatters around.
And we're not even at the best feature yet; the bucket features a drain plug near the bottom. You won't need to tilt the bucket to empty it and get water splashes all over your face. The drain will let the water stream out peacefully.
Pros
Anti-stain microfiber mop head
Durable stainless steel handle
The bucket's parts are detachable for cleaning
Bucket wheels included
Cons
The wringer has a sunken position
The bucket's water capacity is low
The O-Cedar spin mop has been a formidable competitor for other brands since its debut, and not only because of its attractive design, but there's much more to the big shot mop.


It has an innovative user-friendly design that's complemented by a 360-degree swivel function, which is only one reason why it's ideal for cleaning tight space. Plus, the microfiber head is compatible with a lot of different surfaces, such as laminate, hardwood, and tile floors. Not to mention, it has deep-cleaning properties. It'll clean the most stubborn stains out of your floor like it's nothing.
The mop head has a triangular design that's suitable for cleaning corners. Additionally, you can use it while it's wet and dry. The bucket that comes with the mop has a foot pedal for easy wringing. That way, you don't need to squeeze the life out of the mop in the process.
Pros
Deep-cleaning microfiber head
360-degree rotation handle
Easy wringing
The Bissell Spinwave mop is an impressive merger of spin and spray mops. It'll make you feel as if mopping floors is a fun job to do.
It works for vinyl, linoleum, hardwood, and laminate floors. On top of that, it's battery-powered to avoid getting tangled with an electrical cord.
The Bissell mop comes bearing scrubby mop heads, along with the soft ones. It'll perform superbly on any kind of stain. Besides, it features a spray button that lets you add your cleaning solution without having to bend down. The mop's handle can also swivel to reach into narrow spaces.
Pros
The mop runs quietly
Scrubby mop heads included
Battery-powered
Lightweight
Cons
The spins don't pace at the same speed
Have you ever seen a mop that comes with a stainless steel bucket? You probably have, but is it as awesome as the Libman? That's what I doubt.


The Libman is an all-in-one mop that rightfully earned its position on our list because of its innovative features. The rod is adorned by a push handle that'll dry the mop head in an instant. You'll just need to place it in the stainless steel chamber, push the handle, and voila! Not only that, but you can also control how much you want it to dry.
Furthermore, the mop is topped by a lever for length adjustment, so you don't have to bend down while mopping. Additionally, the mop head gets secured to the rod by a simple securing action; check it here in this video.
Pros
Splash guard included in the bucket
Drying chamber for the mop head
Adjustable rod height
Cons
The handle breaks easily if you are not careful
The Hurricane spin mop really lived up to its name with its wide array of features. The microfiber head delivers excellent performance in removing all kinds of stains, including soda, ketchup, coffee, or sugar. That's aside from the common dust and pet hair that's present in most houses, of course.


The head is designed so that it reaches everywhere, such as against the baseboard, behind furniture, and under cabinets. Needless to say that it'll reach under a couch a lot easier than you can.
Your hands and knees will love this mop because you won't have to scrape them against the floor anymore. The bucket comes with a foot pedal for drying and wringing. Besides, the rod is adjustable and telescopic.
Pros
Telescopic rod
Foot pedal for hands-free wringing
Safe for all types of floors
Cons
The microfiber tassels fall out easily
The 5 Best Dry/Wet Mops for Laminate Floors – They'll Make Your Floor Jealous
Dry/wet mops are easy to use, versatile, and convenient. If you're looking to buy one, here are 5 worthy options.
The Turbo Microfiber floor mop is one of the best high-quality mops on the market, despite its relatively moderate price.
It has a telescopic handle that's made of aluminum alloy. It's resistant to rust and corrosion in the long term. Plus, it's very lightweight and easy to move around.
The mop comes with detachable microfiber pads that are compatible with machine washers. You can throw these pads in a washer up to 100 times. That way, you save a lot of money on replacements.
Furthermore, the Turbo mop can clean hardwood, vinyl, laminate, and wood floors. It works well on hard stains, as well as dust and pet hair.
Pros
Sturdy handle
Moderate price
Adjustable handle height
Eco-friendly
Cons
The pads are hard to hand-clean
The professional floor mop from Microfiber Wholesale is an ideal choice for daily cleaning. It has a wide rectangular head to
cover large spaces. Also, it comes fully-equipped with dust and wet microfiber pads. The dust ones, in particular, are great for sweeping pet hair and tiny dust.
The mop has a top-tier stainless steel handle that can rotate 360 degrees around itself. It can reach under furniture, behind cabinets, and in stubborn corners. In addition, it has an adjustable height to fit multiple users. You can raise it to 70 inches and avoid bending down or straining your neck.
Pros
Adjustable handle height
Telescopic handle
Easily maneuverable
Ideal for cleaning pet hair
Cons
The head is too large for some people
3. Oshang Flat Mop and Bucket Set for All Floors
If you're looking for convenience, this multi-functional Oshang mop is the one for you. It doesn't only clean all types of
floors, but you can also use it to clean your windows. On top of that, it has a self-cleaning mop head that drains all the dirt in it in the bucket. Upon purchasing, you'll receive removable microfiber pads for deep cleaning.
The bucket has a squeeze-drying compartment that makes your mission easier. One or two pushes on the mop handle and it's clean. Plus, the bucket has an elongated design for high water capacity. This design is hard to empty once you're done; that's why there's a drain plug near the bottom. The manufacturers left nothing to chance on this mop set.
Pros
360-degree rotation handle
Compatible with windows and floors
Self-cleaning facilities
Cons
The Velcro fastener on the pad comes off
The LINKYO is the most maneuverable mop on our list.
It has a user-friendly design that's easy to reach corners and behind furniture. Besides, it has a large rectangular head that won't take much time to cover large ground. On top of that, its handle has an adjustable height up to 70 inches to fit multiple users.
The mop comes with two reversible microfiber pads that are also washable. You can use them wet or dry. Additionally, the mop head is adorned by ABS plastic clips to hold the pads in their place. They're much better at securing than Velcro strips which are used in most mops.
Pros
Easily maneuverable
Adjustable handle height
Budget-friendly price
Eco-friendly microfiber pads
Convenience is arguably the most prominent feature of the Swiffer Sweeper mop.
It's safe to use on all types of floors, including laminate. Plus, it comes with heavy-duty pads that trap dirt, pet hair, and tiny dust particles.
It comes equipped with a variety of pads, including 7 heavy-duty ones and 12 regular ones for mopping and sweeping. As for the handle, it has 360-degree rotation, and its top is designed for a comfortable grip. The Swiffer Sweeper is also quite affordable for a 2-in-1 mop.
Pros
Easy to use
Heavy-duty cloths
Ergonomic design
Affordable price
Cons
The dry clothes aren't efficient
The 5 Best Spray Mops for Laminate Floors – They Belong in Your Shopping Cart
Spray mops are like large-sized perfume bottles. You press a button and the solution comes out of the other end. They're highly efficient, as well as fun to use. Check our 5 top spray mop picks.
The vibrant yellow color isn't the only feature that the customers love.
The Yocada spray mop also has an ergonomic, user-friendly design. Its pole is made of heavy-duty iron, and the yellow part is made of non-toxic PP plastic. You can rotate it 360 degrees to get it into tight spots. Moreover, it has a gun-style trigger for the spray.
The dual-action microfiber pad that comes with the Yocada is perfect for pet hair. It'll come in handy if you have a little furry friend. What's more, the Yocada comes with a scrubber for the pads. It'll make it easier for you to clean the pads without getting your hands dirty.
The bottle can hold up to 600ml of cleaning solution. Make sure you don't fill it with alkali or acid cleaning detergents to avoid ruining the nozzle. Also, it's better if the water is below 30C degrees to prevent the plastic from deforming.
Pros
Cleaning scrubber included
User-friendly gun-style trigger
Easy to assemble and use
The bottle is compatible with all cleaning solution brands
Cons
The refillable bottle isn't durable
Despite its compact size, the Rubbermaid comes integrated with an array of features.
The kit comes fully-equipped with a mop, 3 microfiber pads, and 2 bottles for the cleaning solution. Once you get it, you won't have to purchase any add-ons for a long time. It also has a fairly moderate price, compared to similar models.
The Rubbermaid spray mop has a highly durable metal handle that'll stay intact for years. Further, it features a foam secondary grip for your comfort. Despite its high-quality construction, the mop is pretty lightweight.
The microfiber pad that comes with the mop is washable and reusable. Additionally, there's another scrub pad that's scratch-resistant for tough stains. Furthermore, the mop doesn't limit you to one cleaning solution as the Bona one does. You can add any solution you prefer in the refillable bottle.
Pros
Fast cleaning
Highly durable materials
Comfortable-grip handle
Reusable and washable microfiber pads
3. Bona Stone Tile/Laminate Floor Spray Mop
The Bona stone spray mop is a pleasure to own. It comes with a refill cartridge for the cleaning solution, as well as a microfiber mop head.
Its handle has a secondary grip for convenience. It's also retractable for easy storage. Plus, you'll receive a 32-oz Bona floor cleaner upon your purchase.
The mop head is large, so you don't waste a lot of time cleaning. Also, its edges are smooth to avoid scratching your floor. It comes with detachable cleaning pads that can be washed and reused. In addition to that, It's compatible with linoleum, terrazzo, marble, laminate, and vinyl floors.
You won't need to worry about straining your back with this mop. Unlike most spray mops, it's very lightweight and easy to maneuver.
Pros
Retractable hook included
Smooth edges for safe cleaning
Reusable pads
Durable materials
Cons
The refilling button gets stuck sometimes
4. Decorus Hard Floor Mop for Laminate Floor
Anyone can use the Decorus floor mop, including children and pregnant women.
Its ergonomic design means that you won't have to bend over while mopping. Additionally, its aluminum handle is topped by a gun-style trigger that's easy to use.
The Decorus comes with a rotatable head for narrow spaces. Moreover, its refillable tank has a capacity of 250ml. You can fill it with water, vinegar, or a cleaning solution. As for the microfiber pads, the mop comes with 3 reusable ones that can go in the washing machine. Plus, you get a bonus scraper upon purchasing.
This mop is a dual-action one, which means you can use it wet or dry. On top of that, it works for a lot of surfaces, such as ceramic, hardwood, laminate, vinyl, and marble.
Pros
Ergonomic design
Smart lock included on the handle
Suitable for multiple users
Large cleaning pad
Cons
The tank has a low capacity
The Crazove is a multi-functional spray mop. You can use it wet or dry.
In addition, you can use it on floors, windows, ceilings, and any other vertical surface. Its telescopic rod can steer it in any direction you want. Plus, it's made out of top-tier aluminum for durability.
Along with the aluminum, the trigger is made of high-quality ABS plastic to avoid wearing out quickly. The manufacturers didn't leave anything to chance, even the refillable tank. It has a sealed design that ensures no liquid leaks.
The mop comes equipped with 3 microfiber pads that can be replaced. That way, you won't have to fill your garbage with disposable pads. You can also throw them in the washing machine, rather than clean them using your hands.
Pros
Affordable price
Easy to assemble
Lightweight and easily maneuverable
Durable materials
Cons
A lot of customers complained they received defective units
The Verdict
All these features must've gotten you confused. So, let's not waste any more time. We'll shed some spotlight on the top picks out of our 15 mop reviews.
The Best Spin Mop for Laminate Floor
This one was easy. The Oshang EasyWring Mop didn't really leave a chance for the competitors. It comes with an innovative bucket, a large mop head, and hands-free wringing. What more could you possibly want?
The drain and the wringing chamber on the bucket scream convenience, and the foot pedal will make your life easier. Additionally, the rod is made of durable stainless steel.
The Best Dry/Wet Mop for Laminate Floor
Our favorite dry/wet mop for laminate floors is the Turbo Microfiber Mop. It's been giving opponents a run for their money, considering its relatively low price. Not to mention, its reusable microfiber pads will save you a lot of money.
Furthermore, the Turbo's handle won't rust anytime soon because of its durable aluminum construction. It's also lightweight and very easy to move around narrow places.
The Best Spray Mop for Laminate Floor
The Yocada Microfiber Mop didn't need any effort to win this one. One look at its yellow design and you're in love. You'll love it even more when you know that it has a dual-action pad for wet and dry uses. Additionally, it works well with pet hair that gets stuck on everything around.
The Yocada's bottle can hold water up to 600ml, which is more than most similar bottles can handle. So, all in all, it's a highly convenient mop that's worth every cent.
Do You Want to Get the Best Mop Out There? Here's a Full Buyer's Guide
Laminate floors need delicate care and maintenance. Before you buy your mop, there are some things you should be aware of. Let's start with the features you should consider.
7 Features You Should Consider Before Buying a Laminate Floor Mop
These 7 features are vital for taking care of your floor in the right way, and for your convenience. If you got them cleared out before you buy, you'll save yourself a lot of hassle.
Type of Mop
As you've seen above, there are several types of laminate floors mops. The right mop depends on your usage and your personal preference. Let's see the four main types of mops.
Spin Mop
Spin mops need the least amount of water among the types of mops. That's why people prefer them; because they don't risk ruining the floor. They have a circular design that'll make sure there isn't any excess liquid on your floor.
You just need to vacuum your floor briefly before you add the water and you're good to go.
Dust Mop
Dust mops don't require any water. They're only responsible for removing any dust on your floor. If you want to get water in there, you'll have to buy another type.
Dust mops are ideal for daily cleaning because they're very easy to use. You just need to do some sweeping and you're done. Plus, they're usually made of fine cloths that don't leave anything to chance. Any dust or hair on your floor will be completely wiped out.
Steam Mop
Steam mops are great for sanitizing floors. They utilize hot water to kill any germs or bacteria on your floor. Besides, they're fairly easy to use. You'll just need to fill the water compartment, let it steam, and mop it out!
You can remove the pads on steam mops to clean them and make use of them again. That way, you ensure not to get any contaminants on your floor on the next clean.
Steam mops won't leave your floor soaked, and they're better cleaners than dust mops. However, they're not the best option for laminate floors. They may leave streak marks behind.
Spray Mop
Spray mops work in the same way as spray glass cleaners. You spray the solution out, and then you mop. They're ideal for people who don't have time to waste. Plus, they clean more thoroughly than dust mops because of the cleaning solution.
Spray mops usually have removable microfiber cloths for convenience. However, you may want to make sure these clothes are reusable. Some of them are for single-use only.
Wet/Dry Mop
Wet/dry mops are dust mops that can also be used with water. They're highly convenient because they're multi-functional. Plus, they're safe for all floors because there are no chemical substances.
These mops come with detachable pads. Some of them will be for dry use and the others will work with water. Additionally, they mostly have rectangular heads that can reach corners.
Microfiber Cloths
Microfiber is used in cleaning equipment because it's a highly-absorbent material. Plus, it's bacteria-resistant, so it's safer to reuse than cotton fabrics. It's also very smooth, which accounts for its fast cleaning properties.
If you want to get the best mop out there, you may want to make sure it has a microfiber pad. It'll save you a lot of hassle in the cleaning process.
Durable Handle
Mop handles are prone to get in contact with water a lot. So, you'll want to get a durable material that won't get damaged easily. High-quality mops are made of aluminum and stainless steel because they handle pressure better than other materials.
Plastic is also a common material in mop handles, but it's less durable. If you're getting a plastic mop, make sure it's of high quality. ABS plastic is a nice option for mops.
Mop Head Size
If you don't want to spend a lot of time cleaning, you'll want to get a mop that'll cover more ground. On the other hand, small spaces don't require the additional cost of large mops. And small mops are better in handling corners and tight spaces.
So, the size of the mop depends solely on your usage. That's one of the things you'll want to clear out before making the purchase.
Weight
Who wants to suffer backache after the cleaning task? No one; that's why weight is one of the vital features in laminate floor mops. A heavy mop will cause you to strain your back and neck while cleaning. On top of that, it'll have its toll on your shoulders.
Alternatively, a light mop will be easy to move around and store afterward. Make sure to check the mop's weight before you buy it, especially stainless steel ones. They're heavier than aluminum and plastic ones.
Mobility
Mops are mainly for cleaning the floor, but then there are the corners. These require extra care on your part because they can build waste up quickly. Having a mobile mop will make your mission easier; you'll be able to get it in hard-to-reach places.
The most mobile mops have swivel functions. Swiveling will allow you to get the mop anywhere you want. Plus, it'll be flexible to move under furniture.
Price
The pricing of floor mops is the same as everything else. You pay a hefty amount of money; you get high quality. There's no use of getting a cheap mop to save money. You'll end up paying more money for a new mop when it gets worn out.
High-quality mops are more expensive because they'll likely have microfiber heads and stainless steel frames. These materials naturally cost more than others.
That's why we recommend that you don't base your purchase solely on the price. Look for the features that matter and make sure the mop is well-made. Even if it costs you more, it'll last more than a cheap one.
A Quick Comparison Between Handle Materials
Mop handles regularly come in aluminum, wood, stainless steel, or plastic. Let's see how each of them will work for you.
Aluminum Handles
Aluminum has the longest life expectancy out of these materials. Its durability is unmatched. Plus, it's lighter in weight than most materials which makes it highly convenient for moving around.
On top of that, aluminum is resistant to rust and corrosion. And mops are naturally prone to touch water a lot. So, at least your handle will be safe from that. All these pros must come at a price; aluminum is an expensive material, which adds to the overall price of the mop.
So, to be brief, here are the pros and cons of aluminum handles:
Pros
Long-lasting material
Resistant to rust
Lightweight
Sleek look
Cons
Needs constant cleaning
High price
Wood Handles
Wood is a natural element, which makes it naturally durable. In addition, it's a heavy-duty material. So, it's not a wonder that it's used in many applications around us. Wood handles are resistant to microbes and bacteria. Therefore, you won't need to clean it as frequently as you'd need with an aluminum handle.
However, wood is rough on the hands. Plus, it may get ruined after getting exposed to excess water. So, aluminum is generally more practical for mop handles. Take a look at wood's pros and cons:
Pros
Durable material
Recyclable
You can cover it with an antimicrobial layer
Affordable price
Cons
Heavyweight
Absorbs water which could eventually ruin it
Stainless Steel Handles
Stainless steel is the most expensive material on this list, and it has a good reason for it. The material is resistant to corrosion and rust. Plus, its strength is hard to match. You can knock it repeatedly against a hard surface and it'll come out unscathed.
Stainless steel is also resistant to scratches, so your mop will stay shiny as long as you use it. Nevertheless, it adds a lot of cost to the mop. Here's a quick preview of the pros and cons:
Pros
High strength
Extremely durable
Scratch-resistant
Corrosion-resistant
Plastic Handles
Plastic is the most budget-friendly material on this list. That's mainly why it's the most used material in mop handles. Additionally, it doesn't absorb water which will help keep it intact for longer. Last but not least, plastic is lightweight, which makes it easy to maneuver.
Despite all that, plastic isn't a convenient material for mop handles. It's very short-lived. Also, it's non-biodegradable, and the environment certainly doesn't need that. Check its pros and cons if you're still having doubts:
Pros
Anti-absorbent
Lightweight
Affordable price
Cons
Non-durable
Not eco-friendly
Prone to grow bacteria inside
What About The Bucket?
As you've seen above, most mops come bearing their buckets. If you're going to get the best laminate floor mop out there, you'll need to put some consideration into the bucket as well. I'll tell you everything you need to know about them. First, let's start with their add-ons.
Mop Bucket Parts and Add-ons
The world is quickly evolving around us, and mop buckets are evolving as well. Instead of the old-fashioned bucket that only comes with a handle, buckets these days have a lot of detachable parts. Here they are.
Wringing Chamber
The wringing chamber is the most eminent feature on any bucket. If the bucket comes without it, it's just not worth it. It'll help you keep the excess water off your floor. Plus, it'll preserve your mop head by preventing it from getting soaked for too long.
Wringers mostly come in the same material as their buckets, but some of them are metal. And while these are more durable, they're prone to rust and corrosion which could contaminate your water. So, we recommend that you get your bucket with a plastic wringer, like the one on the O-Cedar mop. However, if you're still unsure, we'll talk about it in detail below.
Drain Plug
The drain plug is our favorite feature in mop buckets. Instead of having to tilt the heavy bucket and pour it down, you just have to put it in the right place and open the plug. That way, you don't have to endure dirty water splashes on your face while emptying your bucket.
The drain plug is one of the reasons we prefer the Oshang EasyWring mop over the others.
Wheels
Most buckets don't come with wheels, but it's a highly beneficial feature. Lugging around a heavy bucket that's full of dirty water isn't exactly the most fun thing to do. So, a couple of wheels on the rear of the bucket will save you a lot of hassle.
Dirty Water Chamber
Some buckets come with an assigned chamber for dirty water. That way, when you wring your mop, the dirty water doesn't get mixed with the clean one. It's usually detachable and has a handle of its own. You'll love this feature because you won't need to replace the water frequently.
Foot Pedal
The foot pedal on mop buckets is connected to the wringer. So, when you place your mop head inside, you press on the pedal with your foot and have an easy, hands-free drying process. It's a highly convenient feature for two reasons.
Firstly, you won't need to squeeze the mop head in the wringer to dry it. Secondly, you won't need to touch the head with your hands and get them dirty.
Plastic Wringers Vs. Metal Wringers
Here it is; the part you've been waiting for. Although it seems irrelevant, the wringer's material is essential for the durability of your mop and your bucket. Let's see how metal and plastic wringing chambers differ from each other.
Metal Wringers
Metal wringers are mostly made out of zinc alloys or stainless steel. These materials are long-lasting and sanitary, which explains their usage. They're also resistant to rust.
That being said, a cleaning detergent that has corrosive chemicals can easily leave its mark. Besides, metal is more expensive than plastic. So, your choice depends on your budget.
Plastic Wringers
Plastic costs less than metal; that's a no-brainer. It's also lighter in weight which makes it easier for you to handle the bucket and lift it off the ground. What's more, it won't ever rust or corrode, no matter what detergents you use.
However, plastic and the environment aren't friends. The material won't biodegrade, which increases your carbon footprint on the planet. Additionally, it's not as durable as its stainless steel counterpart.
The Right Mop for The Right Job
I'll let you in on a secret; this rhyme wasn't planned, exactly the same as your next cleaning task. It's not planned until your kid decides he wants to see the ketchup bottle spread out on the floor. We've all been there.
However, you should be all set for all kinds of stains. Here, I'll tell you which mop to use for each cleaning task. That way, you'll know which mop you need the most to make your purchasing decision easier.
General Cleaning
For daily cleaning and common spills, your laminate flooring will need an absorbent mop that has the right cut. We've already established that microfiber is your go-to mop material, so we'll jump right into the mop head's cut.
Mop heads with looped-ends are fast-performing, and they cover large spaces. They're ideal if you're always in a hurry to finish your cleaning. Meanwhile, cut-ends are superb at cleaning tough spots. They're both fit for your daily tasks.
Disinfection
All cleaning enthusiasts love the disinfecting part. The detergent smell is highly satisfying for your senses. For this cleaning task, spray mops are the best because you don't need additional equipment. A bucket on the ground can serve as an obstacle for you while sanitizing your floor.
Additionally, spray mops have their own built-in cleaning solution. They'll make your mission easier and faster.
Finish Mopping
If you'll be applying the floor finish by yourself, you'll need a mop that delivers both good releasing and absorbance. That way, you can do the mission properly without leaving streak marks behind.
All microfiber mops are suitable for this job. It'll be even better if your mop head has looped ends for wide coverage.
How to Use Your Laminate Floor Mop?
If you're not an expert with laminate surfaces, don't sweat it. I'll guide you through the right way to use your mop on your floor.
Step One – Vacuum the Floor
Vacuuming before mopping will remove any large particles that may get stuck in the mop head. That way, mopping will be easier and will take a shorter time. Additionally, any sharp object will be vacuumed, rather than being left to scratch the floor.
Step Two – Prepare the Bucket
If you'll be using a spin or a wet mop, you'll need a bucket full of water. You can add vinegar if you want, but don't use it frequently because it's harsh on the floor. Otherwise, only add water and a small amount of laminate cleaning detergent if it's available.
Step Three – Bucket's Place? Check
When you start mopping, you must place the bucket in the right place. It should be close to the wall; in an area that you haven't washed yet.
What's more, you should start mopping from a point that's the farthest from the entrance. Afterward, start mopping in the door's direction. That being said, don't put the mop on the floor while it's soaked in water. You must wring it well beforehand, so it doesn't leave streaks behind or ruin your floor.
A well-wrung mop shouldn't leave water spots behind. The area should dry in an instant.
Step Four – Go With Back-Forth Strokes
You should start sweeping near the baseboard and move towards the middle of the room. When mopping, you should sweep over the area back and forth two times at least. That way, the water or the cleaning solution gets spread evenly and then gets mopped.
Sweeping once will leave the detergent behind; it won't effectively clean the area. So, always pass by the area you mop twice or more.
Step Five – Wring the Mop
When you feel like the mop is getting too dirty for your liking, wring it in the bucket and proceed with the sweeping. Your bucket water will get dirty in the process. Therefore, you should also replace it with clean water if you're not done cleaning. You probably won't have to do that unless you're mopping a large space.
Step Six – Scrub If Needed
If there are stubborn stains that the mop can't get out, you'll have some scrubbing to do. Some mops already come with scrubby pads, which come in handy in these situations. Nevertheless, if you don't have one of those, you use a regular hand cloth.
Tips for Keeping Laminate Floors Clean
Here are some mopping tips that'll ensure your laminate floor gets the best treatment.
If you're using a spray cleaner, don't spray the floor directly. Spritz the mop only.
Avoid using steam mops. They're not suitable for laminate floors.
Use nail polish remover on tough stains such as marker ink before mopping.
Don't use a beater brush on your floor before mopping. Only use a vacuum to avoid scratching.
Only use cleaning solutions that are specified for laminate floors.
Never use regular soap on your laminate floor.
Use entry mats to take the dirt off your shoes before you walk into the house.
Buy floor protectors and stick them to your furniture's bottoms to avoid friction scratches.
Use a hygrometer to measure the humidity of the room frequently, It should be 35%-65% to keep your laminate floor preserved.
Avoid sliding anything on the floor, especially if it has sharp edges.
How to Maintain Your Laminate Floor Mop?
When left unattended, mops can serve as a welcome invitation for bacteria to grow inside. Spoiler alert: This bacteria will be on your floor later on. You don't want that to happen, especially if you have kids around.
That's why you should make sure your mop is well-maintained. Here's how to do it.
Rinse Your Mop
It's needless to say that leaving the mop after cleaning without rinsing isn't a wise thing to do. You'll be creating a bacteria habitat in your house without noticing.
Therefore, always make sure to run your mop under a water stream after you're done cleaning. When it doesn't have any soap residue or dust remnants anymore, you'll have done your mission properly.
Use Your Washing Machine
All mops come with cleaning instructions. If yours is compatible with washing machines, you earned yourself one nice mop. Getting the mop head in the washing machine will save you a lot of cleaning trouble. Additionally, you'll ensure that it gets a thorough cleaning.
If your mop can't go in a washing machine, don't be discouraged. There's an easy alternative.
All you have to do is bring a bucket and fill it with water. Next, throw in some cleaning solution or bleach. Then, leave your mop soaking in the bucket for a few minutes; half an hour maximum. Afterward, rinse it until it's completely clean.
Hang the Mop Out to Dry
Hanging someone out to dry isn't a nice thing to do, but it's not the same case with floor mops. After cleaning, the mops must stay in the sun for a while, until they're completely dry. That's how the bacteria will know it's not welcomed to stay.
We recommend that you wring the mop out by squeezing it hard. That way, you'll get rid of the water weight and let it dry properly.
Store the Mop Correctly
Avoid storing your mop somewhere moist. The best way to store it is in a dry place. Also, keeping it in a cool temperature will ensure no mold grows inside. Another thing you should do is to keep it off the floor. Store it upside down for better maintenance.
Schedule for Replacements
Your mop head won't stay on forever. It's a hard pill to swallow, but it's the truth. You'll want to replace it with a new one every once in a while to ensure your floor gets cleaned well. Once you notice that the head is getting too dirty to use, take it off and get yourself a new one as soon as possible.
7 Mop Cleaning Tips No One Will Tell You About
There are a few things that may seem insignificant, but they're essential in taking care of your mop. Let's take a look at them.
Leaving your mop soaking for long isn't going to make it cleaner. It's only going to lead to more bacteria growth. Don't leave it for more than 30 minutes.
If you'll use bleach to soak your mop, keep it out of kids' reach.
Before using your new mop, run it under a stream of cold water to get rid of the anti-absorbent layer.
If you have a dishwasher, you can use it to wash detachable mop heads.
If you're using a dust mop, vacuum it every once in a while to get out any traces of dust.
For the mop's handle, use a wet cloth and wipe over it gently to clean it.
Whenever you can get a bleach-free cleaning solution, do it. Bleach will clean nicely, but it'll cause the mop strings to wear out quicker.
Mops for Laminate Floors – Frequently Asked Questions
People have a lot of questions about floor mops; more than you think. Here are some examples of the most asked questions. We guarantee you'll find useful information in there.
Why do laminate floors need special care?
Laminate floors are manufactured by bonding layers together in a process called 'lamination. These layers are prone to damage in a short time if they're now taken care of well.
HDF and decorative paper go into this process. Materials like these need extra care on your part to ensure they stay intact for long.
Should I vacuum before mopping a laminate floor?
Yes, it'll ensure no dust gets stuck to the mop afterward. It's a must if you're using a steam mop. However, a dust mop won't need vacuuming before using it because it already does the job.
How much water should I add while mopping a laminate floor?
You should apply the least amount possible. Only enough for the mop to sweep on the floor. A large amount of water can damage the laminate floor, especially if you're a frequent cleaner. Therefore, make sure to add a minimal amount. Better yet, you can use a steam mop; it won't require any additional water.
Should I throw in bleach when mopping?
We advise against it. It's not necessary, and it'll cause the floor to wear out faster than it should. Water should be enough for regular cleaning. However, if you're in a situation that demands a cleaning solution, try to get one that doesn't contain harsh chemicals.
Can a laminate floor mop be used for other floor surfaces?
Yes, you can use your mop for other floors as long as the mop material is suitable for that. Nevertheless, you should check whether this surface accepts water or not. And needless to say that you should clean the mop before you use it on another floor.
Can I use a string mop for my laminate floor?
It's advised against because it may leave excess water on the floor. Additionally, it may cause streak marks that are hard to get rid of. Try to avoid using string mops for delicate floors, along with sponge mops for the exact same reason.
How often should I clean the mop head?
You should clean it after every clean. That's to make sure that it doesn't develop a bad odor over time. However, if you don't have the time to do so, you can clean it after every 3 cleans maximum. That being said, cleaning a mop doesn't take much time, so it's better to do it frequently.
Can I use vinegar to clean my laminate floor?
Yes, it'll actually get rid of germs and bacteria better than a regular cleaning solution will. It's also much cheaper which is a bonus. However, you should dilute it with some water beforehand, so it's not too harsh on the floor. You should add one cup of vinegar for every gallon of water you use. Also, it's better if the water is warm.
Can I use any cleaning solution for my laminate floor?
No, laminate floors are too delicate for common cleaning detergents. If you want to use a solution, it's better if you get a detergent that works on laminate floors exclusively.
How often should I clean my laminate floor?
We recommend that you run a dry mop on it daily to get rid of dust and pet hair. You can add water twice a week to avoid overusing it and ruining the floor. If you don't have a dry mop, you can use a vacuum.
Can I use the floor mop to clean my windows?
Some mops are compatible with windows, such as the Oshang Wet/Dry Mop. Also, any mop that has a telescopic rod can be used vertically. That being said, you should use a separate pad for the window to avoid getting floor germs on it.
Which is better for a laminate floor; a string mop, a microfiber pad mop, or a steam mop?
The microfiber pad mop; no doubt. We advise against string mops for laminate floors because they leave streaks behind. Also, steam mops may be too harsh on the delicate wood, and they may soak the floor if there's a leak for any reason. So, a microfiber mop all the way.
Wrapping Up
Lots of reading for a floor mop, right? Your laminate floor will thank you for it later on. It's the small things that matter. Every single detail you take care of will preserve your floor for longer. And it'll keep you happy with your shiny surfaces.
Picking the right mop should be a piece of cake after everything you read. Just create your checklist, determine your budget, and press that 'add to cart' button!