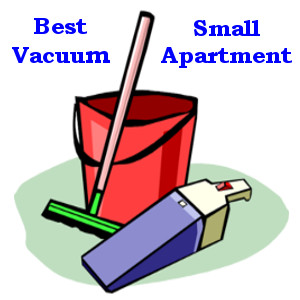 When looking for the best vacuum for small apartment you might find yourself at a loss over which one to choose. There are lots of product reviews that discuss full-size, versatile vacuum cleaners that can manage almost all types of cleaning jobs around a house. But if you live in an apartment or a studio, such information is of no use. More likely than not, you don't have that much mess in your apartment to justify the purchase of a large heavy-duty vacuum cleaner. Moreover, there is always a question where to store a vacuum in an apartment. You would be reluctant to have a bulky device steal your precious space, wouldn't you? So getting a compact, affordable and functional vacuum cleaner seems like a smart choice to make.


See our selection of the best product!
Shark Rocket (HV292)
Portable and ultra-lightweight. Less than 4 pounds in total

True Pet Motorized Brush for handheld deep cleaning

Easy-to-empty dust cup. No bag needed and empties with the touch of a button.

15-foot-long power cord You never have to recharge, while giving you freedom to clean the whole room.

Powerful cleaning from start to finish.Amperage (amps):3.4
In this guide we are going to present six small compact vacuum cleaners for apartments. We have selected several kinds of vacuums to address various cleaning styles and needs.
So, see a cool selection of proven products.
Top Vacuum for Small Apartment in 2020
Product
Type
Weight
Accessories
Shark Power Anti-Allergy NP317W
(Editor's Choice)
Portable, corded, bagless
9.45 lbs
Crevice tool, dusting brush,
upholstery tool, 8-foot stretch hose

Check Price

Shark Rocket (HV292)
Handheld, corded, bagless
3.7 lbs
Crevice tool, motorized brush,
dusting brush, stretch hose

Check Price

HoLife Handheld Cordless Vacuum
(Editor's Choice)
Cordless, handheld, bagless
3.27 lbs
Crevice tool, rubber nozzle,
soft brush

Check Price

Oreck Super-Deluxe Compact
Handheld, corded, bagged
4 lbs
Stretch hose, extension wand, round brush, upholstery brush,
crevice tool, floor cleaning head

Check Price

Bissell 47R51
Handheld, corded, bagless
5 lbs
Rubber nozzle, crevice tool,
wide-mouth tool, 2-foot stretch hose

Check Price

Hand held Cordless Vacuum, THZY
Handheld, cordless, bagless
2.65 lbs
Stretch hose, dusting brush,
crevice tool

Check Price
1. SharkNinja NP317W: Vacuum for Apartment Living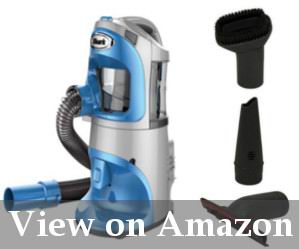 Shark Power Pod was introduced into the market at the end of 2016, so this is a relatively new model. This is a portable vacuum cleaner designed to take care of above-the-floor areas. It comes with a set of accessories for versatile cleaning: a crevice tool a dusting brush, and an upholstery brush. You can also use it without any accessories whatsoever, especially when you need to pick up large debris.
One of the strongest points of this vacuum is suction power. The device uses the advanced bypass technology, which not only produces strong suction but also protects the motor from dust particles that might otherwise lodge on it. In fact, this small vacuum cleaner has the same suction power as full-sized models supplied by Shark. So it can be used to deep clean sofas, chairs, mattresses, doormats and small area rugs.
Shark Power Pod is equipped with a hose that measures eight feet when extended. This is very convenient since you don't need to carry the unit around the apartment like a regular handheld vacuum. You can put it on the floor and enjoy an eight-feet-long reach in every direction. The vacuum cleaner also has an extra long power cord which allows for covering large areas without switching from one outlet to another.
This bagless vacuum cleaner comes with a large transparent dust container and a washable filter. The container is detachable and uses Complete Seal technology that traps allergens, such as dust and pollen inside the vacuum and releases only fresh air.
Overall impression
Shark Power Pod is a versatile vacuum cleaner for a small house or an apartment. The device comes with three different attachments that provide efficient cleaning of various surfaces in your home. It is portable, but it is not meant to be held in a hand throughout the whole cleaning session. In spite of its small size, this vacuum cleaner is surprisingly powerful and has a rather capacious dust cup.
Filtration
Washable filters
Pros
Powerful suction even with the full container.
Designed with the bypass motor technology.
Equipped with an eight-foot stretchy hose and a 25-foot power cord.
Large dust cup.
It is bagless and has washable filters, so requires zero maintenance.
Easy to store even in an apartment. You can wrap the hose around the unit and keep the accessories in a textile bag they come with.
Both the bottom and the top of the dust cup can be flung open. You don't have to pull the dirt out manually in case some of it gets stuck in the upper part where the filter is.
Features the Complete Seal technology that releases allergens-free air.
Cons
Does not have any cord-management fixtures.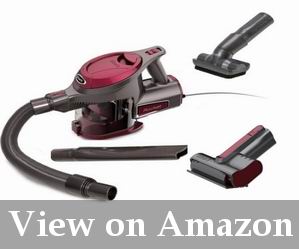 One of the most significant advantages of Shark Rocket hand vacuum cleaner is its versatility. In spite of its compactness, it can perform a variety of everyday cleaning tasks, such as dusting, picking up messes, removing pet hair, etc. The device comes with a sufficient pack of attachments that includes a crevice tool, a small motorized brush for power cleaning, a soft dusting brush, and a short extension hose. A motorized brush is especially effective on pet hair, dirt and dust that tend to cling to carpets and upholstery. Its nozzle can change positions to clean both vertically and horizontally. This attachment alone makes Shark Rocket a worthwhile purchase since not all hand vacuums have it. On the downside, this vacuum does not have a floor attachment, so it is good only for above-the-floor cleaning.
Another great thing about this vacuum cleaner is corded design, which allows you to clean your apartment for as long as you need with only a few interruptions. The cord is actually pretty long as for a handheld device. Once the dust cup is full, you can empty it fairly easily without having to touch the mess with your hands. The filter should be washed once a month to function properly.
General Verdict
Shark Rocket Hand Vac is a quite good vacuum cleaner for an apartment. Although it cannot go on the floor, it is great for cleaning everything that is above. It is rather small, lightweight and easy to handle, so cleaning won't be too tiresome. The vacuum cleaner comes with a basic set of attachments including a highly productive motorized brush.
Filtration
Washable filters
Pros
No maintenance costs. You don't have to buy replacement bags or filters.
Weighs only 3.7 pounds.
It is corded, so allows you to take as much time as you need to perform your cleaning tasks.
Comes with a motorized brush for deep cleaning.
The dirt cup is easy to empty without touching the contents.
Ergonomic handle.
Does not lose suction even when the dust cup is full.
Cons
The 15-foot cord is not long enough to allow for uninterrupted cleaning.
The dust container is not detachable.
3. HoLife Handheld 14.8V: Most Small Vacuum for Portable Cleaning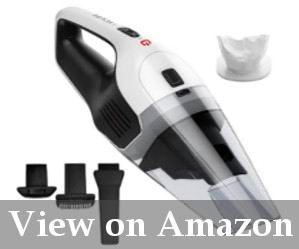 A cordless handheld vacuum cleaner is a must-have for small apartments. In fact, it can be used to clean most of the surfaces, except for the floors. HoLife handheld vacuum is one of such devices. It is battery-powered and provides impressive 30 minutes of running time before needing the charge. The unit comes with a charging base that plugs into any regular outlet and requires a flat surface to stand on. Once the battery is empty, it takes about 4 hours for the vacuum cleaner to recharge. Its Lithium-ion battery generates fade-free power and has no memory effect.
This vacuum cleaner has rather impressive performance characteristics. It can pick up pet hair, dust, small debris and large particles (such as pet food, crumbs, small rocks, etc.), as well as up to 100 ml of liquid. These capabilities make HoLife Handheld a truly versatile vacuum cleaner. The device comes with three attachments for different types of cleaning jobs around an apartment. Its crevice tool is great for cleaning tight areas, seams, corners and dents. Other tools include a soft-bristle brush for upholstery and fabric and a rubber nozzle for picking up liquids.
The detachable dust container is fairly easy to empty. It is washable, just like the filter compartment and a textile filter itself. Interestingly, this vacuum cleaner features a simplified version of radial cyclonic technology, which is usually used in high-end upright vacuums. Judging by that, we can expect this vacuum cleaner to be rather powerful.
Common Impression
Holife Handheld Cordless Vacuum Cleaner seems like a very useful home appliance. It is quite small, lightweight and efficient. This vacuum can deal with most of the messes that usually appear in an apartment or in a car. It is rather easy to maintain – all you need is to wash and air dry the container and filter components. Although the filter is washable, you will have to buy a new one eventually, but that should not cost much. If you keep the vacuum cleaner charged and at hand, it can help you deal with accidents in a stress-free way.
Filtration
Washable fabric filter
Pros
Lightweight design (weighs 3.2 pounds).
Ergonomic handle.
Runs for 30 minutes on a single charge.
Fast charging.
Low maintenance cost.
Can pick up both hard particles and liquid spills.
Comes with an extra filter.
Features radial cyclonic technology.
Cons
Dust and dirt particles tend to get stuck between the fibers of the filter, making it hard to wash.
Loses suction when the dust container is full.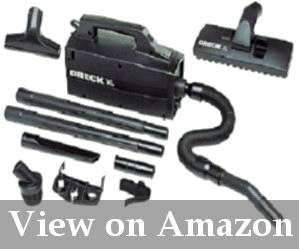 If you need a more functional vacuum cleaner that works on both floors and above-the-floor areas in your apartment, you should pay attention to Oreck Super-Deluxe Canister Vacuum. One of the things that make it the vacuum for a small apartment is that it can be carried in hand or on a shoulder instead of being pushed or pulled around the floor. Therefore, it is easier to navigate, especially in cramped areas. The device weighs no more than 5 pounds, so it should not be too hard on your shoulders.
The vacuum cleaner uses disposable bags to collect dust and dirt, instead of a cup. Such a design ensures that the contents of a bag is sealed tightly inside of it and does not penetrate into the air as you remove the bag.
Oreck Super-Deluxe is perfect for cleaning ceiling fans, elevated shelves, chandeliers, closets, tops of cabinets, blinds, window frames, etc. It has a three-feet-long wand and a hose that stretches to 40 inches providing you a convenient reach to the remotest parts of your apartment. Other attachments include an Oreck XL floor head, a crevice tool, a round long-bristle brush, and a small brush head for delicate objects and electronics.
Overall Presentation
Oreck Super-Deluxe Vacuum Cleaner is a versatile bagged device that can be used all around the apartment. It is not bulky and can be compactly stored even in a small closet. The vacuum cleaner is rather powerful and provides strong suction, which, however, might decrease as the bag gets full.
Filtration
Fiber filter
Pros
Allergy-friendly bag design.
Powerful suction.
The hose and wand attachment provides an extended reach from floor to ceiling and in between.
Has a shoulder strap to minimize fatigue while vacuuming.
Handheld design makes navigation easy and hassle-free.
Supplied with a 10-year warranty on the core unit and a 3-year warranty on parts.
Cons
The vacuum loses suction power when the bag is full.
No bag fill-level indicator.
5. Bissell 47R51: A Small Vacuum Cleaner for Carpets and Upholstery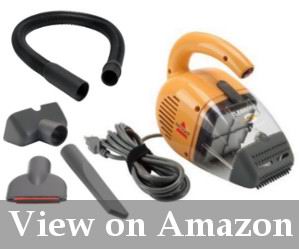 Living in a small apartment often influences the cleaning routine in a certain way. You actually spend less time vacuuming or mopping your floors than taking care of your above-the-floor areas. So a small and strong vacuum cleaner becomes a must.  When we think about compactness and productivity, Bissell Cleanview handheld vacuum cleaner comes to mind. This device is designed for versatile above-the-floor cleaning. It is very compact, so you can always keep it at hand and pull out instantly when needed. Its cord is slightly longer than in other handheld vacuums, so it can offer you a little bit more freedom to maneuver around the apartment.
Even though this vacuum cleaner looks small, it is not particularly light. It weighs 4.65 pounds and feels rather heavy when you hold it with one hand, especially if you have to use it continuously. The vacuum is supplied with several basic attachments for you to tackle various cleaning jobs around your apartment. A rubber nozzle is designed to deal with stubborn dirt and pet hair but can be used for regular cleaning as well. The package also includes a wide-mouth flat nozzle and a crevice tool for cleaning in tight areas. An extension hose allows you to reach even the most awkward spaces in the apartment, such as inside the kitchen counters, around the sink or on the bookshelves.
Common Presentation
Bissell Cleanview handheld vacuum cleaner is a compact device that can help you simplify your daily cleaning routine. With its 4-amp motor it looks very promising as regards the suction power. It features a transparent dust cup, several attachments, and an 18-foot-long power cord. Although it is somewhat heavy, its ergonomic handle provides a comfortable and steady grip.
Filtration
HEPA media multi-level filter
Pros
Rather small and easy to store.
Comes with a pack of useful attachments.
18-foot power cord with a cord-wrap system.
Transparent dust cup.
Powerful 4-amp motor.
Features a rubber nozzle that gently scrubs stuck-in dirt and pet hair off carpets and upholstery.
Cons
The HEPA medium filter is not washable, so you will have to buy replacement filters.
Hikeren is advertised as a maneuverable cleaner, so we believe that it can be used effectively exactly in small apartments. This is a cord-free vacuum cleaner run by a 2000 mAh battery. In fact, it is rather powerful and can provide up to 25 minutes of stable suction – quite impressive for such a small device. For apartment owners, this time is more than enough to pick up messes and dust the furniture. Interestingly, this small vacuum cleaner can pick up even liquid spills.
The built-in battery charges for about 3-4 hours. The indicator shows the battery charge level, so you will always know when the device is ready to go. There is no charging base or a wall mount, but the vacuum cleaner is so compact, it can be charged almost anywhere. Another good thing about this small hand vacuum is that it is very lightweight and easy to handle. The attachment kit includes a crevice tool, a stretching hose, and a small dusting brush. All the attachments can be conveniently stored in a branded bag the vacuum comes with.
The device also has a LED light that can help you detect hidden mess in dimly lit and dark places, and, at the same time, leave out things that should not be sucked in. Using a flashlight will probably make the vacuum cleaner run out of power faster, but still, we believe this is a worthwhile fixture.
General Representation
Stick vacuum cleaner cannot replace a full-size device, but can work quite well as a complementary tool. It is small, portable and always ready to go (of course, if you keep it charged). You can use it for quick clean-ups around your apartment when you are short on time and be pulling out a large vacuum is inappropriate. It comes with a pack of basic accessories, which expand its range of application.
Filtration
Stainless steel filter
Pros
Small and very lightweight (weighs only 2.65 pounds).
Works for 25 minutes if fully charged, while most handhelds can offer only 15 minutes on the average.
Has a built-in LED flashlight.
Does not take much storage space. Perfect for apartments.
Washable stainless steel filter lasts much longer than a HEPA filter.
Cons
Moderate suction power.
Small dust cup.
Top Small Vacuums for Apartments – Buyer's Guide
Living in a small apartment has its specifics, which, among other things, affect the choice of a best vacuum cleaner. Apartments usually have rather limited storage spaces, so compactness is one of the most important qualities a vacuum cleaner should have. Besides, a vacuum should be more or less versatile to address as many cleaning needs as possible. In that case you will not have to find room for multiple devices. Other important aspects that should be considered are as follows:
Maneuverability. You should be able to navigate around furniture in your apartment as easily as possible. Perhaps a bulky upright vacuum cleaner is not better choice for you. Instead, you should consider getting a handheld, stick or canister vacuum.
Noise. Operating a loud machine might disturb your neighbors, especially if you have to clean late at night or early in the morning. So opting for a quieter vacuum can be a wise choice to make.
Cord length. If you live in a small apartment you probably won't need a vacuum cleaner with an extra long cord. However, to ensure comfortable cleaning, the cord should be at least 15 feet long.
Bagged or bagless design. The choice really depends on your personal preferences. On one hand, bagged design implies some maintenance costs, associated with buying replacement bags. On the other hand, bagged vacuum cleaners have one significant advantage – users never get in contact with the dust once it is inside. This is especially important for people with allergies.
Corded or cordless. While corded vacuums can provide unlimited cleaning time, cordless models have some other advantages. A small cord-free handheld vacuum can be used for quick pick-ups when you don't have time for taking out a large device or when there is no outlet around to plug into.
Best Vacuums for Small Apartment: Conclusion
Cleaning even a mini apartment might get rather tedious unless you have a proper device to do the job. The vacuum cleaners presented in this review are capable of making your housekeeping routine easier and more enjoyable. Of course, there are many other models out there, which are also worth your attention. It was just impossible to fit all of them in one short review. So if you haven't found the perfect vacuum cleaner for your apartment yet, we hope that this article will take you one step closer to accomplishing this goal.