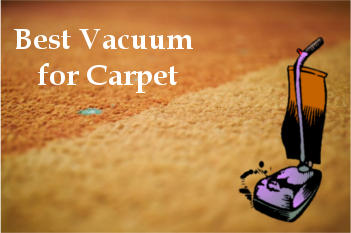 Thousands of homeowners all over the country sooner or later begin to wonder where to buy the best vacuum for carpet. Many of us have already appreciated the pleasure of indulging our feet with a soothing feel of shaggy or plush carpets.
But cleaning carpets is not such a great pleasure, isn't it? Well, it can be, if you have a proper vacuum cleaner that could make carpet care a breeze. Doesn't that sound enticing?
Now, let us discover which vacuum cleaner is superior for carpets. And find a cool selection of proven products right now.

See our selection of the best product!
Bissell Big Green 86T3
Tank capacity 1.75 gallons; Extra large dirt lifter power brush for deep scrubbing action

Heavy duty suction power aids in fast drying time. Cleans on the forward and backward pass for reduced cleaning time and dries faster than the leading competitive rental carpet cleaners

Two large tanks for full room cleaning

Professional formula? includes a trial size BISSELL professional formula. Power Cord Length: 25 feet

5 year limited warranty.Power Rating:12 amps; Tough Stain Tool & 9 Foot Hose. The 6 inch Tough Stain Tool lets you spray and scrub extra tough spots and stains on stairs, upholstery, and other soft surfaces. Maximized hose length gives you extra reach for those hard to reach spaces
Top Vacuum for Carpet in 2020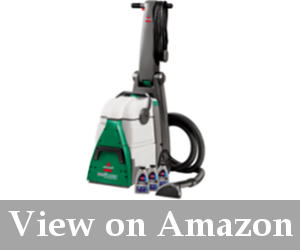 The Bissell Big Green is a professional-grade carpet cleaning machine that is also suitable for residential use. This can be a great alternative to hiring professional carpet cleaning services. The Big Green carpet cleaner is designed to perform a deep cleaning of large carpeted surfaces. Its dual-tank design features two tanks to hold clean and extracted water separately. Large-capacity tanks require fewer trips to the sink to empty and refill, thus making the whole cleaning process less time-consuming.
What really distinguished Bissell Big Green from non-professional carpet shampooers is an extra-large cleaning brush and extremely powerful suction. The brush roll features multiple rows of rigid bristles arranged in wavy lines. Such a design allows them to extract dirt, debris, and dirty water and solution mix off the carpets quickly and effectively. The machine can clean both forward and backward, which makes it easier to navigate, especially in narrow hallways and in corners.
Although this machine is rather heavy, its weight is barely noticeable while cleaning thanks to large wheels and a two-hand handle. However, taking it up or down the stairs might be quite challenging. The fine way to do it is to carry it in parts with empty water tanks.
Interesting Features
Extra-large heavy-duty brush roll.
Dual-tank design.
Designed for professional deep cleaning of carpets and upholstery.
9-foot hose with a 6-inch-wide cleaning tool.
25-foot power cord.
The Bissell Big Green cleaner produces exceptionally strong suction, leaving carpets almost completely dry. The little amount of moist that might remain (depending on the thickness and structure of a carpet) evaporates completely within 24 hours after cleaning. There is no need to use any additional heated air dryers.
The construction of a cleaning path does not let it reach in corners, close to baseboards and clean narrow spaces, such as stairs. To solve this problem, the manufacturer has included a 6-inch cleaning tool that attaches to a 9-foot hose. This tool can also be used to deep-clean upholstery and textiles.
Pros
Provides thorough cleaning of carpets, eliminates worn-in dirt, tough stains and bad odor.
Powerful suction dries up the carpets almost completely.
The heavy-duty power brush lifts dirt and sucks up water residue in one pass.
Cleans equally well when pushed forward or pulled backward.
Large-capacity water tanks.
Long stretch hose.
Tight, narrow or close to the walls spots, where the brush roll cannot reach, can be cleaned with a special tool.
Large wheels easily roll on carpets.
Can eliminate pet hair.
Does not require preparatory vacuuming.
Supplied with a sample bottle of Bissell carpet cleaning solution.
Backed by a 5-year warranty.
Verdict
The Bissell Big Green carpet cleaning machine combines features of a vacuum cleaner and a carpet shampooer. This is a professional-grade device that can eliminate even the deepest and toughest stains from carpets, carpeted stairs and upholstery. It is very powerful and quite bulky, so it would be appropriate in homes with large areas covered with wall-to-wall carpets, as well as in offices, schools, theaters, and other public places.
2. Hoover (FH50150) – Superlative Deep Cleaning Carpet Vacuum, Superb Vacuum for Wall-to-Wall Carpet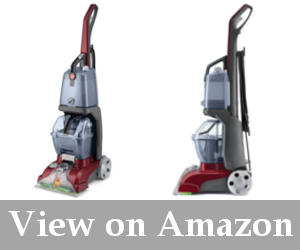 Even if you vacuum your carpets regularly, they still need to be washed every once in a while. When it comes to wet cleaning, nothing can do a job better than a dedicated carpet washer. Hoover Power Scrub Deluxe is one of such devices. Its main and only purpose is to shampoo carpets, stairs and upholstery.
The Hoover carpet washer features a wide V-shaped head with counter-rotating brushes. The brushes penetrate deep between the carpet fibers to clean them from every angle. They will not tangle the fibers and damage them. Powerful suction pulls out even deeply ingrained dirt alongside the water and solution residue. There are two separate tanks – for clean and used water. Besides, there is an integrated smart detergent mix system, which puts just the right amount of detergent into clean water.
Additional Information
Although the washer sucks in most of the residue, sometimes carpets can still stay wet, especially thick ones. In that case, you can use a heat cleaning option. Besides, it helps remove even the most stubborn stains.
All parts of the Hoover carpet washer are detachable and easy to clean. All brushes and water tanks should be cleaned after each carpet wash, but that should not be too troublesome.
Additional tools that come with this carpet cleaner are the following: a crevice tool, an upholstery brush, and a stair tool. All the attachments can be conveniently stored in a branded bag that comes along.
Useful Accessories
A cleaning head with 5 counter-rotating brushes.
Dual-tank design.
V-shaped head.
Heat cleaning option.
Three additional tools: for upholstery, stairs and tight spots.
8-foot stretch hose.
20-foot power cord.
Full tank indicator.
4 handles for easy carrying.
Pros
The cleaning nozzle is designed to deep clean between the fibers of a carpet without damaging them.
Shampoos a carpet with detergent and removes the residue in one move.
Heat cleaning option allows you to dry your carpets faster.
Long power cord.
Easy to clean and maintain.
Cons
Can only be used on carpets.
To ensure proper cleaning, carpets need to be vacuumed prior to washing.
Verdict
Hoover Power Scrub Deluxe is a powerful carpet washer that can tackle even the toughest stains. Its Dual-V nozzle with counter-rotating brushes in combination with powerful suction allow you to deep clean even high-pile carpets. This device is worth buying if you have wall-to-wall carpets in most of the rooms, since it will not work on any hard surfaces. To avoid clogging and failures it is advisable to vacuum carpets prior to shampooing with the Hoover Power Scrub Deluxe washer.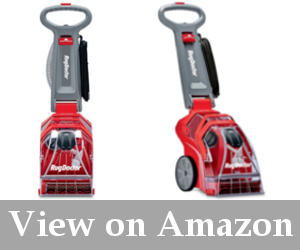 Rug Doctor is another heavy-duty carpet cleaner. It is suitable for commercial and residential use. Its powerful brushes and extra-strong suction make it one of the better cleaners in its class.
Rug Doctor is designed for deep carpet cleaning. It has a wide rotating brush that cleans deep between the carpet fibers, while the second brush polishes the man for an extra-soft, plush feel. Side bristles make cleaning in corners, around furniture and alongside walls more efficient. The vacuum cleans on a backward pass, while a user presses down a solution release button. In most, cases the result can be obtained in one pass, but the procedure can be repeated as many times as needed. To combat tough stains you can use a boost spray option (an additional portion of cleaning solution will be applied to the area).
Thanks to a wide cleaning path, Rug Doctor can treat large areas rather quickly and efficiently. A large 1.1-gallon dirty water reservoir facilitates continuous cleaning without interruptions. It is transparent, so you can see when it's time to empty.
Interesting Opportunities
The device is easy to operate by people of different heights. Its handle can be adjusted in a comfortable position to avoid strain. In spite of its considerable weight, the machine is easy to move on carpets thanks to its large wheels. Although, carrying it up and down the stairs would be problematic, especially for elderly people.
Rug Doctor also has tools to treat hard-to-reach areas, stairs, upholstery, small area rugs, and other tricky spots. The 7.7-foot power cord offers extended reach to facilitate effective cleaning of all applicable surfaces. You probably will not need an additional cleaning machine to take care of carpets and upholstery in your home. The brush is equipped with an on-demand sprayer to apply solution exactly where it is needed.
Cleaning with Rug Doctor does not require preparatory vacuuming. All the dirt and debris that might be found on the floor gets collected in a wastewater tank to be disposed of afterward. Pet owners might find a massive brush somewhat hard to maintain, since pet hair will naturally get tangled around it. But that is a common problem of the majority of vacuums and carpet cleaners with rotating brushes.
Useful features
Heavy-duty carpet shampooer.
Wide cleaning path.
On-board tool for spot treatment.
Backward pass cleaning.
Dual brush for cleaning and polishing.
On-demand spray booster.
Adjustable handle.
7-foot hose.
28-foot power cord.
1-gallon water tank.
Weighs 25 pounds.
Pros
Capable of cleaning large areas.
Extra wide cleaning path (12 inches) with side bristles for thorough cleaning throughout a path.
Heavy-duty brushroll with polishing function provides deep cleaning and softens the carpet afterward.
Adjustable handle ensures comfortable operation and helps avoid strain and back pain.
Large water tanks.
Powerful suction eliminates dirt and most of the water residue. The carpets dry completely in less than 4 hours.
The Boost Spray function allows applying more solution on heavily stained areas without having to go over the same spots multiple times.
Ready to operate right out of the box. No assembly is required.
Cons
The item is very heavy. Elderly people and people with health issues might find it difficult to operate the device.
Cleans only on backward pass.
Verdict
Rug Doctor is a rugged, heavy-duty carpet cleaner, designed to deep clean large areas. It is capable of eliminating even worn-in stains and refresh high-traffic areas. Rug Doctor is suitable for commercial and residential use, but purchasing it would be reasonable only if you need to maintain large carpeted areas. It is rather heavy and bulky, but that is only a fair trade-off considering its functionality.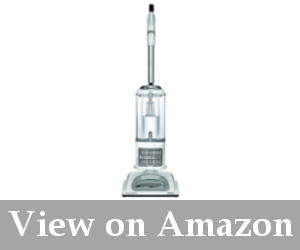 The Shark Navigator Lift-Away vacuum cleaner is a versatile device that can clean all surfaces in a home from floors to a ceiling. Its canister easily detaches from the main unit so that you can take it to clean in hard-to-reach areas. A convenient handle allows you to carry a canister with ease. As we know, limited access is one of the major drawbacks of upright vacuum cleaners. In this model, this drawback is compensated by a lift-away option. This functionality can be appreciated by homeowners who want to enjoy the power and capacity of a full-size upright vacuum cleaner without having to buy an additional device for above-the-floor areas.
Shark Navigator can tackle all kinds of cleaning jobs both on carpets and bare floors. Its main cleaning head is perfect for low and medium-pile carpets, wall-to-wall carpets and area rugs. It has a rotating brush that picks up dirt, debris, pet hair, crumbs and other particles that might get stuck between the fibers of a carpet. If you need to transition to bare floors or delicate surfaces, you can turn the brushroll off and continue vacuuming as usual. But still, the main cleaner head is more suitable for carpets, while bare floors are advised to be vacuumed with a dedicated nozzle, called a Hard Floor Hero (a registered trademark of Shark).
Useful Opportunities
Aside from the hard floor tool, this vacuum cleaner is supplied with a turbo brush, a crevice tool, and a dusting brush. It also has a built-in hose-and-wand combo with a 5-foot stretching hose (in a compressed state). All the tools come in a convenient accessory bag.
Shark Navigator is comparatively light, maneuverable and easy to push on carpet. Thanks to the swivel steering mechanism you can navigate the cleaner head by simply twisting your wrist. The ergonomic handle reduces the load on your wrist by keeping it in a natural position, which is especially important during continuous vacuuming.
This vacuum cleaner has an advanced dust-collecting system. It consists of a large transparent dust bin with a complete seal technology and a HEPA-medium filter that traps up to 99% of allergens and dust particles.
Useful information
Lift-away technology.
Swivel-steering mechanism.
Rotating brush roll with a turn-off option.
Hose-and-wand attachment.
A set of additional tools includes a specialized hard floor attachment, a turbo brush, a crevice tool and a dusting brush.
2-quart dust bin.
Advanced Complete Seal filtration technology.
30-foot power cord.
Weighs 13.7 pounds.
5-inch cleaning path.
Pros
The canister can be easily lifted away to enable vacuuming in hard-to-reach areas and high spots.
A brush roll can be turned off for safe and more effective vacuuming on hard floors and delicate surfaces.
Includes a specialized nozzle for hard floors.
Easy to maneuver thanks to the swivel steering mechanism.
Comparatively lightweight.
Comes with an accessory bag to store the attachments in.
Long power cord ensures uninterrupted cleaning of large areas.
Cons
The lift-away canister weighs 8 pounds, so holding it in one hand while cleaning might be quite tiresome.
Verdict
The Shark Navigator is a versatile and maneuverable vacuum cleaner that can be used either in an upright position or with a canister detached. This is the quality vacuum for carpet and pet hair. Its rotating brush roll facilitates thorough cleaning of low and medium-pile carpets and can be turned off to transition to hard floors. While this vacuum cleaner is rather lightweight in an upright mode, the detachable canister is rather heavy to hold continuously in one hand. Other than that, this is a great vacuum cleaner for small and medium floor spaces.
5. Bissell 9595A – Excellent Vacuum for Thick Carpet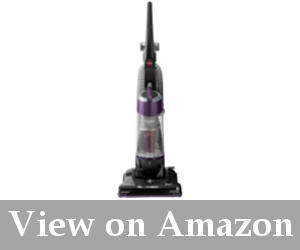 Bissell OnePass is a versatile vacuum cleaner that can be used both on carpets and bare floors. This is a conventional upright bagless vacuum cleaner. Its configuration is rather standard, consisting of a cleaning head, a hose and wand attachment and a set of tools, including a turbo brush, a crevice tool, and a dusting brush.
What really makes this vacuum cleaner categorized as a vacuum for carpets is that it has a height-adjusting option. When you vacuum bare floors, the head stays close to the surface, but as you transfer to carpets, it can be lifted up to get better suction. The cleaning head has built-in rotating brushes that can dig into the carpet piles and pull dirt and debris out. This vacuum cleaner has a wide suction path that allows you to clean efficiently with less moves (the Bissell exclusive OnePass technology).
Additional Recommendations
The Bissell CleanView vacuum cleaner features an advanced multi-cyclonic technology that allows it to produce strong suction even when the dust container is full. Besides, this technology separates dirt particles, debris and fine dust from the air that gets sucked in. Not only that reduces the load on filters, so that they can last longer, but also makes the air you breathe fresher and cleaner.
Another thing that makes Bissell CleanView carpet-friendly is that it is comparatively lightweight. Pushing a heavy vacuum cleaner on a thick carpet might get really exhausting, but with this model, it should not be too bad. It is rather easy to maneuver and carry around. A large dust bin also contributes to a more enjoyable vacuuming, since you will not have to empty it very often. It is also quite easy to empty. In most cases that can be done hands-free, unless you have a lot of pet hair that might get stuck inside and require that you pull the clogging out manually.
Interesting Accessories
An exclusive OnePass technology.
Cleaner head with rotating brushes.
Multi-cyclonic technology.
A hose-and-wand attachment with three tools: a crevice tool, a turbo brush, and a dusting brush.
Weighs 15 pounds.
25-foot cord.
Washable foam filter.
Bagless design.
Aside from vacuuming carpets and bare floors, Bissell CleanView can be used to clean above-the-floor surfaces, such as stairs, furniture, lampshades, upholstery, raised shelves, window sills, and much more. Pet owners might appreciate a turbo brush that comes with this vacuum cleaner. It is designed to eliminate pet hair from upholstery, carpeted stairs, and textiles. A soft-bristle brush can be used to clean delicate surfaces, while a crevice tool can reach in tight places, nooks, and crannies.
Pros
Features a genuine technology that allows cleaning efficiently in one pass, saving you time and effort.
Advanced multi-cyclonic technology ensures that only clean air is released from the vacuum.
Adjustable height.
Does not lose suction, even with the full bin.
Capacious and easy-to-empty dust bin.
The pre-motor filter is washable and easy to maintain.
Quite lightweight.
Long power cord.
Cons
The rotating brushes in the vacuum cleaner head cannot be turned off.
Verdict
The Bissell CleanView vacuum cleaner might be a good choice for homeowners who have both carpets and bare floors to take care of. This vacuum is rather versatile and has all the necessary attachments to perform a thorough cleaning of various surfaces. Its lightweight design alongside the OnePass technology can make vacuuming less tiresome and time-consuming.
Hoover SteamVac is another great carpet cleaner from Hoover. It uses the same spin-and-scrub technology that has proven itself to be effective in other models of vacuum cleaners. SteamVac is designed for wet vacuuming and deep carpet cleaning throughout a home. Its main cleaning head is equipped with 5 brushes that spin in opposite directions to gently scrub dirt out of the carpet fibers without tangling them up. To address tough stains, you can trigger the Clean Surge to apply an additional amount of solution.
Interesting Facts
This cleaning machine is suitable for all kinds of medium and high-pile carpets, even the delicate ones. There are three rotation speed settings to choose from: high speed for tough stains, low speed for delicate surfaces and rotation shut-off for picking up liquids. Speed control makes this vacuum more flexible, as compared to similar models available on the market.
Spot cleaning is enabled via a detachable power hand tool. The tool consists of two parts – a suction inlet and a powered rotating brush. It is designed to clean in areas that cannot be reached by the main unit, such as stairs, upholstery or tight spots on the floor (around and under furniture, in corners, near baseboards, etc.). The hand tool can be stored on-board for easy access during cleaning.
Just like all other carpet shampooers, Hoover SteamVac has two separate water tanks – one for clean water and another for extracted residue. In spite of its name (SteamVac), this machine does not use steam to clean. Although, it can be filled with hot water for better results (similar to the effect that can be achieved by steam cleaning).
Useful Accessories
Hoover exclusive Spin-and-Scrub technology.
3 rotation speed settings.
On-board spot cleaning tool.
Hand-triggered extra detergent delivery.
Two tanks.
8-foot hose.
11 ¼" nozzle.
Weighs 20 pounds.
Comes with a 64-ounce bottle of proprietary cleaning formula.
Hoover SteamVac greatly resembles a conventional upright vacuum. The device is quite sizeable and arrives in parts that require assembly (including some screwing in). All the steps are described in a user manual, so that should not be an issue, but you need to be prepared to spend some time putting the unit together.
Pros
Counter-rotating brushes provide a thorough cleaning of carpet fibers from all sides.
Suitable for high-pile carpets.
3-speed settings allow it to adjust to different types of carpets.
Spinning shutoff option allows a user to pick up liquids or suck in excess moisture without unnecessary scrubbing.
Extra detergent can be applied on certain spots when needed.
Hand tool with a spinning brush.
Cons
Rather heavy.
Switching from floor shampooing to spot cleaning is somewhat complicated.
Verdict
Hoover SteamVac is a powerful wet vacuum cleaner for carpet. It features an exclusive spin-and-scrub technology and shows excellent performance. This is the good vacuum cleaner for soft plush carpet. The device is rather large and requires some dedicated storage space, but once pulled out it will clean carpets, stairs, area rugs, upholstery and more. In spite of its minor drawbacks, this is a very decent housekeeping appliance.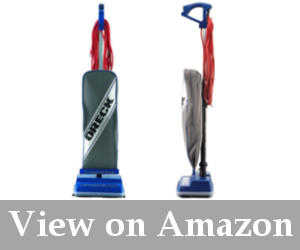 As it is clear from the name, this is a commercial-grade vacuum cleaner, designed for heavy-duty cleaning jobs. It possesses all the qualities that are required from the commercial vacuum: durability, maneuverability, ease of use, large capacity, and versatility.
The Oreck Commercial vacuum cleaner is designed to work on all types of surfaces that are most often found in commercial applications: low-pile carpets, tiles, laminate, vinyl, etc. Its cleaning head adjusts to the particular surface automatically, no manual adjustments need to be made. That means less time spent on vacuuming, which is also very important in commercial settings. The technology that makes this vacuum cleaner suitable for both hard surfaces and carpets is rather simple. Along with a rotating brush, the cleaning head is equipped with a rubber blade that sweeps dust and debris towards the vacuum inlet, thus facilitating effective cleaning of bare floors.
Useful Facts
Professionals prefer this vacuum cleaner for its durability. Indeed, it has a rather simple design with fewer parts that could fail. This vacuum is more suitable for commercial use due to a number of other reasons. First of all, it has a wider cleaning path than most of the home-use vacuum cleaners. Besides, it has brushes on the sides of a cleaner head that enable it to eliminate dust and debris that tend to build up alongside walls, in corners, and around furniture. Another important thing is vacuuming capacity. This vacuum cleaner has an extra-large top-fill bag that ensures continuous cleaning and persistently strong suction. It operates with Oreck disposable bags that eliminate the need to contact with dust and dirt during disposal.
Maneuverability is another strong point of this vacuum cleaner. It has a 35-foot power cord for uninterrupted cleaning of large areas. A simple cord-release system allows a user to unwind it quickly when needed. The Oreck Commercial XL has a low-profile design that allows it to reach under desks, cabinets, storage racks, and other furniture and equipment. A rubber bumper protects furniture and baseboard from damage if hit accidentally by a cleaner head.
Additional Accessories
Commercial-grade vacuum.
Multi-surface cleaning.
Bagged design.
12-inch wide cleaning path.
35-foot power cord.
Weighs 8.2 pounds.
350-ounce dust bag.
Pros
Automatic adjustment to different types of surfaces.
Extra-large dust bag.
Bagged design ensures no mess and no contact with dust during or after vacuuming.
Wider cleaning path than in most other upright vacuum cleaners.
Side brushes enable cleaning alongside walls, baseboards, and furniture with no additional equipment required.
Lightweight and portable.
Easy to operate thanks to an ergonomic handle and control buttons located on it.
Extra long power cord provides exceptional mobility.
No-canister design allows it to tilt very low and reach under the furniture and equipment with ease.
Cons
This vacuum cleaner has no attachments for above-the-floor surfaces and stairs.
Requires purchasing replacements bags.
Verdict
Oreck Commercial XL is a professional-grade vacuum cleaner, suitable for low-pile carpets and all kinds of hard floors. Its wide cleaning path, large dust bag, extra-long power cord, low-profile design, and easy-grip handle ensure convenient cleaning of commercial facilities. This vacuum cleaner can also be used by homeowners, but it will not be very practical since it does not have any attachments to clean above-the-floor surfaces.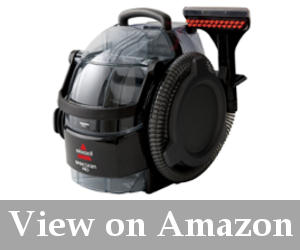 Sometimes pulling out a large carpet cleaning machine is not appropriate. For instance, when you need to treat some random stains on your carpet, area rug, stairs or upholstery. In such cases, a portable spot cleaner would be a much better solution. One of such cleaners has made it to our list.
It's a Bissell SpotClean Professional carpet cleaner. This device uses the power of suction, scrubbing and cleaning formula to do the job. It is very easy to use. No assembly is required. So you can start cleaning right out of the box. Its operating principle is simple to those of full-size carpet washers. There are two separate tanks. One of which needs to be filled with water and solution mix. While the other one is where the dirty water extraction will go. The tanks are rather large. So you can clean considerable areas. Before needing to empty and refill.
Unlike full-size vacuum-style carpet cleaners, this one does not have a built-in power brush. It only has two brushes that attach to the hose interchangeably. A 6" brush is designed for stairs and large stained areas, while a 3" tool can be used to clean in hard-to-reach places and to treat small stains. Both brushes have rather long and rigid bristles to scrub the dirt out of carpets or upholstery. You can regulate pressure and intensity of scrubbing to adjust to any kind of surfaces, including delicate ones.
Interesting information
Bissell SpotClean Professional has a pretty long power cord (22 feet), so it can be used practically anywhere around a house. Another great way this cleaner can be used is to take care of textile car seats. As we know, they get soiled rather fast (unless you are using seat covers) and are quite tricky to clean due to all the curves, seams and nooks. A compact 3-inch brush that comes with the Bissell cleaner might be perfect for the job.
Although the machine is rather heavy, it is easy to carry thanks to a sturdy, wide handle. Besides, the device is not meant to be held in a hand for a long time, so its weight is unlikely to be an issue for most of the users.
Additional Accessories
Designed for spot cleaning. Suitable for carpets, area rugs, upholstery, stairs, car seats, etc.
4-foot flexible hose.
Two attachments: a 6-inch stair brush and a 3-inch spot brush.
22-foot-long power cord.
Tank capacity: ¾ gallon.
Weighs 13 pounds.
Supplied with an 8-ounce bottle of branded cleaning solution.
2-year warranty.
Pros
This device combines portability of a handheld cleaner with powerful suction of a full-size carpet shampooer.
Large water tanks are easy to fill and empty (this machine has the largest tanks among all other Bissell portable carpet cleaners).
Can clean in hard-to-reach places.
Doubles as a car seat cleaner.
Rather compact and easy to store.
Cons
Only suitable for small areas and spot cleaning; will not be sufficient if you have carpets throughout your home.
Verdict
Bissell SpotClean Professional is one of the most powerful portable carpet cleaners on the market. It also has one of the largest tank capacities among portable machines. This cleaner will suit your needs if you have a small amount of carpeted areas in your home or if you want to get a portable device in addition to your full-size carpet shampooer.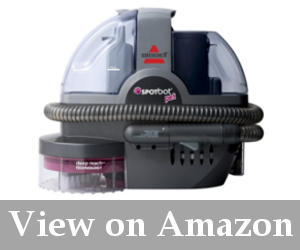 This is another spot cleaner from Bissell. Unlike the previous model, it is designed for hands-free cleaning. The cleaning part of this machine has a built-in spinning brush, a solution sprayer, and a vacuuming inlet. When placed on a spot and turned on, the machine starts cleaning in the following sequence: sprays the solution, scrubs the spot, rinses, and extracts the residue. There are two pre-programmed cleaning modes: for old stains and fresh stains. The cleaning cycles last 6 or 3 minutes respectively. Once cleaning is over the spot on the carpet might still remain damp. In that case you can use a hose-and-brush attachment to suck in the excess moisture.
Although a hose-and-brush attachment can be used to help freshly-cleaned spots dry faster, it is primarily designed for cleaning tough stains on stairs and upholstery. It can also be used to refreshed soiled car seats. The brush is not particularly wide, so treating large areas with it would be too tiresome. At the same time, it will come in handy when you need to eliminate minor stains or go over spots, where the main cleaning unit cannot reach (such as under the furniture, in corners or alongside walls).
Interesting Characteristics
Bissell SpotBot can clean with any formula, but the manufacturer recommends that you use a specialized pet formula in combination with the enhancer. Both products are supplied in trial-size bottles with the device. Pet owners might appreciate the Bissell exclusive spot cleaning formula that is designed to combat pet stains and odor and to prevent bacteria from growing inside a carpet.
Bissell SpotBot is rather easy to store and maintain. It is rather compact and can fit in a medium-sized closet with ease. Water tanks and brushes are easy to wash, but you need to make sure to do it right after cleaning. This especially refers to the dirty water tank. If dirty water residue stays inside for some time, it will be very hard to wash out, since the opening is too small to reach in with a sponge or a scrubber.
Features and Specifications
Designed for hands-free cleaning.
Revolving cleaning head with two brushes: a bristle brush and a rubber brush.
Two cleaning modes.
Cleans in 3 to 6 minutes depending on the mode.
Hose-and-brush attachment for hard-to-reach spots.
Weighs 14 pounds.
15-foot power cord.
Pros
Time saving. The device cleans by itself, with minimal interference on your side.
Pre-programmed cleaning modes. Solution dosage, a sequence of actions and cleaning time and intensity are pre-set to offer optimal cleaning results.
Easy to handle and maintain.
Rather compact.
Unlike machines that clean on the go, this one sits on the spot for a longer time, thus giving tough stains a more thorough treatment.
Comes with a specialized formula designed to combat pet stains and odor.
All the essential parts of the machine are protected against bacteria, mold, and mildew.
A spot cleaning brush can be used on stairs, upholstery and car seats.
Cons
This machine is not appropriate for cleaning large stained areas.
Verdict
Bissell SpotBot might be a good carpet cleaning solution for pet owners. It is designed to give deep and thorough treatment to all kinds of stains, including built-in ones. In homes where pet accidents happen quite often, this device could be of great help. However, if you need to clean large soiled areas, doing it with this device would be very time consuming. Bissell SpotBot could be a useful addition to a regular carpet cleaner.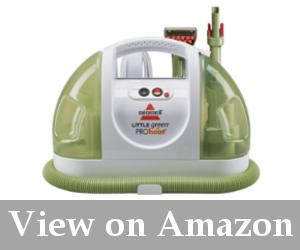 Bissell Little Green is another compact carpet cleaner that can find its place in your housekeeping arsenal. This is a wet vacuum that uses water and solution to clean carpets and the power of suction to dry them afterward. In spite of its compact size, it is rather powerful and does a decent job removing stains, pet accidents and spills.
The vacuum has two interchangeable tools for manual cleaning: a scrubbing brush and a crevice tool. Both tools have built-in sprayers to apply water and formula mix directly on stains. You can trigger the sprayer while holding the tool to control the amount of cleaning solution that needs to go into a carpet. Powerful suction eliminates the residue while you scrub the spot clean. You need to be sure not to apply too much solution on your carpet since it will be very hard to wash out. If the cleaning result does not satisfy you, it is better to go over the spot one more time, instead of overloading it with detergent.
To enhance cleaning efficiency you can use a water heating option. Hot water and formula diffuse into stains better and faster, thus providing better cleaning results, especially on deep, old stains.
Additional Opportunities
This wet vacuum can also be used on stairs, rugs, upholstery and car interiors. Due to its compact size, it is very easy to store at hand. And take out at any time should the need arise. If you are an RV owner, you can take it with you on a vacation to maintain the interior.
Everything in the design of this vacuum is aimed at simplifying the user experience. Two separate water tanks are easy to take out for a refill/dump and install back in places. The tools are stored onboard for easy access during cleaning. The quick-release system gets the cord ready for use in seconds.
Useful Features
Wet cleaning with formula.
Two interchangeable cleaning tools: a brush and a crevice tool.
Water heating option.
Two 48-ounce tanks.
4-foot hose.
10-foot power cord.
On-demand solution sprayer.
Pros
Compact and easy to store.
Simple one-button operation.
Works with regular tap water. For better cleaning results water can be heated up.
Includes a crevice tool to clean in tight spots.
Works on all types of carpets and rugs, as well as stairs, upholstery, textiles and car interiors.
Lightweight and portable.
Cons
Only suitable for cleaning occasional spills and small stained areas.
Requires manual spraying and scrubbing, which might get rather tiresome.
Verdict
Bissell Little Green is a compact, lightweight and portable spot cleaner for carpets, upholstery, rugs, car seats and RV interiors. It is easy to pull out and get ready for use and thus, great for emergency clean-ups. Although this wet vacuum is not an ultimate carpet cleaner, it might become a great additional helper.
Buyer's Guide: Questions and Answers
Let's take a look at possible answers to frequently asked questions.
So, what type of vacuum is better for carpets?
There are many different types of carpets and each of them requires a special approach to cleaning. A good vacuum for carpet should have strong suction. Choose the type of vacuum cleaner that does not lose suction as it gets full so that you can perform continuous cleaning effectively. Some carpets require gentler care, while others can withstand heavy-duty cleaning. Therefore, you should always refer to care instructions on a product label. Many later models of vacuum cleaners have carpet attachments and sometimes such attachments can be bought separately.
Now you are just one step away from finding the vacuum cleaner for carpet. We have compiled a top-10 list of the top-rated vacuum cleaners for rugs and carpets and are now ready to introduce it to you.
Also, we will try to give answers to the most popular and burning questions. You can read right now them. Together with the buyer's guide.
Is vacuuming good for carpets?
Proper vacuuming cannot damage your carpets. In fact, this is the only way to maintain carpets clean. When you vacuum with a carpet cleaner, dust gets pulled out from deep under the carpet and gets trapped inside a canister. Swiping and shampooing are ineffective when you need to get crumbs, debris and other particles that hide deep inside and between the fibers. Dry cleaning will not work if you have wall-to-wall carpets. So the best vacuuming is the way. But you have to be careful about what attachments to use. Some attachments can damage piles and cause untimely wear of your carpet. On the other hand, proper attachments not only provide deep cleaning but also help prolong the life of your carpet.
How often should you vacuum with pets?
Pet owners naturally have to clean their homes more often. Vacuuming carpets once a week might not be efficient, especially when animals shed. You might have to do it several times a week. Shag carpets tend to attract more hair, so you might find it necessary to vacuum them every day. That should not take too much time but will prevent animal hair from accumulating and penetrating deep into the carpet where it will be harder to get out from later. You should make sure to get the top vacuum on the market for pet hair.
How to vacuum carpet properly?
Proper vacuuming techniques help achieve better cleaning results. When vacuuming carpet it is important to make sure that all the spots are went over and none of the dirt gets built up by the walls and furniture. The easiest way to do it is to vacuum in lines. Starting from the farthest corner of your room you should vacuum back and forth and move sideways towards the opposite wall. Then you should repeat the same procedure on a section that is closer to the entrance and then again as many times as needed until you vacuum yourself out of the room. It is also important to move all the movable objects out of the way and vacuum towards unmovable furniture (not around it).
How to vacuum carpet in lines?
The fine way to do it is to imagine that you draw a letter N on a carpet with a vacuum cleaner head. If you need to break the pattern (in case there is furniture on your way), you should vacuum the area properly (as described above) and then go over it in an N-shaped manner.

Buyer's Guide: How to Choose the Top Vacuum Cleaner for Carpet?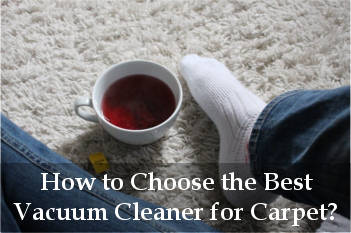 Vacuuming carpets on a regular basis is not only a hygienic requirement. Freshly vacuumed carpet feels nice and looks welcoming. In addition, proper care helps prolong the lifespan of your carpet. If you are in search for the vacuum cleaner for carpet, the following recommendations might be useful for you.
But first, let us speak about various cleaning options you have. Vacuuming is an effective, simple and convenient way of maintaining carpets, but not the only one. The truth is, no matter how thoroughly you vacuum, some amount of dirt and dust particles still remain deep inside the carpet and accumulate with time. Carpets need to be shampooed at least once a month (or more often if you have pets). In our product review section, we have discussed both vacuum cleaners and carpet shampooers since these machines are essential household helpers in any home with carpets.
When choosing a vacuum cleaner and/or carpet shampooer, you should pay attention to the following aspects:
Size and cleaning capacity
You should always shop for a carpet cleaner with the size of your house or apartment in mind. As tempting as it may seem, buying a large, powerful vacuum cleaner is not always appropriate. Besides, today's market offers a wide range of compact but functional machines that can satisfy the needs of small space owners. Cleaning capacity in most cases depends on the size of a machine. If you need to maintain large carpets, you should look for cleaners with wide nozzles, capacious dust bins (or water tanks if speaking about wet vacuums), and long power cords.
Commercial or residential use
Carpets in commercial and public locations get soiled more often and more heavily and therefore, require professional treatment. There is a number of commercial-grade carpet cleaners on the market to choose from. Enhanced durability and larger cleaning capacity are the things that usually distinguish such models from those designed for home use.
Portability
Portable cleaners are great for treating occasional spills and stains. Such devices are especially welcomed in homes with pets and small children. Compact size allows them to be used in any part of the house, even in hard to reach areas, as well as in cars and recreation vehicles.
Versatility
It is always nice to have a machine that performs more than one type of cleaning. Unless you have wall-to-wall carpets throughout a home, you should think about getting a vacuum that works equally well on both carpets and bare floors (for instance, consider vacuum cleaners for carpet and tile). Some vacuum cleaners have self-adjustable nozzles, while others come with separate attachments for different types of surfaces.
Additional functions
If you want even more versatility, you should pay attention to additional functions that a machine can perform. For instance, carpet shampooers often come with hand tools for upholstery, stairs and tight areas. Vacuums are also supplied with a range of accessories for above-the-floor cleaning.
Storage and ease of use
No matter how often you clean, a vacuum will always spend more time in a closet than on carpets. Therefore, convenient storage is an important thing to consider. Think about where you are going to keep a vacuum beforehand to avoid cluttering your house or apartment.
Choose vacuum cleaners that are easy to move around and carry up and down the stairs. If you experience difficulties moving a vacuum on carpets, you should think about getting self-propelled vacuum (upright) to simplify your cleaning routine.
Final conclusion
Deep carpet cleaning can help you maintain a healthier living and working environment and make your carpets last longer. The truth is that proper carpet cleaning cannot be achieved by vacuuming alone. A carpet shampooer might be a great investment, especially if you have carpets throughout your home. For occasional spills and pet accidents, you can get a portable spot cleaner that will perform small area cleaning with the power of a full-size device. Hiring professional carpet cleaning services is another possible option. Even if you take good care of your carpets on a regular basis, you should use such services at least once a year. Maintaining clean carpets is not as hard as it may seem, at least if you have a proper device. Hopefully, this review will help you choose a vacuum cleaner for carpet.