Disclosure: This post contains affiliate links and I may earn a small commission if you purchase through these links.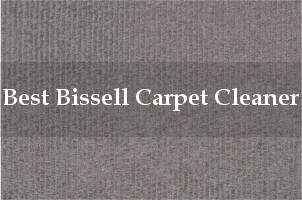 Many people look not for a certain product or model when they choose an item for sale but for a reliable and trustworthy manufacturer. Bissell is a leading company that has offered premium homecare solutions for over 140 years so it is natural why you should buy the best Bissell carpet cleaner to keep your home tidy.
The products of the company have been used by 5 generations already so you can be confident in their premium quality and innovative features. Nowadays this brand offers dozens of carpet cleaner models. But detailed analysis and comparison of the existing models allowed to single out the top-rated Bissell carpet cleaning machines described below. See a cool selection of proven products.


See our selection of the best product!
Bissell Big Green 86T3
Tank capacity 1.75 gallons; Extra large dirt lifter power brush for deep scrubbing action

Heavy duty suction power aids in fast drying time. Cleans on the forward and backward pass for reduced cleaning time and dries faster than the leading competitive rental carpet cleaners

Two large tanks for full room cleaning

Professional formula? includes a trial size BISSELL professional formula. Power Cord Length: 25 feet

5 year limited warranty.Power Rating:12 amps; Tough Stain Tool & 9 Foot Hose. The 6 inch Tough Stain Tool lets you spray and scrub extra tough spots and stains on stairs, upholstery, and other soft surfaces. Maximized hose length gives you extra reach for those hard to reach spaces
Top Bissell Carpet Cleaner in 2023
1. Bissell Big Green 86T3 – Professional Bissell carpet and floor cleaner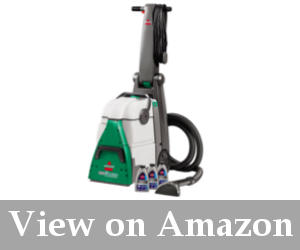 People who wish to see how a professional cleaner will work in their home should buy this Big Green machine. It is more powerful than most rental rug cleaners, so this Bissell model provides outstanding results even after the first cleaning path.
The vacuum cleaner is equipped with a powerful motor that guarantees heavy-duty suction. There is an extra-large PowerBrush that will not leave even a deeply embedded dirt in the carpet. It scrubs the rug surface efficiently and leaves an absolutely clean area after itself.
The cord length of this Bissell rug cleaner is 25 feet that allow cleaning a big area. In addition, you will get Bissell 2x professional deep cleaning formula to pour in the water, get perfect cleaning results and secure the carpet from possible stains.
Interesting fact
It is a sturdy machine made of durable materials. There are two tanks for water: both for clean and dirty one. The tanks are sizable enough to cover a big area without changing the water. They are easy to fill and empty. You can clean both forward and back without a necessity to turn around and save your time on cleaning.
Bissell Big Green cleaner will make different surfaces pure apart from the carpet. It is sold with a Tough Stain Tool that is attached to the vac with a 9-inch hose. Even tough spots in difficult-to-reach areas are not a challenge for this cleaner.
Bissell company offers a 5-year warranty on this powerful and efficient cleaner with an anti-tip design.
Pros
Efficient;
Removes stains;
Extra-large brush;
Powerful suction;
Cleans in both sides;
Great on different surfaces;
Covers a big area.
Verdict
Have you ever dreamt about a professional cleanup? With this Bissell carpet cleaner, there is no need to hire anyone or rent vacs to get perfect cleaning results. This powerful Big Green cleaner removes even tough stains easily: it is achieved thanks to the extra-large PowerBrush, excellent suction, and effective detergent formula.
2. Bissell SpotBot (33N8) – Efficient and new Bissell carpet cleaner for pet and stains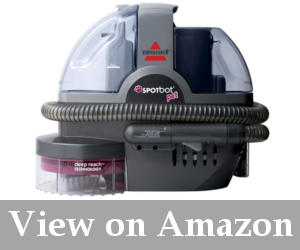 Both light and dark colored carpets are subjected to getting stained, especially if you have a pet at home. Bissell has offered its clients a reliable handsfree spot and stain cleaner to achieve great results quickly and easily, it is enough to push a single button. There are automatic cleaning cycles to choose a suitable setting and deep-reach technology to remove even old stains effectively. The cleaner sprays, brushes and sucks automatically if you choose one of two preset cycles.
Bissell carpet cleaner is suitable for different surfaces including upholstery, car interiors, and stairs. The model features a unique spiral brushing action to complete over 400 cleaning revolutions on a daily basis.
Bissell carpet cleaner has an ergonomic design. It is not sizeable and weighs only 12.5 pounds.
Interesting information
The removal of stains is a very simple process thanks to the Tough Stain Tool and hose included. Even stains on hard-to-reach areas are not a challenge for this vac. A 15-feet cord makes it possible to clean a big room without putting extra effort.
The vac works very efficiently together with Bissell 2X Pet Stain & Odor Formula and Bissell Pet Oxy Boost Formula. The manufacturer gives a 2-year warranty on the model.
Pros
Perfect for pet owners;
Highly effective;
Long-lasting;
Excellent quality;
Ergonomic design;
Easy to use;
Lightweight.
Cons
Leakages might take place.
Verdict
Are you tired of constant stains made by your pet and not only? Choose the quality carpet cleaning shampoo and add it to the special tank of this effective Bissell carpet cleaner, and you will be surprised to see an absolutely clean path made by it. Forget about an unpleasant smell and dirt on hard-to-reach surfaces as a special tool with a hose will do its job easily. With this Bissell vac, you can see your rugs tidy on a daily basis and never put much effort.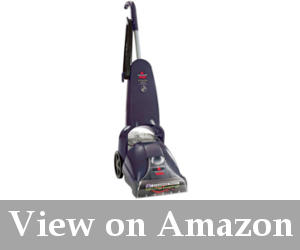 It is not an easy task to clean a rug without a special assistant, but with this Bissell carpet cleaner, you can easily bring any full-sized carpet to perfection.
The vac is equipped with Dirt Lifter Power Brushes located in 4 rows and providing dual rotation for maximum efficiency. These brushes can remove dirt that none of the simple vacuums does.
The effect is achieved by spraying hot tap water on the stain with a special formula. For this purpose, the cleaner has two tanks with a capacity of 0.75 gallons that are easy to fill and empty and keep dirty and clean water separately. The tank with dirt is provided with a lint screen for catching large debris, a measuring cup to pour the right amount of water and a removable nozzle to get rid of dirt without getting messy.
Additional Information
Bissell carpet cleaner has a long cord of 20 feet and quick-release cord hooks. It is very maneuverable thanks to the reliable wheels and has a comfortable grip handle to control its movement. As a result, you get a tidy, odor-free and groomed carpet in a matter of minutes.
The cleaning path of this Bissell carpet washer is 11 inches. It is sold with the 8-ounce bottle of Fiber Cleansing Formula and a manufacturer offers a 1-year warranty on this reliable cleaner.
Pros
Portable;
Lightweight;
Effective;
Easy to use;
Mess-free cleaning;
Powerful suction;
Removes stains.
Cons
Not enough water to clean a big room.
Verdict
Looking for the model which is the better, buy Bissell carpet cleaner known as PowerLifter. You will be impressed with its effective cleaning results and the amount of dirt you could never get rid of. Two separate tanks never mix dirty and clean water, while a heavy-duty bladder inside one of them allows mixing the water with the formula provided and getting excellent cleaning solutions.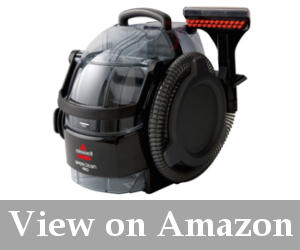 Are you tired of stains that appear everywhere starting from carpets and finishing with upholstery? The following Bissell carpet cleaner will be a perfect assistant in the regular struggle with them.
This Bissell spot cleaner has been designed for professional use, so any stains or spots on carpets, upholstery, small area rugs are a customary task for this machine.
The vac is provided with a 5-inch hose that makes even hard-to-reach areas accessible. You can attach one of two great tools that are included too. There is a 6-inch Stair Tool and a 3-inch Tough Stain Tool to make cleaning of different surfaces effortless.
The cleaner has a large tank capacity of 0.75 gallon to cover a big area without emptying and filling the tank. In addition, even large distances are not an obstacle for a cleaner thanks to a 22-feet cord.
Features and Specifications
Bissell carpet cleaner features a really powerful suction. It not only sucks the dirt from the carpet but also scrubs it off to remove even stubborn stains. The cleaning results are really impressive if to add a Trial Size Bissell 2X Professional Deep Cleaning Formula included.
The vac is not heavy – only 13 lbs – and has a 2-year warranty from the manufacturer.
Pros
Powerful suction;
Large tank capacity;
Effective stain removal;
Suitable for different surfaces;
Easy to use;
Ergonomic design;
Maneuverable.
Cons
The hose can crack with time if you bend it around the vac regularly.
Verdict
Which Bissell carpet cleaner is better? Undoubtedly, every model deserves praise but this professional cleaner is one of the most effective ones. Working great on multiple surfaces it removes stains, bad odor and makes the area absolutely clean. Additional tools make even difficult-to-reach areas accessible.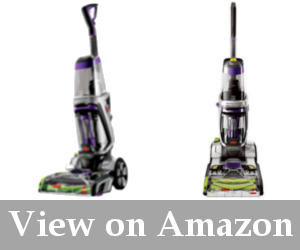 Pets are taken by people to raise their mood but when it comes to cleaning, it seems nothing can cope with pet fur, stains, and odor. However, there is a Bissell carpet cleaner that was designed especially for this problem. This Pet Pro carpet washer has made a revolution in cleaning pet messes.
The vac features a unique Pet Pro cleanup system. It is equipped with a CleanShot Pretreater that struggles even with tough stains before you try to clean it. There are Dual DirtLifter Power Brushes with Heatwave Technology to gather all the dirt and stains from the carpet while a transparent EZ Clean Brush Roll Cover can be easily removed to clean the brush if you spot it dirty.
The vacuum is maneuverable and easy to use. It is rather lightweight with a total weight of 17.5 pounds and has a 25-feet cord to reach distant surfaces.
The rug cleaner has two modes: Express for fast results and Deep for embedded dirt. The last one offers such a powerful suction that it can easily out clean even professional rental vacs.
This Bissell carpet cleaner is sold with 2-in-1 Pet Upholstery Tool provided with its own dirt tank to dispose of the content easily. You can choose between dry and wet cleaning as the tool removes both pet hair and cleans upholstery from any dirt. The wet areas dry in less than an hour. There is one more tool included: a 3-inch Tough Stain Tool.
Interesting Characteristics
This Bissell cleaner is sold with the Professional Pet Urine Eliminator, Oxy and Pet Stain & Odor and Antibacterial Formula for highly effective cleaning. The manufacturer gives a 5-year limited warranty on the model too.
Pros
Powerful;
Lightweight;
Easy-to-use and clean;
High quality;
Ergonomic design;
Very effective on carpets;
Flat design to reach under furniture;
Great attachments.
Cons
For better efficiency, you need to press the brush hard to the floor.
Verdict
With this good Bissell carpet cleaner solution, pet odor and mess will never be a problem again. Thanks to the powerful suction, wet and dry cleaning, two great attachments and two cleaning modes this Bissell carpet cleaner will be a great assistant to keep your carpets extremely tidy and groomed.
6. Bissell (1887) – Bissell carpet cleaner with Heatwave technology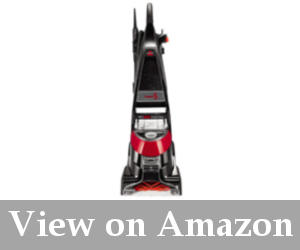 It is not right to use Bissell steam cleaner for carpets as high temperatures may damage fragile fibers of some rugs. However, there is a great alternative to steamers like this great model.
This Proheat vac has a unique Heatwave technology that helps to maintain the water temperature during the cleaning process as it is natural that warm water is more effective. At the same time, thanks to 6 amps power rating it features powerful suction and strong spray.
There are two tanks for clean and dirty water with a rather big capacity of 1 gallon. It means that you do not need to fill and empty them every 5 minutes. In addition, you get an 8-ounce bottle of professional formula to achieve better results in cleaning.
The vac is rather maneuverable even with 6 rows of rotating power brushes and several edge brushes for better sweeping.
Interesting Opportunities
This Bissell carpet cleaner is highly effective against stains and spills. Additional tools such as Spraying Crevice Tool and 3-inch Tough Stain Tool are very helpful in that.
The following corded Bissell cleaner has an ergonomic design that makes it easy to store and weighs 19.75 pounds.
Pros
Efficient;
Sturdy;
Maneuverable;
Nice tanks capacity;
Excellent stains cleaning results;
2-year warranty;
Powerful spray;
Easy to use and assemble.
Cons
Brushes do not switch off when you use tools.
Verdict
It is natural that warm water is more effective in cleaning stains so it is not surprising that this Bissell carpet cleaner offers premium cleaning solutions. Attachments included are very useful to clean upholstery and hard-to-reach areas, while powerful rotating brushes will never leave any debris behind.
How to use Bissell Carpet Cleaner – Buyer's Guide
When you have found the answer to the question 'what is the best Bissell carpet cleaner?', it is time to understand how to get good cleaning results. For this purpose, you need to use a Bissell cleaner right as even simple mistakes can lead to ineffective cleaning. You need to make several steps to achieve the desired goal:
Prepare the surface for cleaning:
Get rid of furniture that takes much space and prevents the cleaner from covering the whole area;
Vacuum the rug to remove debris;
Apply shampoo on roughly stained areas.
Set up Bissell carpet cleaner:
Fill in the water tank with pure water;
Add a special rug cleaning or stain removal formula in the amount told;
Assemble the Bissell cleaner;
Switch on the cleaning mode you need (if there are several of them).
Start the carpet cleaning process:
Switch on the power button;
Spray the water on the rug and move the cleaner front  (and back if it possible) to suck dirt and water;
Stop cleaning when the dirt tank gets full;
Empty the dirt tank and add water to the second tank if needed;
Use Bissell tools to access hard-to-reach areas.
Be cautious using water and get a cleaner corded to avoid electric shock.
Bissell Carpet Cleaner: Conclusion
Bissell is a trusted leader in the market of cleaning appliances so it is not surprising that so many people prefer quality, checked by time and innovative models of this brand. Rug cleaners are not an exception: they are highly effective, easy to use and powerful, especially if combined with the brand professional formulas. When you buy your first Bissell carpet cleaner or want to replace the old one, look through the models offered above and each of them will be a great assistant in your carpet cleaning solutions.
Further Reading